Culinary excellence may not immediately come to mind when you think of senior living, but it should.
Seven chefs from our communities competed in the American Culinary Federation MCCA Chapter — 2019 Annual Culinary Salon VIII. The two-day competition took place at Dorsey Culinary Academy in Pontiac, Mich.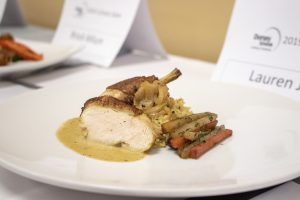 Of the more than 100 chefs who entered the competition, all with various backgrounds and experiences, our chefs were the sole representatives of the senior living industry.
Competitors were challenged to create one-of-a-kind dishes in both individual and team categories from mystery baskets of ingredients ranging from crab meat and kohlrabi to pheasant, dried apricots and more.
Three of our chefs took home medals for their dishes. We are proud of each of our chefs for testing their skills and for treating our residents to the highest quality cuisine each day.