Our very own Friendly Fork Food Truck recently was named champion at Troy, Ohio's Annual Strawberry Festival on June 2. Our fusion dessert, a Strawberry Cheesecake Egg Roll, won the hearts (and taste buds) of patrons and judges alike.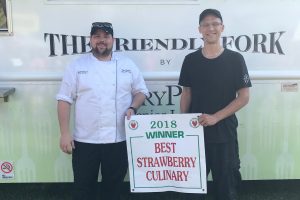 The sweet egg roll, served with mint coulis, a chocolate drizzle, powdered sugar and a mint garnish, was the creation of Friendly Fork Sous Chef Shawn Linderman. Shawn and Executive Chef Kyle Waters went up against strawberry sorbet, funnel cake, deep fried strawberries and strawberry popcorn among other sweet treats to take home the gold.
The city's Strawberry Festival has been held annually for 42 years. This event is one of the state's best food festivals and runs for three days and is full of live entertainment and plenty of fun activities. As you move through over 200 booths in the city's center, you'll find strawberries in every form from chocolate to salsa! Not only is the event fun and delicious, it serves as a great fundraising event for the local charities.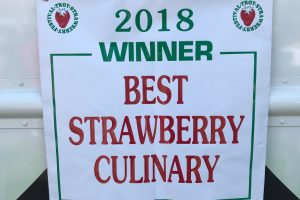 This was our second year participating in the Strawberry Festival but our first time taking home the win. We are so proud to be able to showcase the food our residents enjoy each day to other communities across the country.
RELATED: The Quality Of Senior Dining In Senior Living Communities