Skilled nursing care is a service for seniors who need short-term care that includes around-the-clock support from a nurse to manage an illness or condition. Seniors are referred to a skilled nursing facility by their medical professional and then return home or move to a senior living community when their care needs change. 
Skilled Nursing Scenarios
Skilled nursing can often be mistaken for other types of senior communities, like nursing homes. Typically, seniors requiring skilled nursing will fit into one of two scenarios:
Seniors who need routine care for an illness. This can be in-home care or a short-term stay in a skilled nursing facility. 

Seniors who are recovering from an injury or surgery may benefit from skilled nursing care. 
Seniors might require skilled nursing services after a fall or another related injury, or following an emergency room visit. Ultimately, skilled nursing services are ordered by a doctor and provided by trained medical professionals in situations where it is unsafe for the individual to return home or their care needs are too large for them to handle on their own. 
What Services Are Provided In Skilled Nursing?
While services are often provided in a dedicated skilled nursing facility, skilled nursing can also be found in other senior living settings. For example, some senior living communities are licensed to offer skilled nursing services within the community. Some communities offer services that include third-party skilled-nursing providers for residents who need 24/7 support. Other communities partner with a third-party preferred partner, or someone chosen by the resident or his/her family, to provide skilled nursing services in the senior's home.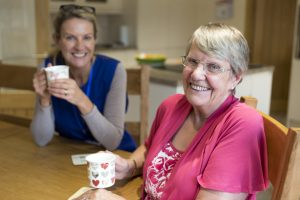 Examples of care might include:
Health assessments

Medication or disease management and education

Therapy (physical, occupational and speech)

Diet management

Complex wound dressings

And more
Learn More About StoryPoint
StoryPoint is here to help your loved one as they age. If you have questions about skilled nursing, life at StoryPoint, transitioning your loved one to a senior living community and more, contact your local StoryPoint community or call 1-855-40-STORY