One of the most difficult conversations to have can involve the need to move your loved one into senior living. It's an emotional discussion and a delicate process.
However, with proper planning, it can be a smooth transition for everyone. The following are some helpful best practices to start the conversation about senior living, how to convince a parent to go to assisted living and moving tips for seniors.
1. Create Space For The Conversation
Addressing the topic of senior living can be intimidating for both you and your loved one. It's very common for all parties involved to have some apprehension towards moving.
Try slowly transitioning into the conversation by casually mentioning senior living. If you pass a senior living community, point out how nice it looks. Mention subtle comments about the benefits of a maintenance-free lifestyle or the feeling of community that comes from being surrounded by other residents.
During this time, it's important to create an open dialogue about the need to move. Remember to give your loved one an opportunity to make some decisions about moving so they feel included in the process.
If you start the conversation early, it allows plenty of time for your loved one to collect their thoughts and provide their opinions. This way, they can decide when and where to look on their own terms when they're ready.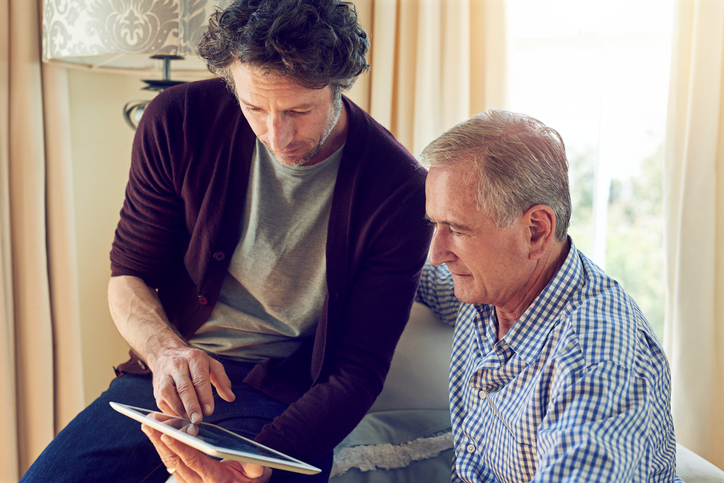 2. Establish A Time Frame To Move
Once there is an agreement to move and you've chosen a community, you'll want to discuss an appropriate timeline. First, check with your loved one's new community on when their new space will be available.
Next, make a schedule that is comfortable and gives you ample time to pack up your loved one's belongings. Our pre-moving checklist can help guide you through the packing process.
3. Sorting And Organizing
Another big part of the process is consolidating possessions. It can be difficult for people to part with objects that have played a large or sentimental role in their life. That means you'll want to make sure you are considerate when consolidating belongings. Some questions to guide decluttering include:
Will my loved one need this?
Does it have sentimental value?
How often will they use this?
Do they have duplicates of this item?
Does it bring them joy?
If there are sentimental items that are unable to make the move, ask nearby relatives if they can hold onto some of the more important possessions until your senior has time to decide if they have room for it in his or her new home. Some other decluttering and moving tips for seniors include:
Take inventory of all belongings.
Remove any duplicate items.
Take photos of items that hold memories but are taking up space.
Remove important papers for storage elsewhere. If necessary, scan them onto a computer or take a photo for recordkeeping purposes.
Have a spot for all items you plan to keep.
Label storage bins to stay organized.
Get help from family to make decisions.
Related: 5 Downsizing Tips To Help You Move
4. Seek A Support System Of Loved Ones
To make this process easier, seek out family and friends who can help you make this transition more approachable. You can start by talking to trusted immediate family members who are close to your loved one.
Once they are all settled in, you might decide to add in caregivers who have established a connection with your parent or loved one. This support system will help provide everyone with a sense of comfort while he or she is getting acquainted with their new community.
Different family members may bring various skills to the table. Communicate with your family to identify these skills and how they can play a part in the move. For example, perhaps someone has experience with interior design and wants to take on the decorating direction, or someone is a pro at organization and wants to help find the perfect spot for all those extra items.
Another helpful skill is the strength to perform any heavy lifting or if someone in the family owns a truck that can be used to haul the furniture. When everyone in the family lends a helping hand, downsizing can happen more swiftly and with less stress.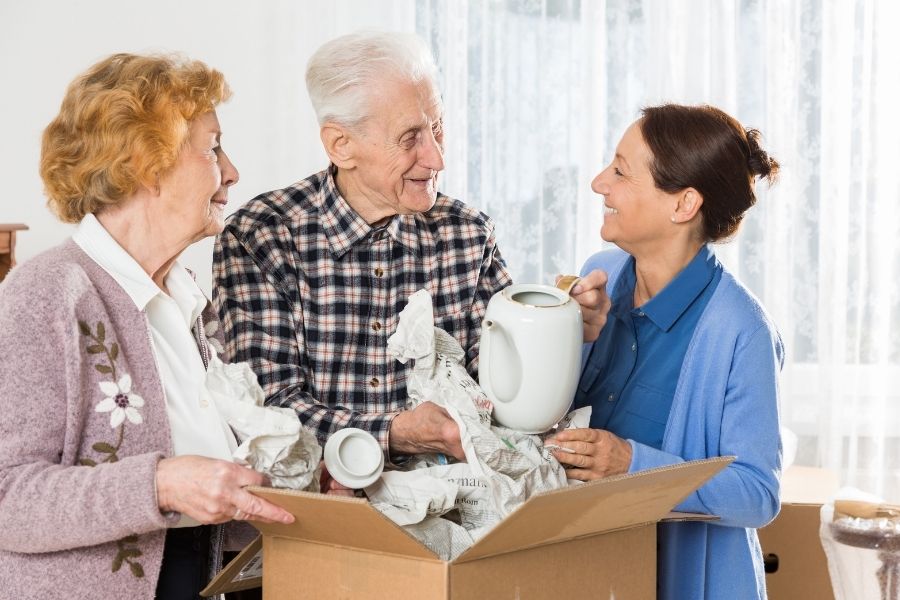 5. Self-Care Is Important Too
Lastly, make sure you are taking care of yourself during this process. Though it can be bittersweet, it's important to focus on the benefits of moving your family member into senior living.
This will be a good time to re-establish communication about how you both are feeling. Change can be scary, but it can also bring a whole new world of positive life experiences. Here are some tips on how to cope during this time:
Be patient, as this process might take longer than expected.
Focus on the positive aspects of moving: your loved one will have the opportunity to make friends and be more active, will have access to professional care and maintenance-free living.
Connect with friends who are going through the same process. Lean on them for support and advice.
A well-thought-out and planned move can lessen the tension and stress of the process all around. These tips, combined with opened-mindedness and understanding, will produce the most positive outcomes.
Independence Village Is Here To Help
By following these best practices, you won't be left to wonder how to convince a parent to go to assisted living. Instead, with an open, honest conversation, you can discuss senior living together and find ways in which you could both benefit from additional support. Wherever your family is along the senior living journey, our team is here to help.
With a variety of resources, dedicated team members and more, we would be honored to guide you and help you make the right choice for your family. Contact us today at 1-844-403-6569 to get started.
Related: Moving 101: A Checklist To Help You Settle Into Your New Senior Living Community