Deciding which senior living community is best can be overwhelming at first, especially because of the weight this decision will have on you and your family.
Luckily, there are many resources to help you with your search. These resources come in the form of checklists, online blogs, review sites and more. After working with families who were in your position and asking them what helped in their searches, we found these to be the most beneficial resources.
Create Checklists
Checklists are essential in picking the best senior living community for you or a family member. Like all lists, they make it possible to clearly identify the items that are an absolute must-have. Senior living checklists will highlight the necessary amenities or services needed before moving in, policies and practices to satisfy safety needs and much more. Your checklist will be personalized to you, your desires and your specific support requirements.
RELATED: What Not To Bring To Senior Living
Browse Online Blogs
Senior living blogs are a great asset to get help with a specific issue or to find a solution to a problem. Themes for these blogs range from tips on downsizing to managing caregiver guilt. There are articles on every topic related to senior care, senior living options, support solutions and more. Not only are these blogs helpful on unique topics, but they often provide even more resources in the bulk of their information.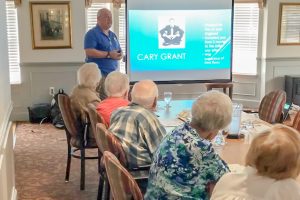 Read Community Reviews
Caring.com, SeniorAdvisor.com, SeniorLiving.org, and SeniorHomes.com are just a few of the best senior living review websites to depend on during your search for a senior living community. Reviews offer a window into the real-life experiences of residents and their families, often from an unbiased source. The best part about these review sites is that they are constantly being added to with new and refreshing perspectives of different senior living communities.
TIP: If you have narrowed down your senior living search to just two communities, a review site could be your best option for a tiebreaker.
Choosing a senior living community can be a challenging experience. Be sure to conduct research from a variety of sources to ensure you find the perfect fit for your needs. For more information on choosing a community, or for advice during your research, feel free to reach out to one of our communities today.