When considering a move into senior living, it's crucial that you schedule a visit to tour the community. By visiting a senior living community, you get to see what that community is like, how it makes you feel and what daily life there might be like. Here are some tips so you can be best prepared for your tour.
What To Prepare Before Your Visit
Before deciding to visit a community, you should make a note of what matters most to you or your loved one. This means determining which factors are most important to your lifestyle. Some preliminary factors to consider include:
Location
Types of care offered
Size
Price range

This will help you narrow down your list of communities and allow you to focus on the ones that fit you or your loved one's lifestyle best. It can also help you answer many of your important questions before you even visit the community. However, it will still be beneficial to verify all of your questions with the tour guide during your community visit.
SEE: What Type Of Care Does My Loved One Need?
Be sure to take a pen and notepad with you to help keep track of all the answers to your questions, as well as any important information that might help you make a decision. Use this guide to add to your notes. Some communities offer virtual tours which you should also take a look at before you visit.
Ask Questions
The more questions you ask during your tour, the better. Don't hesitate to ask any and every question that comes to mind. Some key questions to ask include:
Does this community provide the type of assistance I need?
What amenities are available?
What does the daily activity schedule look like?
What is the security like?
Are you pet friendly?
See Everything
The most valuable part of your tour is being able to see everything that is offered. Areas you should pay special attention to are:
The Grounds
Ask yourself
What are the grounds like? Are there outdoor areas and walking paths? Is there plenty of greenery?
What are the indoor common areas like? Is it clean and comfortable?
Make sure to pay special attention to areas where you or your loved one will be spending the most time like the dining room, common areas and, of course, the actual apartment.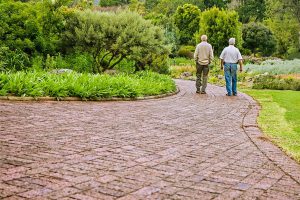 The Apartments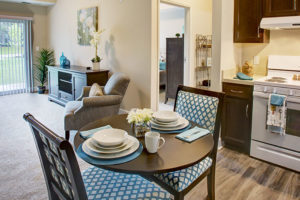 It's very important to tour the actual living space — the apartment in which you or your loved one will be spending a great majority of their time. Consider viewing various layouts and seeing the apartments that are currently available. Check that the apartment includes the factors you are looking for such as:
Kitchen
Closet Space
Extra Rooms
Furniture
Porch or balcony
Secured Wifi
Accessibility features like walk-in shower and grab bars
Windows and good lighting
Meet The Staff
A large part of the senior living experience is the staff. While you are walking about the community make a point to talk to some of the staff members you see. Not only do you want to see how they interact with other residents, but how well they get along with you or your loved one personally.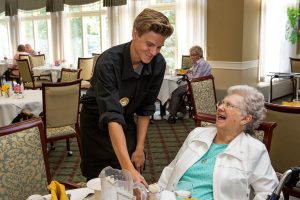 Ask yourself:
Are they friendly, helpful and available when you need them?
How knowledgeable are they?
Does the community care not only for their residents, but for their staff members as well?
Depending on which living option you are considering, you may be in more or less contact with the staff. For assisted living and memory care, meet the caregivers whom you will be in contact with the most. After all, you'll be seeing them every day and building a close relationship.
Try The Food
A big decision maker for senior living can be the quality of the food the community offers. If you plan on using the dining services, make sure you see the menus and try the food. Some questions you can ask here include:
Is the food healthy and fresh?
Are the menus varied?
Do they have any of your favorite items?
Are you allowed to bring in guests?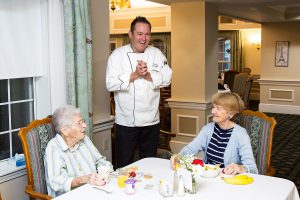 Verify The Costs
Speak with the community specialist to go over what the prices will be. During your visit is the best time to do this because you can see whether the value is really there.
RELATED: Navigating The Cost Of Senior Living
Moving to a senior living community is a significant investment not only financially but in terms of your time and wellbeing. You want to be sure the community you choose has what you're looking for and that you'll be happy there. By visiting a community for a tour and being prepared for that tour, you can see what will work for you and make a decision much more effectively.