When the time comes for you to prepare for a move into a senior living community, one of the most significant changes can be downsizing. After selecting a community and an apartment, the next step is preparing to downsize and making the decisions on what to take to your new home. Take a look below at these downsizing tips for seniors.
1. Prepare In Advance
Make sure to give yourself time during this process. Items tend to accumulate over the years, and it will take time to properly sort through your belongings. By preparing yourself well in advance to start the sorting process for downsizing, you won't feel rushed to potentially throw away something worth saving.
2. Create A Downsizing Checklist
Making a list can be the best way to begin the process of downsizing. Many senior living communities have a list of what they suggest you should bring and what to refrain from bringing. These pre-made checklists for seniors who are downsizing can be used to offer a focus on how to pack and can help in making swift progress.

Work on prioritizing which items you want to bring to your new home and create a specific list of furniture you'd like to bring. Do a walk-through of your new apartment and take measurements so that you know these items will fit properly in your new space. For any room that doesn't exist in your new space, such as an office or spare bedroom, consider donating those items.
Related: Pre-Moving Checklist for Seniors
3. Deciding What Stays And What Goes
Once you have the checklist as a guide, it's time to begin sorting into "yes" or "no" piles. All necessities should be put aside first — things that are staying with you no matter what, such as your bed and other essential furniture.
Clear out a corner or area of your home to place the "yes" items and begin packing the "no" items, clearly labeling them as to where you plan to take them (donate to charity, giving to a family member, etc.). If your current home is tight on space, use sticky notes to label your items so that you can keep track of what you've gone through already.
If you're someone who struggles with letting items go or deciding which items to keep, consider picking up a book on decluttering and downsizing which can provide helpful guidance, such as those by world-renowned organizer Marie Kondo.
4. Have A Removal Plan
Items you no longer need will require a plan of action for removal. Some options include:
Donate to charity
Throw away damaged or worn items
Recycle
Host a garage sale
Gift to family or friends
If something you own is still in good condition, try hosting a garage sale or donating it to those in need. Throwing away or recycling items is an option if something is damaged or not likely to benefit someone else. In this case, you could also research junk removal companies in your area that can come and pick up large items for proper disposal. If you come across a special heirloom, keep it in the family and pass it along as a gift.
5. Don't Clutter Others
During your process of decluttering, don't pass everything on to others. If an item is special or an heirloom, it may be a valuable gift. However, it is still important to check with that person first before springing items onto them. As you continue to go through items that may hold sentimental value to you, they may not hold the same value for others.
Some items may serve better as a memory than as a tangible item, such as childhood toys, clothing or projects. In this case, consider keeping a journal of these memories with an item description or photo, along with a note of a special memory.
Questions To Guide Decluttering
Decluttering may be overwhelming at first. Over time, many items have graced your home, each with memories attached. Unfortunately, not all of them can be part of the move. When sorting through your belongings, here are some questions to ask yourself when deciding what to keep:
Do I need it?
Does it have sentimental value?
How often do I use this?
Do I have duplicates of this item?
Does it bring me joy?
Asking yourself if an item brings you joy is one of the many tips Marie Kondo has shared with the world. She is known for creating and establishing an organizational method that has helped countless people when it comes to downsizing and decluttering. If an item brings you joy, keep it. If not, it's time to move on. Hers is just one of the many methods you can find if you need more guidance through this process.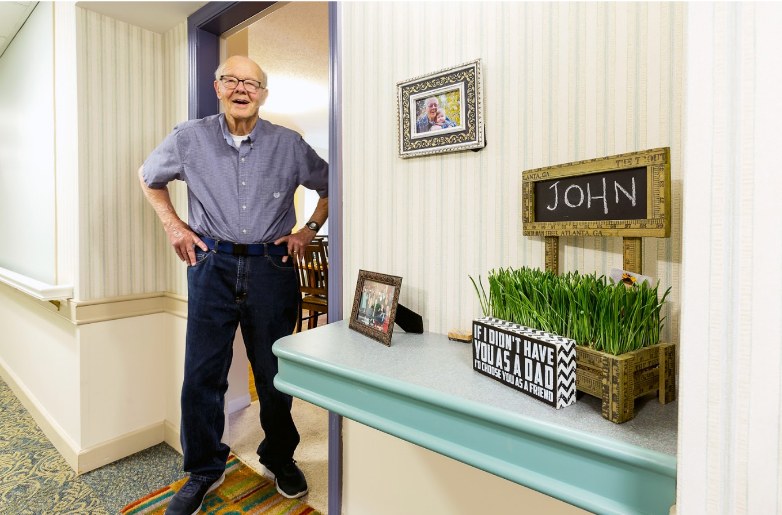 Decluttering Tips
The biggest part about downsizing and starting over is to declutter. Getting rid of old items can be hard but also necessary when moving into a smaller space. Here are some downsizing tips for seniors when it comes to decluttering:
Take inventory of your belongings
Remove any duplicate items
Take photos of items that hold memories but are taking up space
Remove paper items. If possible, scan them onto a computer or take a photo
Have a spot for all items you plan to keep
Label storage bins to stay organized
Get help from family to make decisions
Family Assistance
It is common to need guidance during the moving process, especially with downsizing. In order to make downsizing a proactive and positive experience, it's best to set a plan that involves the family as a whole. When the entire family comes together to help, it can make downsizing more manageable and the transition more seamless.
Each family member has different skills that they can bring to the table. For example, perhaps someone in the family owns a truck that can be used to move furniture, or someone has a knack for interior design and can help create a space that makes moving more fun. When everyone in the family lends a helping hand, downsizing can happen more swiftly and with less stress.
Related: Moving 101: A Checklist To Help You Settle Into Your New Senior Living Community
Coping With The Move
Making the move from a long-term home into a new space can be exciting, but it also can evoke many difficult emotions for you and your family. You may have to say goodbye to items from the past that often hold sentimental value. Here are some tips on how to cope during this time:
Be patient, as this process might take longer than expected.
Focus on the positive aspects of downsizing, such as having more open space and less to keep clean.
Connect friends who are going through the same process. Lean on them for support, or use this as an opportunity to make friends within your new community and solicit advice.
Related: 5 Ways To Make Friends In Retirement
How StoryPoint Can Help
Downsizing is certainly a big job, but we are here to help. In addition to our pre-moving checklist, we can assist you with finding a moving company nearby, answering any of your transition questions, and much more. With the right advice and support, we hope to help make the moving experience as smooth as possible. Call 855-407-8679 today.