As we grow older and our needs change, the time may come when it's necessary to make some decisions about our living situation. All kinds of factors can lead you to consider whether senior living is right for you or a loved one. For many, senior living provides a chance to live an ideal retirement, with maintenance, meals and your social calendar all taken care of for you.
However, with so many senior living options to choose from, finding the right community can feel overwhelming. We're here to help you learn about and understand the different living choices — so you can find the right supportive home for yourself, a family member or a friend.
Active Adult Communities
For those 55 or older, who are tired of the responsibilities of owning a home and want to enjoy a fun and adventurous lifestyle while surrounded by peers, active adult communities can offer the ideal option.
Designed with perks and amenities tailored specifically for active adults, these communities are retirement-friendly, residential neighborhoods that offer a maintenance-free and active lifestyle to self-sufficient adults.
An active adult community wouldn't be the right living option for seniors who require assistance to get through their day, or those in need of intensive medical care.
Independent Living
Independent living is also designed for self-sufficient adults who desire a maintenance-free lifestyle, but often the residents will be a little older. With this living option, specially trained, caring employees are on-site to provide housekeeping services like laundry, meal preparation and more — all to make the residents' lives easier and more enjoyable.
Seniors who need assistance to get through their day, or those who require medical attention around-the-clock may want to consider other senior living options that provide even more care.
Community costs can range from $1,500 to $6,000 monthly, depending on factors such as individual needs, location and more.
Enhanced Living
Enhanced living is designed for seniors who need help with housekeeping chores and personal care, while enjoying the autonomy of living in a private apartment. Residents typically live privately but have access to on-site caregiver services or medical attention when the need arises.
While enhanced living can be a great option for seniors who need assistance to get through their day while living privately, it may not be ideal for individuals who need medical assistance around the clock.
Monthly costs of enhanced living typically range between $4,300 and $6,000 per month, but can vary widely between communities.
Assisted Living
Assisted living offers a great option for seniors who need more help with housekeeping or personal care than can be provided with in-home care or in an independent living community. There are also different types of assisted living that are offered.
In assisted living, caring employees are available around the clock to help residents with activities of daily living (ADLs), daily chores and more to help make their lives easier.
The cost of assisted living can range from $1,500 to as much as $8,000 per month, although that can vary widely. As with other options we mentioned previously, factors like location, individual needs, the type of amenities provided and accommodation plans have a major impact on price.
Continuing Care Retirement Communities (CCRCs)
Also known as CCRCs, continuing care communities offer a wide range of care options in one community, allowing them to seamlessly accommodate residents' needs as they change.
CCRCs may be ideal for seniors who don't want to worry about having to move if their needs grow beyond what another senior living community can handle.
Because of the wide range of on-site care options, some continuing care communities may charge entrance fees. Community costs typically range from $2,000 to $4,000 per month, but can vary significantly.
Aging In Place
Aging in place is a preferred option for many seniors who want to remain in their homes as they grow older. This option may require making necessary modifications to your home to accommodate your changing needs.
If you or a family member prefer to enjoy the company of close family and friends, as well as the familiar surroundings of home instead of moving to a senior community, you may consider aging in place.
Aging in place may not be the right option for seniors who desire to live alongside peers, or those who need significant medical assistance.
Just like with many other senior living options, the cost of aging in place can vary widely depending on key factors such as where you're located, how much assistance you require and more.
In-Home Care
In-home care allows seniors to enjoy the comfort of their home for as long as possible. Typically, a trained caregiver or home aide provides one-on-one assistance with housekeeping, personal care, medication management and more.
This option may not suit people who want to live within a community and enjoy all the social opportunities they provide, or those experiencing a chronic illness. The national average cost for in-home care is around $5,000 per month, but costs may vary widely.
Memory Care
Memory care communities are specially designed to meet the unique needs of seniors experiencing dementia, Alzheimer's disease or other memory challenges.
In addition to providing assistance with personal care, housekeeping and meals as with senior living, memory care communities feature thoughtfully designed environments and have trained employees on-site to adequately care for the unique needs of residents with memory challenges.
Living in a memory care community can cost around $6,000 per month, but costs will vary depending on community location, individual needs and other factors.
If your loved one is showing signs of memory impairment, it can be a difficult period to navigate. At StoryPoint Group, an entire section of our resource center is dedicated to memory care, providing you with many helpful articles and essential reading written by our experts.
Respite Care
Respite care communities are designed to offer professional, short-term care to individuals recovering from an injury or a medical procedure. Respite care also can help to provide a temporary stay for seniors to enable family caregivers to take a break from their duties.
This option would not be right for seniors in need of long-term, custodial care. While costs can vary depending on various key factors, respite care community costs can range from $150 to $300 per day.
Nursing Homes
Nursing home communities provide personalized assistance to people with long-term, medical needs. If your family member needs more help than an assisted living community can provide, you may want to consider a nursing home community.
This option wouldn't be the right fit for self-sufficient adults, or those who require little to no assistance to get through their day.
The median monthly cost of nursing home communities is roughly $7,500 per month, although costs may vary significantly.
Hospice
Experiencing a chronic illness can be an incredibly challenging journey for anyone. And, it also can be hard on families. Hospice communities are designed to provide specialized services, such as pain management and psychological support, to individuals dealing with untreatable medical conditions.
The aim of hospice communities is to help provide relief from pain, symptoms and psychological stress, while also addressing the emotional, social and spiritual needs of residents.
The average monthly cost for a hospice community can range between $10,000 and $15,000.
Calculating The Costs
As you search for the right senior living community, budget is likely an important consideration. However, breaking down the various fees and charges from multiple choices and multiple communities can make the process of cost comparison less than straightforward. In fact, it can become overwhelming.
Use The StoryPoint Group Cost Calculator
Our cost calculator is here to help you get an estimate of the cost of senior living where you live: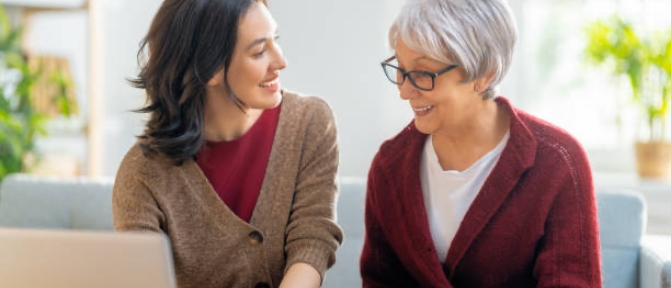 See The Costs Of
Senior Living Compared To Staying In Place
We created this senior living calculator to help you determine the costs of senior living compared to remaining in place.

Get Started
Compare The Costs Of Senior Living
To accurately estimate the cost of senior living, simply enter your monthly expenses in the field below.

To see an estimate of the cost of senior living, simply select the state and level of care you think is right for you or your loved one.
---
*This information is intended to aid in the evaluation and the decision-making process related to senior living alternatives. It is based on information and assumptions provided by you and information compiled from multiple accredited sources for comparison purposes. The calculations and comparisons provided should not be construed as financial, legal or tax advice. In addition, such information should not be relied upon as the only source of information.
How To Choose The Right Senior Living Option
Selecting the correct living option can help ensure you or a family member receives the help and support needed to make the most of the golden years. However, as you now know, there are a wide variety of senior living options to choose from, so this process can be challenging. Here are some steps to help you make a confident decision:
1. Assess Care Needs
It's important to understand that different senior living options offer varying services and amenities based on their residents' needs. To help you understand care needs, you can ask yourself questions like: How much help do you or your loved one need with activities of daily living? Do you or a family member need medical attention around the clock? Does location matter? What's your budget?
A clear understanding of individual, unique needs can help you select the option that provides the required level of care. If you're trying to find a living option for a loved one, it's important to engage them too. This can help you get a clear understanding of their needs and preferences.
2. Research The Different Types Of Senior Living Options
After understanding what you or your family member's unique needs are, it's time to familiarize yourself with the various options for senior living. This article will help, but you should speak to community experts, engage friends and family and utilize online resources to learn more about the different senior communities.
After understanding the services, amenities, level of care and the cost of various types of senior housing, select an option that aligns with your needs and personal preferences.
3. Tour A Few Communities
When looking for a new home, it's important to find a supportive community that you or your loved one can thrive in. Visit a few options that align with your criteria and scrutinize the surroundings, ask important questions, observe the interaction between employees and residents and even taste their dining options to get a real-world feel of the communities. Whenever possible, talk to residents to learn about their first-hand experience.
4. Review Community Policies
Before you select a community, you will want to consider important questions, such as: What is their discharge policy? What are the various fees and charges? Can family members visit as they wish?
Carefully reviewing contracts, agreements or legal paperwork can help you gain a good understanding of the community's rules, residents' rights, payment structure and more.
5. Select The Appropriate Community
After conducting thorough research, touring a few communities and carefully considering individual needs and preferences, select the community that you feel provides a supportive and nurturing environment.
6. Make The Move
Moving into a senior living community can be an emotionally-taxing journey, both for seniors and their families.
If you're making the move into a community, it's important to remember to give yourself time. Try to maintain a positive outlook, keep in touch with family and make friends in your new community. This can help make settling in easier.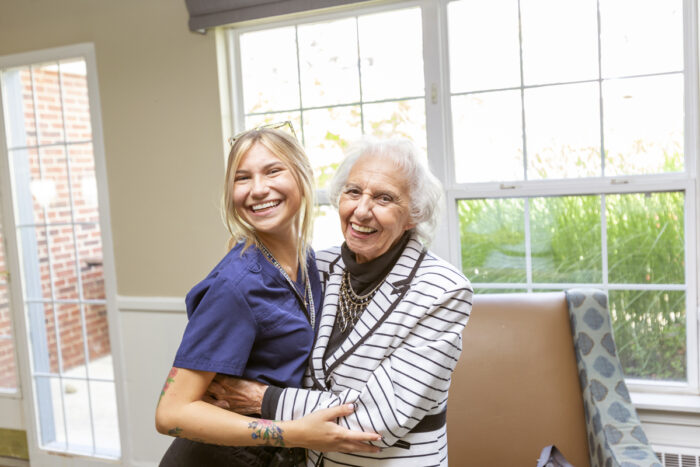 Senior Living With StoryPoint
We understand that finding the right community for yourself or a loved one can be a challenging process— that's why we're here to support you.
If you have additional questions about senior adult communities, or need help deciding which senior living option is right for you or a family member, we're excited to help. Call 1-844-403-6569 today to speak with one of our Community Experts. We can't wait to get to know you!