If your parent or loved one is recuperating from a hospital stay, recovering from injury or requiring specialized medical care due to a chronic illness, you may have encountered skilled nursing communities. 
If you're exploring this senior care option, you may be asking, what is skilled nursing? This guide will help answer that question and many more. Read on to get an in-depth look at what you can expect. 
What Is Skilled Nursing?
Skilled nursing is a care option that provides short-term, specialized medical care to people who require care or treatment that can only be performed by a licensed nurse. In addition to 24/7 assistance with activities of daily living (ADLs), residents receive medical care from licensed medical professionals, including registered nurses and doctors.
In a senior living community, your loved one will have everything they need to get back on their feet. They'll have assistance with all aspects of their recovery, plus the added benefit of the same amenities and features other residents enjoy.
Skilled Nursing Services Explained
Here are some key services offered in a skilled nursing community:
Medical Care
Trained medical professionals provide a variety of medical services, including but not limited to:
Chronic disease management

Wound care and dressing

Administration of intravenous (IV) therapies

Medication management

Pain management

Respiratory care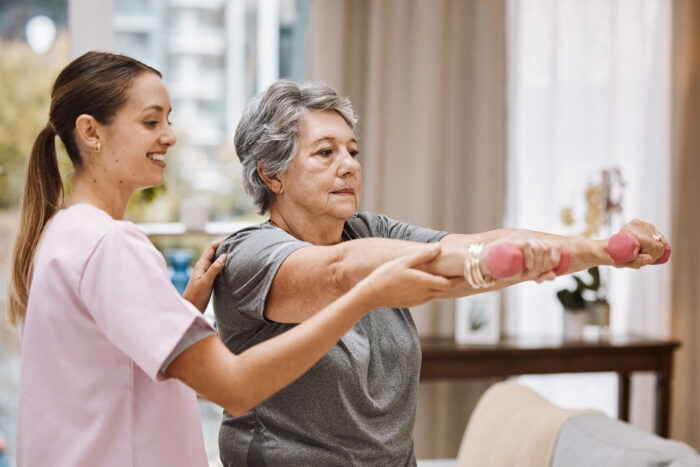 Rehabilitation Services
A skilled nursing community can help individuals regain bodily functions and enhance independence with ADLs after an illness or injury. Some common rehabilitation services offered include:
Physical therapy

Speech and language therapy

Occupational therapy

Cognitive rehabilitation

Recreational therapy
Personal Care
Although skilled nursing focuses more on medical needs, trained caregivers are available to help residents with daily tasks including:
Grooming

Toileting

Dressing

Bathing and showering

Assistance with mobility
Skilled Nursing Compared To The Alternatives
There are many senior living communities to choose from, depending on your loved one's needs and preferences. Here's how some of them compare to skilled nursing:
Nursing Homes
Nursing homes provide assistance with activities of daily living to people who would benefit from support like that offered at a hospital. In contrast, residents in skilled nursing communities are discharged to go home after recovery or rehabilitation.
Because of the wider range of services offered, you'll typically find a higher employee-to-resident ratio in skilled nursing compared to nursing homes.
Continuing Care Retirement Communities
Your family member's needs may change as they age. Continuing care retirement communities (CCRCs) provide access to different levels of care within the same community.
Assisted Living
These communities are typically beneficial for seniors who need support with daily tasks like housekeeping, eating and bathing.
Although assisted living residents mostly need help with ADLs, medical care can also be provided when needed.
Memory Care
These are communities that offer a structured environment for individuals with memory loss or memory-related illnesses like Alzheimer's and dementia. Memory care communities have specialized caregivers who are trained to meet the unique social, medical and safety needs of seniors with memory challenges.
Home Care
This care option allows your family member to get assistance while enjoying the close network of family and the familiar surroundings of home. It's typically for seniors who don't require round-the-clock assistance with ADLs.
How To Pay For Skilled Nursing
Because of the specialized care that includes round-the-clock medical assistance, skilled nursing services can be costly. To help you plan for your loved one's care, here are some ways to pay for the costs:
Private Pay
Depending on available resources, you can choose to pay for your loved one's skilled nursing out-of-pocket. Here are a few ways to free up funds:
Personal savings

Stocks and investments

Pensions
Insurance Coverage
Insurance coverage can help pay for senior care costs. Here are a few options:
Private health insurance:

Most private health insurance policies cover short-term care in a skilled nursing community, but they may have eligibility requirements.

Long-term care insurance (LTCI)

: Long-term care insurance can help pay for your family member's cost of care.
Insurance policies vary, so it's important to review your policy agreement to know what's covered.
Government Assistance Programs
Medicaid

: Although eligibility may vary from state to state, Medicaid typically covers skilled nursing services.

Medicare

: Medicare will cover your family member's short-term costs.

VA benefits: Through various Department of Veterans Affairs programs, eligible veterans and their spouses can receive financial assistance for skilled nursing.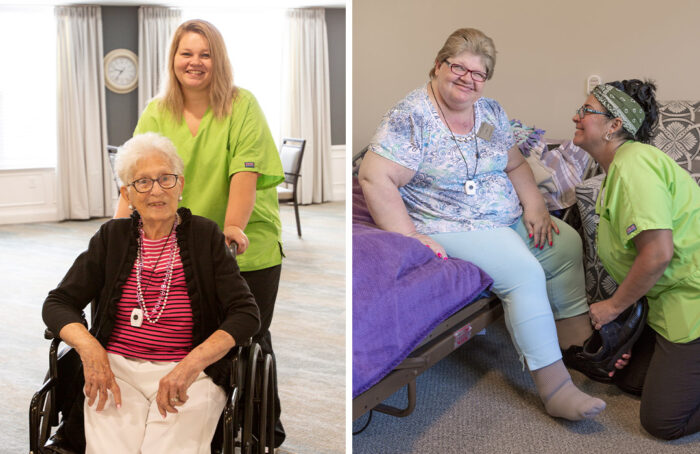 Types Of Skilled Nursing Caregivers
Caregivers ensure your loved one's medical needs are adequately met. Here are a few common types you may come across: 
Nurse Practitioners (NPs)
These are nurses who have earned a master's or doctoral degree in nursing. They can diagnose and treat illnesses, prescribe medications, order tests and provide primary health care services.
Registered Nurses (RNs)
RNs are nurses who've undergone extensive training and obtained a nursing license. They provide care that includes, but is not limited to, assessing health conditions, administering medication and developing care plans.
Licensed Practical Nurses (LPNs)
LPNs work under the supervision of registered nurses and help provide basic care to residents. Typical LPN tasks include checking blood pressure and inserting catheters. 
Certified Nursing Assistants (CNAs)
CNAs assist residents with ADLs such as bathing, eating, dressing and more.
Benefits Of Skilled Nursing
Here are some key benefits your loved one will experience in a skilled nursing community:
Help with daily activities

24/7 personalized care from licensed professionals

Emergency assistance

Enhanced safety and security 

Reduced risk of hospital readmission

Increased socialization
Skilled Nursing Misconceptions
Common misconceptions include:
Misconception 1: Individuals in skilled nursing have no independence.
Reality: Skilled nursing communities give their residents as much independence as possible with their schedule, daily activities, treatment options and more.
Misconception 2: Life in skilled nursing is boring.
Reality: While medical treatment and rehabilitation account for much of a resident's time, they do enjoy free time. Depending on where they are in their recovery process, they can take part in many fun activities.
Misconception 3: You're not allowed to bring personal belongings.
Reality: Most communities allow residents to bring along their favorite devices, framed family photos, personal care items and more.
Misconception 4: Skilled nursing services are only for seniors.
Reality: Although you will find seniors in skilled nursing communities, most offer rehabilitation and medical services to people of all ages.
Misconception 5: It's the same as a nursing home.
Reality: A nursing home offers long-term care for people with complex medical conditions. Skilled nursing offers short-term stays for individuals as they undergo rehabilitation or get medical treatment.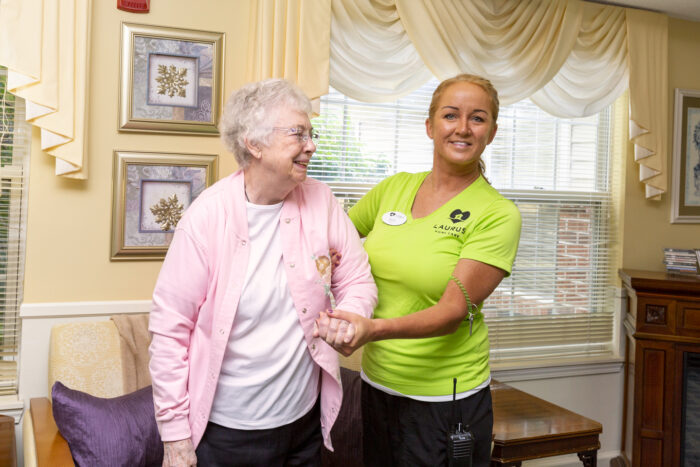 Choosing The Right Skilled Nursing Community For You Or A Loved One
Here are a few key factors to consider when finding a community for yourself or a family member:
Location

: Geographical location can be important when choosing a community for yourself or a family member. It's generally advisable that you find a community that's conveniently located close to friends and family.

Safety and security

: When choosing a community, safety is important. You can inquire about a community's safety protocols and added safety features.

Quality of care

: You can ask other community residents

or read residents' reviews to learn

about their experience living in the community. This can help you get an idea of the quality of care the community provides.

Services offered

: It may be important to research a community's amenities and services to make sure they meet you or your loved one's needs.

Cost

: It's generally advisable to inquire about pricing and payment options to ensure they align with your resources.
Questions To Ask When Visiting Skilled Nursing Communities
What safety and security measures do you have in place?

What are your visitation hours?

What is the daily schedule like?

Do residents decide their daily routine?

What abuse prevention measures are in place?

How do you ensure residents eat a healthy and balanced diet?
Our list of questions provides a great start, but depending on your loved one's needs, feel free to ask more.
Find A Vibrant And Supportive Community 
We understand that finding the right community for your loved one isn't always a straightforward process. At StoryPoint Group, we're here to support you throughout your senior living journey.
If you need help deciding between care options for a family member, call 1-844-275-9990 today to speak with an experienced community specialist, or schedule a visit with your nearest community.