When it comes to senior living, you may not realize all the benefits these communities have to offer. Whether you're looking for continued independence or more social events, senior living communities offer a variety of opportunities not available otherwise. Here are some of the benefits of moving into a senior living community.
Improved Nutrition
Let's face it: Cooking at home can be overwhelming at times. Not only do you have to buy groceries and prep, but you also have to clean up. You may even start to lose your appetite, whether it's from feeling isolated or simply because you don't want to deal with the mess. Consequently, fueling your body with nutritious foods that improve your overall health may become less of a priority.
At StoryPoint, our Executive Chefs prepare healthy and delicious meals each day with the help of our registered dietitian to ensure you're getting the nutrients your body needs without the stress of cooking yourself.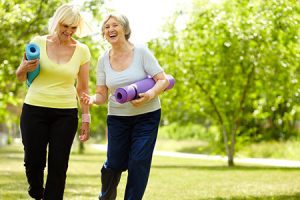 Greater Social Opportunities
As we age, it may become difficult to go out, socialize or make new friends. Senior living communities offer countless opportunities to be surrounded by your peers and meet new, friendly faces.
Whether you take part in daily activities or simply enjoy your morning coffee in the bistro, senior living communities make socializing easy and fun.
Increased Independence
Deciding for yourself that you want to transition to senior living can remove any negativity that may arise from having a loved one bring up the topic. Choosing which community is right for you will bring comfort and assurance that you're making the right decision, empowering you to fully enjoy your retirement as an independent individual.
Access To Support Services
Senior living communities offer a diverse range of service options such as housekeeping, mobility support, medication reminders and more.
If you're looking for relief from laundry chores independent living or looking for personalized daily assistance in enhanced or assisted living, you have a variety of support options that can be easily tailored to your wants and needs.
Peace Of Mind
It's important to be proactive about your health and wellness while doing whatever is best for you in this and every stage of your life. By deciding to move into a senior living community now, you (and your loved ones!) can rest assured that you have access to everything you need to lead a healthy and fulfilled retirement.