Having a sweet tooth can be tough, especially if you're looking to maintain or improve your health. It may seem like you have to cut out sweets for good, but with a few of the right ingredients, desserts and sweet treats don't have to be left behind. 
Here are a few tips to balance your sweet tooth with your wellness goals.
Use Fruit As A Base For Dessert
When you think of dessert, you might automatically think about chocolate, caramel and sugar. Yet demoting these cornerstone sweets to the toppings or sides can reduce calories without eliminating taste.
As you age, a healthier dessert choice (that still satisfies cravings!) is sweet fruits, like strawberries, cherries and raspberries. Add a small amount of dark chocolate (which has less sugar than regular chocolate), whipped cream, or sweeter toppings to make it a treat.  
Simple recipes like grilled pineapple and poached pears are guilt-free options, and for something slightly more decadent — but still healthy — try adding small amounts of mascarpone, honey, or sorbet to your dish. 
Include Heart-healthy Grains And Oats 
To help prevent the possible development of heart disease or diabetes, a healthy dessert trick for seniors can be to choose heart-friendly ingredients like nuts and oats. 
Leave the uber-sugary chocolate chip cookies behind and switch to more grain-based recipes that use ingredients like quick-cooking oats, pumpkin seeds, chopped nuts, and raisins, like oatmeal cookies or fruit and grain dessert bars. Granola bars with a small bit of chocolate or chocolate-covered nuts are another option for minimizing sugar.
Switch Up Cold Desserts On Summer Days
It's hard to beat ice cream on a hot summer day, but most ice cream is filled with sugar and fattening ingredients like whole milk, heavy cream and egg yolks. A single scoop of ice cream can have a whopping 250 calories and 10 grams of saturated fat. Instead of ice cream, seniors should opt for fruit popsicles — the more real ingredients like sliced fruit, the better — or frozen yogurt. One cup of frozen yogurt is only about 4 grams of saturated fat and can be topped with tasty ingredients like fruit and whipped cream.
High-protein Snacks For Seniors
Super sweet drinks are a treat, but high-protein shakes will have the added benefit of an energy boost that's better for you than the sugar high from heavy milkshakes or sweetened coffee drinks.
Another protein-heavy option is a yogurt parfait. Parfaits might be a popular breakfast item, but that doesn't mean they can't satisfy a sweet tooth later in the day. Yogurt is also an excellent source of probiotics that encourage healthy digestion. Plus, adding in fruit and granola increases the fiber benefits of this dessert.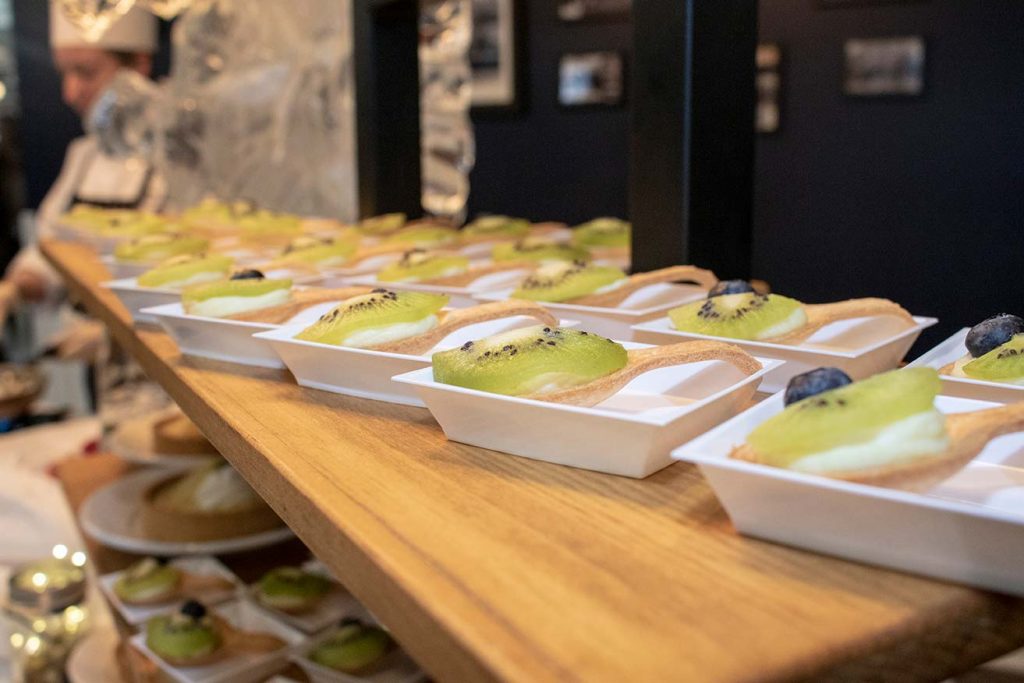 Create Homemade Sweet Treats
Seniors looking to reduce unnecessary sugar and dairy should always opt for homemade recipes whenever possible. Stores and restaurants might add large amounts of sugar, dairy and additional sweeteners to ensure your sweet tooth is satisfied. 
It also doesn't help that restaurants often think "bigger is better" and can easily serve twice the amount of a recommended portion size. At home, you can measure the amount of butter, sugar and extras you use in any recipes and be sure your portions are the correct size.
Enjoy Chef-prepared Healthy Desserts At Independence Village
Independence Village communities offer chef-prepared meals every day with healthy options for entrees and desserts. Our gourmet food options are prepared with farm-fresh, local ingredients so you get the most out of every meal. To learn more about our dining options, or about life at Independence Village, call us at 1-844-40-ENJOY.
Related: Why Seniors Should Eat Whole Grains For A Healthy Diet