Without the proper preparation, deciding on daily meals can be a struggle. When cravings take over and there's nothing at home, it's often easy to settle on unhealthy options. Instead of snacking or picking up fast food, meal preparation is an option to always have healthy options readily available at home.
With age, dietary habits require more time and attention. Because of this, seniors especially shouldn't settle on fast food or unhealthy snacks. It is important to take the time to plan out meals to ensure you or your loved one are receiving proper nutrients daily. To learn how to prep meals for the elderly, consider the following.
What Is Meal Preparation?
Instead of cooking on the spot, meal preparation is a process of preparing multiple meals ahead of time. This form of planning and preparing is often referred to as "meal prep" for short. Meal prep usually takes place at the beginning of the week, and you prepare all the ingredients for a week's worth of meals on the same day. This way, meals are cooked in bulk and put into individual portions spread throughout different containers for each day of the week. Meal preparation for seniors can save time and money while staying organized and reaching dietary health goals.
Why Should Seniors Meal Prep?
Meal prep for seniors goes beyond just putting meals into a container. The planning that goes into this process is what's important. Preparing meals ahead of time ensures that seniors are receiving the nutrients they need in the meals they consume. Planning ahead of time allows time for finding recipes that will taste good while also providing key nutrients to benefit one's health. Perks of meal prep for seniors include:
Nutritional benefits

Meeting dietary guidelines

Supporting eating regularly
Nutritional Benefits 
If you are experiencing vitamin deficiencies, adjusting your diet can ensure you're getting what you need. While you're making an effort to incorporate certain requirements, there are also ingredients that should be avoided. Some examples of what to monitor include salt, sugar and fat. Being in control of your own meal preparation allows you to add only the ingredients that provide health benefits and remove the ones that don't. 
Meeting Dietary Guidelines 
To reduce health risks and various diseases, incorporate food from each food group into your diet. Certain food groups will provide specific health benefits your body needs to remain strong and healthy. For example, having protein in your diet maintains and builds muscle. Protein can be obtained from:
Meat

Seafood

Dairy

Beans

Peas

Lentils
Outside of protein, fruits and vegetables are key elements of a healthy diet. These provide natural vitamins your body needs. During your meal prep journey, take the time to research different vitamins and minerals and their health benefits. While consuming these foods make sure to also drink plenty of water. This will absorb those nutrients and aid digestion while keeping you hydrated.
Related: Best Nutritional Drinks For Seniors
Support Eating Regularly 
Dietary needs and preferences change as we age. Try establishing a routine to ensure necessary meals are being consumed. These can include smaller portions with the right nutrients seniors need. Smaller meals appear to be more manageable for those struggling with a loss of appetite. Meals might be intimidating if they are too large, don't look appealing or require too much work with utensils. 
Related: Loss Of Appetite: 5 Treatment And Senior Nutrition Tips  
Healthy, Simple Meal Prep Ideas
Use our top recipes to help you decide on the best meal prep for seniors that fits your lifestyle. Try these nutrient-dense recipes you can make in advance.
Breakfast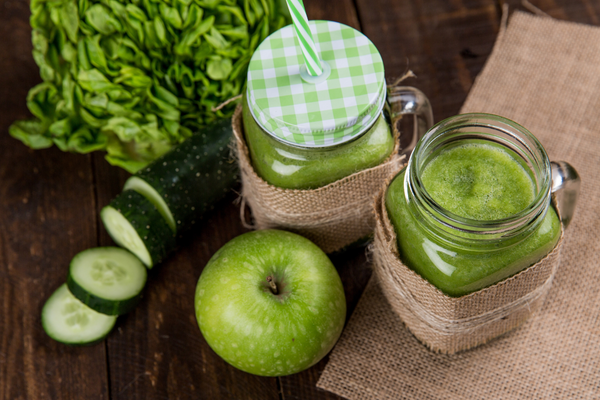 The beauty of breakfast is that whether you're looking for something sweet or savory, there are healthy options to satisfy any craving. Here are some easy breakfast recipes that you can add to your weekly menu. 
Green smoothie.

Vitamin-rich smoothies are a great option for seniors because they're an easy way to get the vitamins and nutrients your body needs. Include kale or spinach for a high dose of Vitamin A.

Overnight oats.

These oats are easy to prepare, and incredibly versatile: you can add different fruit and nuts as toppings every day. 
Whole grain blueberry muffins.

Muffins are great to make in advance, freeze and unthaw in the microwave. Moist and dense, muffins made with whole ingredients and no refined sugar are best for older adults. 

Breakfast sandwich.

Choose a whole-grain English muffin, lean or healthy protein such as smoked salmon, and load up on the veggies. Watch our Executive Chef Alex Gandia prepare a breakfast sandwich and prep them to be eaten later.
Related: Senior Nutrition: Breakfast Foods That Get You Moving
Lunch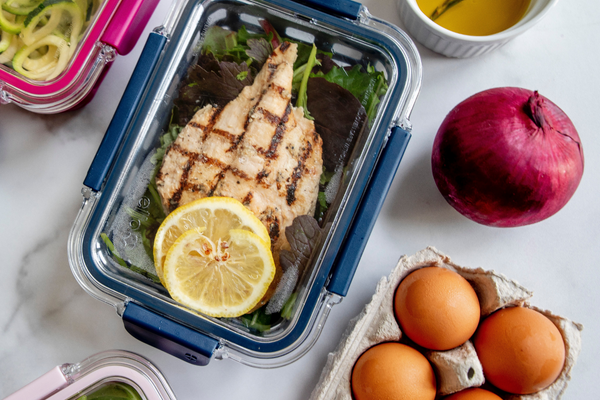 No more boring sandwiches. These meal prep ideas will have you looking forward to lunch. From protein-packed to vegetarian-friendly, here are some ideas to inspire the next midday meal for you or a loved one. 
Salmon and veggies.

According to "A Sweet Pea Chef," the trick to meal prepping salmon is (1) the spice rub, and (2) pan-roasting. If you're using meal prep containers (containers with latches to keep in the freshness) and have stored your salmon well, these meals will last in the fridge for up to 4-5 days. 

Taco bowls.

This healthy take on Mexican food combines protein, carbs and veggies, making a delicious meal prep bowl. Simple and complete with all the food groups, a taco bowl will quickly become a staple in your diet. 

Easy vegetable fried rice.

This recipe is a great way to use up some leftover rice or raw veggies in your fridge and give them a new flavor. For the best results, cook the eggs, vegetables and rice separately, then combine them all at the end.

Pasta salad.

Make a pasta salad with fresh veggies for a nutritious weekday meal.

Watch our Executive Chef Alex Gandia prepare a pasta salad below. 
Dinner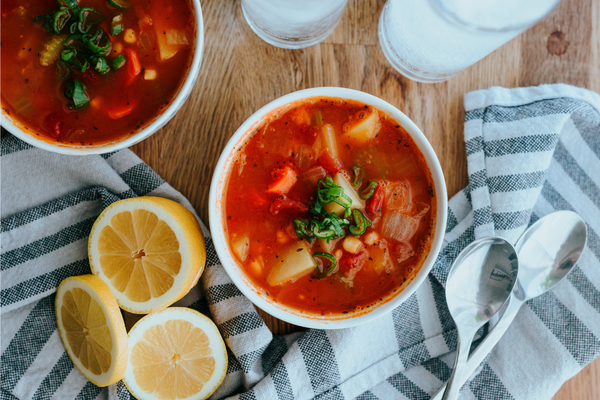 These hearty dinners are easy to make in a batch and eat throughout the week. Don't be afraid to make extra and freeze the leftovers. See our dinner meal prep ideas that are easy on the wallet and good for the body. 
Stuffed peppers.

Looking for more ways to add veggies to your diet? Try stuffed peppers. This quick and easy dish is perfect for seniors because of how customizable it is. Just add a protein or grain like quinoa, peppers and seasoning, and you've got a meal! 
One pot chicken and rice.

This one pot recipe cuts down on dishes and makes for a convenient weeknight dinner. Use rice and chicken thighs or chicken breasts. To make it extra healthy, remove the chicken skin before cooking. Who doesn't love a good one pot dinner? 
Pork stir fry.

For this recipe, either pork loin chops or pork tenderloin work well. Add pineapple chunks for a sweet, tangy flavor. This flavorful, filling entree will keep you satisfied throughout the week. 
Cabbage stew.

One of the best parts about this recipe is that it's so easy to make. Simply saute celery, carrots and onions, then add in the cabbage and any other veggies you want. This beloved recipe is a staple in our StoryPoint Group communities. See our Executive Chef Ben Davis walk through the recipe below. 
How To Prep Meals For
The
Elderly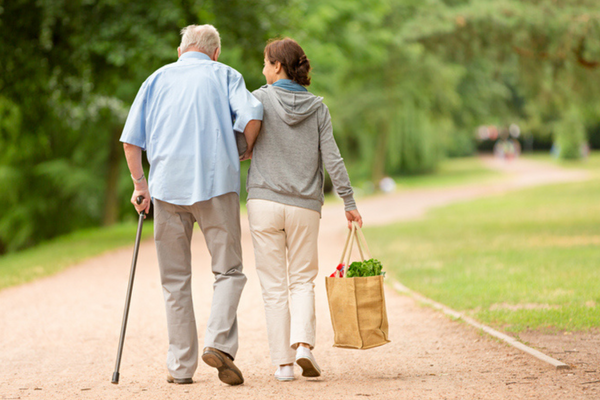 Identifying your goal is the first step to beginning your meal prep journey. While there are multiple benefits to meal prepping, it's important to have a purpose in the process you're adopting. For example, if your goal is to gain the nutritional benefits of meal prepping, this will influence how you prepare and plan future meals. For easy meal prep for seniors, try these steps:
Determine the purpose.

Identify the goal you want to get out of it. This will shape what you incorporate into your meals and how you prepare them.

Find relevant recipes.

Online websites are a great way to find recipes that are best for meal prepping and reaching your goals. Recipes can also be found in magazines, through word of mouth or on social media platforms. 

Research ingredients.

Take the additional time to research any ingredients that provide essential nutrients or identify any harmful ingredients you should be avoiding. 

Make your grocery list.

Be prepared before heading to the store and make sure you're getting all the items necessary for meal preparation. Staying true to this list can also help stick to your budget and avoid adding unnecessary items to your cart. 

Purchasing ingredients

. When at the grocery store, following your list prevents grabbing extra snack foods or unhealthy items that may catch your eye. Buying only what you came for can save you time and money.

Prepare the meals.

Once you have the necessary ingredients, you can begin preparing meals for the week. Setting aside this time to prepare multiple meals at once allows for easy grab and go during the week instead of hours in the kitchen each day. 
Establishing a routine will help make meal prepping a habit. Try creating a schedule that outlines certain days for recipe prep, shopping and preparing. This way, you can stick to a routine that will eventually become second nature. 
Related: Ways To Boost Your Immune System As A Senior
Where To Find Additional Meal Prep Assistance
If the combined steps of meal preparation become help, seek assistance. There are other ways to retrieve the benefits of meal prep without doing all the work yourself. Some options to look into include:
Friends and family.

If you have relatives nearby, lean on them for assistance putting meals together. This can be a way to spend time together at least once a week and bond over a shared interest in food and being healthy. 

Delivery services.

There are companies that put together meal preparation boxes that ship directly to your home. You have the option to select the foods you want and have them delivered to your door. 

Assistance programs.

For those needing financial assistance, there are programs available. Certain organizations help put together meals for seniors and provide delivery to those in need.

Senior living communities.

If you need help preparing meals, consider a senior living community. Here, dining services are included that ensure proper nutrients are provided in each meal. 
Dining At Our Communities 
Our communities offer diverse menus to reflect the personalized interests of our residents. Our Executive Chefs take the time to get to know our residents and what they like to create an enjoyable experience. To ensure you're getting the proper nutrition in your meals, trust our award-winning team. To learn more about our communities, speak with a Community Specialist today at 1-844-275-9990.