The saying "breakfast is the most important meal of the day" has stood the test of time — and for good reason. Breakfast is a key part of senior nutrition and the benefits of this first meal of the day are vast. 
From improving energy levels and concentration to reducing the risk of diseases like type 2 diabetes and heart disease. Eating a healthy breakfast is a verified way to support overall health.
If you're looking to improve your breakfast regime, start a new morning routine or are in need of some breakfast ideas for seniors, here's everything to know to start your day in a healthy, satisfying way.
Why Is Breakfast Important For Seniors?
When it comes to senior nutrition, fueling your body and mind with breakfast is important for many reasons, including:
Energy. The body gets its energy from glucose (which comes from the carbohydrates you eat) and stores some of this glucose as glycogen to use when other energy supplies run low. In a fasted state, which often occurs overnight between your last meal and breakfast, these glycogen stores become depleted, meaning the body has to turn to less efficient sources for its energy, leaving you feeling sluggish. The best way to replenish the energy and nutrient stores in your body is by eating first thing in the morning.
Brain health. The brain primarily relies on glucose to function optimally. Eating breakfast upon waking supplies the body with glucose to fuel your brain and support mental performance throughout the day.
Weight control. There is ongoing debate about eating or skipping breakfast and the benefits of each on metabolism and weight control. Overall findings conclude that when it comes to health and the number on the scale, filling up first thing in the morning with a healthy breakfast can help you to avoid making unhealthy food choices you may otherwise make later in a hungrier state. It can also set you up for success in choosing other healthy options throughout your day.
Medications. As prescribed by medical professionals, many medications must be taken with food to avoid an upset stomach. Getting into the routine of taking these types of daily medications with breakfast or a directed meal is a good way to make sure medicine is consumed properly. Tip: Taking medications around the same time each day can help you remember to take them.
Related: Why Seniors Should Eat Whole Grains For A Healthy Diet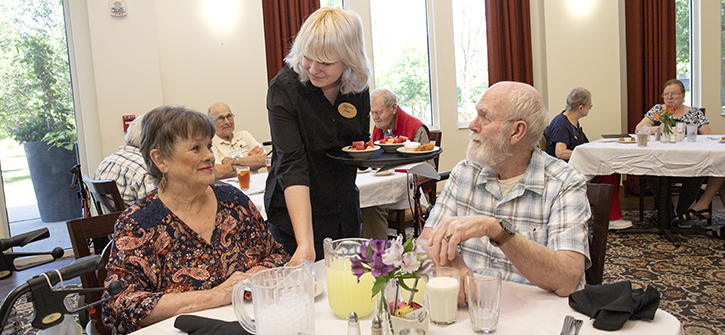 How To Ensure Your Breakfast Is Nutritious
When it comes to curating a morning meal, there are many easy breakfast recipes. But, not all breakfast options are created equal. When deciding on breakfast, you ultimately want to choose high-quality, whole foods. In general, the fewer ingredients a food item has, the better. 
Here are some recommended foods for planning a healthy, hearty breakfast:
Opt for whole grains. Foods like bagels, toast, waffles, oatmeal, cereals or English muffins all have whole-grain varieties. Whole grains are also good sources of fiber, which supports senior nutrition in many ways.
Look for lean protein. Eggs, yogurt and nuts or seeds are great sources of protein. 
Add vegetables. Greens may not be your go to breakfast option, but there are many ways to incorporate veggies into this meal. Try scrambled eggs with spinach and mushrooms or an omelet with bell peppers and onions. Don't prefer the taste? Incorporate greens into a smoothie with fruits as a way to avoid the taste while still reaping the benefits.
Choose fruits. Fruit is a key part of an overall balanced diet and a versatile ingredient when it comes to breakfast. Berries are often one of the best fruit choices, as they are lower in natural sugar, and provide heaps of needed vitamins and antioxidants.
Tip: Be mindful of sugar content. The American Heart Association (AHA) recommends about 36 grams (9 teaspoons) of sugar per day for men and 25 grams (6 teaspoons) per day for women. 
Food items like cereals, bread and granola bars may appear healthy at first glance, but check the ingredients list before consuming them. 
"Sugar" is only one word used to describe this ingredient. If you see terms like "dextrose," "glucose," "cane juice," or "high-fructose corn syrup," to name a few, are all alternative names to sugar. In addition, ingredients on food labels are organized by the quantity of the ingredient from highest to lowest, meaning the closer sugar (or one of its counterpart names) is to the front of the list, the greater presence it has in the food item. 
Related: The Importance Of Fiber For Older Adults
Healthy Breakfast Ideas For Seniors
The beauty of breakfast is that whether you're looking for something sweet or savory, there are healthy options to satisfy any craving. Easy breakfast recipes can meet your needs while taking only a few minutes to prepare. 
A few breakfast meal options you might consider incorporating into your routine include:
Oatmeal topped with fruits and nuts or seeds.
A veggie omelet with a side of whole-grain toast.
A whole-grain bagel topped with avocado and cherry tomatoes.
A smoothie with spinach, fruit and yogurt.
Hard-boiled eggs with a side of fruit.
Related: What To Eat To Boost Your Immune System As A Senior
Breakfast Sandwich Recipe
Cook alongside our Executive Chef as he prepares a delicious and breakfast sandwich. To make it nutritious, choose a whole-grain English muffin, lean or healthy protein such as smoked salmon, and load up on the veggies.
Senior Meals And Nutrition At Independence Village
At Independence Village, every meal is crafted with our residents in mind. Not only are residents able to choose from multiple, personalized meal options each day, but they also have access to our in-house registered dietitian and personal nutritional plans benefiting senior nutrition. To learn more about our dining options, contact us at 1-844-403-6569.