The holidays are a joyous time at StoryPoint Senior Living. Our chefs craft treats for residents to enjoy and share amongst our community. We're so excited about our holiday recipes that we felt compelled to share some of our favorite holiday cookie recipes. Check them out below.
French Vanilla Sable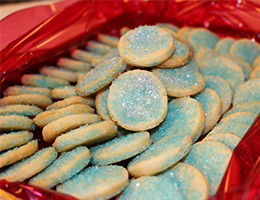 Makes about 30 cookies
Ingredients
2 sticks of unsalted butter, cut into cubes, room temp
½ cup (100 grams) sugar
¼ cup (30 grams) confectioners' sugar, sifted
½ teaspoon fine sea salt
2 large egg yolks, room temperature
2 teaspoons pure vanilla extract
2 cups (272 grams) all-purpose flour
Silver decorating dust
Blue sanding sugar, for sprinkling
Instructions
Working with a stand mixer fitted with the paddle attachment, beat the butter, both sugars and salt on medium speed for about 3 minutes, scraping the bowl as needed. The mixture should be smooth but not fluffy. Reduce the mixing speed to low and, one by one, beat in the egg yolks, followed by the vanilla. Turn off the mixer, add the flour all at once and pulse the mixer until the risk of flying flour has passed. With the machine on low, mix just until the flour disappears into the dough. Give the dough a couple of turns with a sturdy flexible spatula.
Turn the dough out onto the counter and divide in half. Gather each piece into a ball and shape into a disk.
Working with one piece of dough at a time, roll the dough ¼ inch thick between pieces of parchment. Slide the parchment sandwiched dough onto a baking sheet-slabs can be stacked-and freeze at least 1 hour, or refrigerate 2 hours.
Center a rack in the oven and preheat it to 350°F. Butter and spray a regular muffin tin. Have a 2 inch diameter cookie cutter at hand.
Working with one sheet of dough at a time, peel away both pieces of paper and put the dough back on one piece of paper. Cut the dough and drop the round into the muffin tin(s). The rounds might not fill the muffin cups completely now, but they will once they bake. Save the scraps from both pieces of dough, then gather them together, reroll, chill and cut. Sprinkle the cookies with sanding sugar.
Bake the cookies for 16 to 19 minutes, rotating the tin(s) after 10 minutes, or until they feel firm to the touch and are golden brown around the edges. Transfer the muffin tin(s) to a rack and let the cookies rest for about 10 minutes before carefully lifting them out onto the rack to cool to room temperature. Once cooled, lightly dust the sugar with silver decorating dust.
Peppermint Macarons with White Chocolate Ganache (Gluten Free)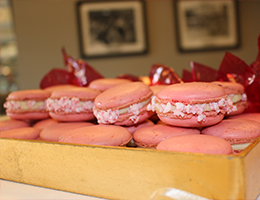 Makes about 45 sandwiched macarons
Macaron Ingredients
2 cups (200 grams) almond flour
1 2/3 cups (200 grams) confectioners' sugar
2/3 cup (150 mL) egg whites, approximately
5 Red food coloring
1 cup (200 grams) sugar
¼ cup (60 ml) water
White chocolate ganache (Instructions below)
Crushed candy canes for garnish
White Chocolate Ganache Filling
Makes 1 cup
10 ounces (283 grams) white chocolate, finely chopped
2/3 cup (160 ml) heavy cream
1 ½ tablespoons (22 grams) unsalted butter, cut into 3 pieces, at room temperature
Ganache Instructions
Bring the cream to a boil.
Pour over chocolate and wait 30 seconds. Using a flexible spatula, start stirring until the ganache is smooth and shiny. Drop in the butter pieces one at a time, stirring until each piece is blended before adding another. Stir gently, don't beat.
Macaron Instructions
Place a strainer over a large bowl and press the almond flour and confectioners' sugar through it. Whisk to blend.
Put half of the egg whites in a stand mixer fitted with the whisk attachment.
Add food coloring to the other half of the egg whites, stir and then pour them over the almond flour and confectioners' sugar. Using a flexible spatula, mix and mash the whites into the dry ingredients until you have a homogenous paste.
Bring the sugar and water to a boil in a small saucepan over medium heat. If there are spatters on the sides of the pan, wash them down with a pastry brush dipped in cold water. Attach a candy thermometer and cook the syrup until it reaches 243°F to 245°F.
Meanwhile, beat the egg whites until they hold medium-firm, glossy peaks. Reduce the mixer speed to low and keep mixing until the sugar syrup comes to temperature.
When the sugar is ready, take the pan off the heat and remove the thermometer. With the mixer on low speed, pour in the hot syrup, trying to pour it between the whirring whisk and the side of the bowl. You will have spatters but don't incorporate them, they will ruin your meringue. Increase the mixer speed to high and beat until the meringue has cooled to room temperature, about 10 minutes (you'll be able to touch the bottom of the bowl).
Give the almond flour mixture another stir with the spatula, then scrape the meringue over it and fold everything together. Don't be gentle here: use your spatula to cut through the meringue and almond flour mixture, bring some of the batter from the bottom up over the top and then press it against the sides of the bowl. Keep folding and mixing until, when you lift the spatula, the batter flows off it in a thick band. *If you want to add more food coloring, do it now.
Pipe into 1 ½ inch rounds. Let sit in a cool dry place to allow the cookies to form a crust (this can take 15 to 30 minutes, more depending on the humidity and temperature).
Preheat the oven to 350°F. Bake the macarons for 6 minutes. Rotate the pan and cook for another 6 to 9 minutes or until the macarons can be lifted from the mat. Fill with White Chocolate Ganache and garnish with chopped peppermint candies.
Chef Abby's Molasses Cookies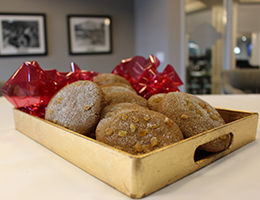 About 28 cookies
Ingredients
5 cups all-purpose flour
2 teaspoons baking soda
1 teaspoon baking soda
1 teaspoon ground ginger
1 teaspoon cinnamon
½ teaspoon salt
1 cup shortening
1 cup packed brown sugar
1 cup molasses
2 eggs
2 tablespoons water
2 tablespoons cider vinegar
Coarse sugar and crystallized ginger, finely chopped
Instructions:
In a large bowl combine the flour, baking soda, ground ginger, cinnamon, and salt. Set aside.
In a very large bowl beat shortening with an electric mixer on medium to high speed for 30 seconds. Add brown sugar. Beat until combined, scraping sides of bowl occasionally. Add molasses, eggs, the water, and vinegar; beat until combined. Beat in as much of the flour mixture as you can with the mixer. Stir in any remaining flour mixture. Divide dough in half. Cover and chill about 1 hour or until dough is easy to handle.
Preheat oven to 375°F. On a floured surface, roll half of the dough at a time to ½ inch thick. Cut dough using a 3-inch scalloped or round cutter. Place cutouts 2 ½ inches apart on un-greased cookie sheets. Sprinkle with coarse sugar and crystallized ginger.
Bake in the preheated oven about 10 minutes or until edges are firm. Transfer to a wire rack; cool completely.
Happy Holidays from StoryPoint Senior Living
If you're interested in seeing what our communities are like during the holiday season, contact us to come in for a visit. From all of us at StoryPoint Senior Living, we wish everyone a safe and happy holiday.