June 7th, 2019
Realizing it may be time to relocate mom or dad is difficult. There are many factors that come into play when you and your loved ones are trying to make a decision about appropriate next steps. Here are some signs to look for that can help you decide if relocating your mom or dad is the right thing to do.
When Relocating is the Best Option
They need more assistance.
It can be hard for your loved one to admit they need greater support with daily activities,
especially if they're concerned about losing their independence. But when seniors begin having a hard time with tasks such as doing laundry, cooking or cleaning, it may be time to start looking at senior living options.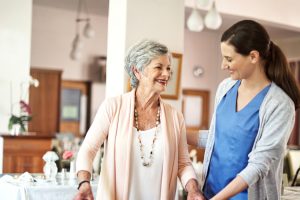 The benefit of senior living communities is that they are equipped to assist seniors and ensure their needs are being met while still promoting independence.
They live far away.
Supporting parents who live far away can be challenging. Not being part of their day-to-day and easily available if something happens can be unsafe — not to mention cause you excess stress and worry.
If there's distance between you and your loved one, check their driving habits. Do they lack confidence behind the wheel? Is the car in need of routine maintenance? Does mom or dad struggle to maintain a consistent speed? These could all be signs it's time to move your parent closer.
Moving any distance is hard. If your parent is resistant, remind them about how much more they will be able to see their children and grandchildren.
They aren't socializing.
When your loved one isn't leaving the house as much, it likely means they aren't socializing or partaking in activities they enjoy. For many seniors, a lack of social connections can lead to loneliness or depression.
One of the biggest perks of any senior living community is the opportunities for socialization. While it can take time to adjust to a new environment, often seniors flourish once they make connections and become part of a community.
How to Discuss Relocating with Your Loved One
Bringing up the idea of relocating with your parents can be tricky. The last thing you want is to offend your loved one or make them feel as though they don't have a say in their future living arrangements.
To avoid this, involve your parent in the decision-making process. And remember: While relocating your parents may be easier for you, it may not be the right thing for them. Take time to gather the facts, listen to your loved ones' opinions and work together to make the best decision.
RELATED: Three Strategies for Reluctant Aging Parents
Ready To Start The Senior Living Search?
StoryPoint communities are centered around building lasting, meaningful connections. If you're interested in learning more about transitioning to senior living, determining which type of community is the best fit is a great place to start. Take our survey here to find out.