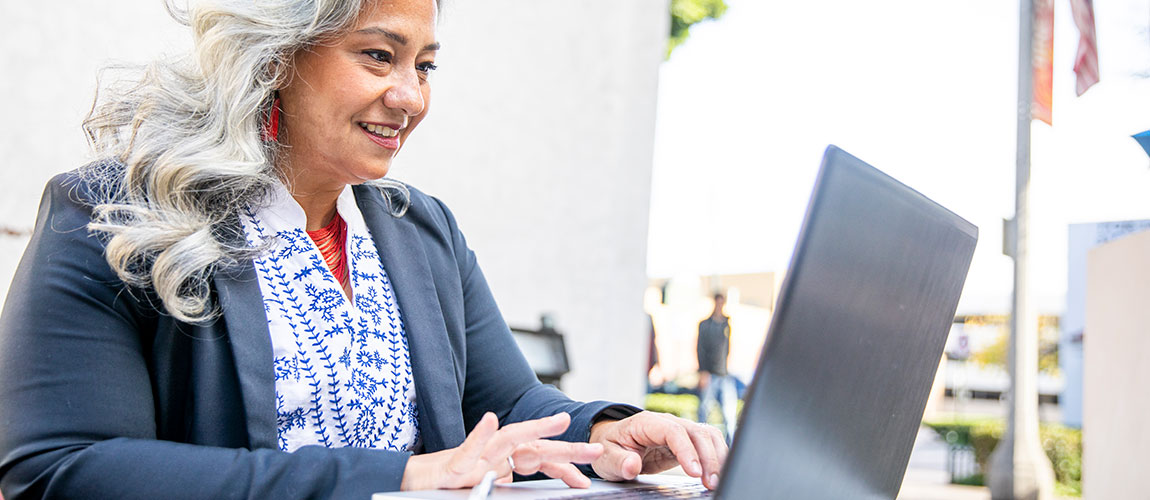 Virtual Learning 101: Online Learning For Seniors
Now more than ever, online learning is a great way for people of all ages to continue their education, dive into a topic of interest or learn something completely new. When it comes to online learning for seniors, there are a variety of benefits, and the options for both the types of courses and the available methods of learning are truly limitless.
Here's everything you need to know about online learning and online classes for seniors.
Online Learning Fits Your Schedule
From a desktop to a tablet or even your mobile device, wherever you can access the internet or your downloaded applications, you can log into a virtual class.
Most online classes have a schedule outlining the course overview and what to expect. While providing structure, this also gives you flexibility in determining when you want to tune in, study and do any coursework.
Many online classes for seniors are pre-recorded, and therefore are self-paced, giving you the extra freedom to fit a course into your schedule wherever it best makes sense without having to worry about deadlines.
Online Learning Keeps You Socially Engaged
School is often one of the best places to make friends, and while online learning is remote (and the days of making friends on the playground have passed) it still provides opportunities to connect with others who have similar interests. Study forums, interactive classes with video streaming, group projects, virtual book clubs and more are all ways to collaborate with others and meet new, like-minded people.
Online Learning Supports Cognitive Function
The brain behaves like a muscle, which means in order to keep it strong and healthy, you need to keep it engaged — and challenged — on a regular basis. New experiences, like learning something new or sharpening old skills through an online course, are great ways to preserve — and even strengthen — cognitive function.
Online Learning Options For Seniors
A quick internet search of courses in your desired subject or skill will bring up a variety of options for you to choose from, and not all of them take the form of a traditional class — like free online classes for seniors, for example. Here are a few you may consider:
University Courses: Universities across the country offer courses taught by experts in the field. If you are looking to pursue a formal degree or take an accredited course, this option may make sense for you. While some classes with a live instructor take place over the course of a typical college semester, others, like courses through HarvardX, are self-paced (and free!). Other hubs offering free online classes for seniors can be found at Class Central and Coursera.
Flip50: If you're looking to kickstart healthy habits, Flip50 is an app designed for those 50 and older that provides users with access to gyms nationwide, wellness plans, discounts on massage, acupuncture and other therapies, and more.
Sky Guide: Another app, Sky Guide offers in-the-moment learning rather than the teachings of a course. To use Sky Guide, open the app on your mobile device and point it at the night sky to learn more about the stars, constellations, planets and other space matters that are right above you.
TEDTalks: Since the early 1980s, TEDTalks videos have provided expert insight into a variety of topics. The best part? All videos are under 18 minutes, meaning you can gain new knowledge or perspective without the in-depth nature of a class.
Audio Books: There are a variety of audio book platforms that offer the opportunity to learn more about a topic of interest. Self-help books, autobiographies and biographies, and non-fiction literature are all great places to start if you're looking to read up on a topic.
Local Businesses: From the public library to the yoga studio, refer to the websites and social pages of local businesses in your area to see what sort of online educational classes, events or seminars they may be hosting. Often these events are free or of minimal charge, and are a great opportunity to support the small businesses around you.
Whether you're looking for a how-to course on publishing a novel, curious about the Revolutionary War or interested in learning how to maintain optimal health as you age, the world of online learning is vast, and picking up new knowledge or adding a unique skill to your arsenal is a great for social engagement, life purpose, brain health and more.
Events And Activities At StoryPoint
At StoryPoint, residents can enjoy daily activities and events including educational classes and seminars, game nights, cooking demonstrations and more. For more information, call us at 1-855-407-8679.