Traveling to new places or spending time with new friends. Who doesn't love trying something new?
Whether it's an off-site trip to a football game or a cheerful book club in the community dining room, assisted living activities greatly enhance the quality of life for seniors.
Assisted living communities offer a wide range of activities tailored to their residents' individual wants and needs. On-site activities can vary widely between communities.
If you're considering assisted living for your loved one, we've compiled several fun activities they'll be able to participate in and enjoy.
Why Are Assisted Living Activities Important?
Improved physical well-being.

Regular exercise helps to improve balance, maintain energy levels and keep overall brain function sharp — all of which aid in making daily tasks and movements easier for seniors

Preserve cognitive functions.

Like any muscle, we have to regularly challenge our brains so it maintains its memory and cognitive functions. Many assisted living communities provide engaging activities because they understand seniors who play brain games are strengthening their mental well-being in a healthy, fulfilling way.

Enriching quality of life. While relaxation and downtime are important, adding activities to your loved one's schedule provides both structure and enjoyment. Taking part in a vibrant senior living community gives them an opportunity to challenge their minds, live an active lifestyle and make new friends — rejuvenating their golden years.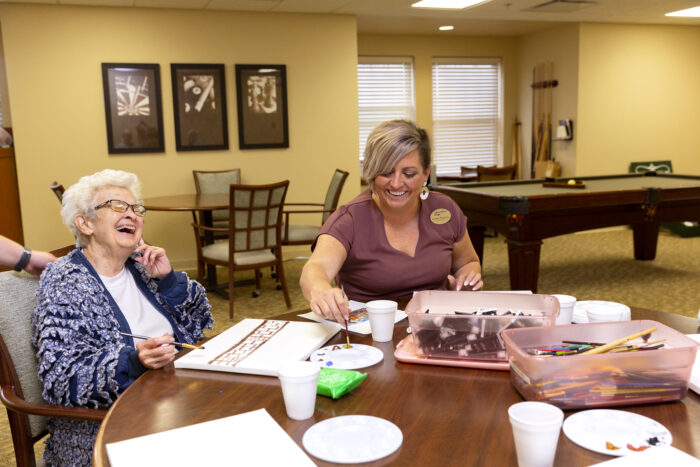 Our Top Assisted Living Activities Ideas To Inspire You
Does Mom love reading? Would she be a great new addition to a community book club? Or, would putting her green thumb to use in the community garden seem like something she would enjoy? 
The ideal assisted living community should have plenty of activity options to choose from. When researching the right senior care community for your loved one, request an activity calendar ahead of a move-in. 
Exercise/Physical Activities
The benefits of socialization and exercise have no age limit! A few major perks of senior living communities are the on-site amenities like a pool, fitness center, exercise classes and more. 
Community classes make fitness easily accessible and more fun with friends. Classes can include: 
Chair yoga

Jazzercise 

Pilates

Tai Chi

Water aerobics

Meditation 

Elliptical machine or exercise bike on low resistance

​​Weight training with light dumbbells 
Best of all, the instructors can help provide structured workouts tailored to each resident's needs. 
So, whether a low-impact exercise would be best, or an anaerobic exercise like chair yoga would fit your loved one's needs, activity directors can help determine which activities are best for their goals and personal capabilities.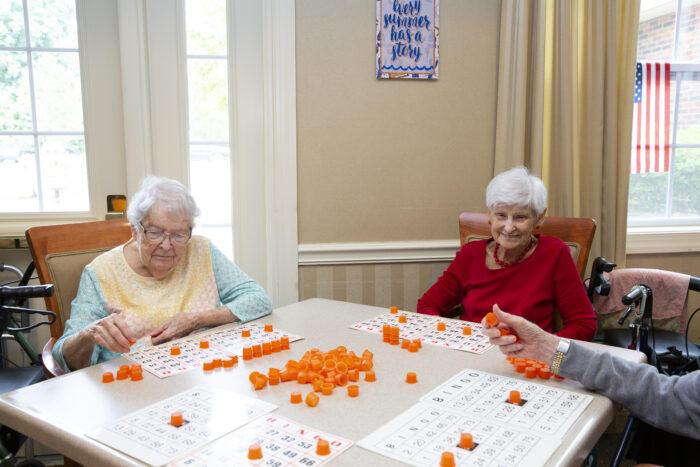 Cognitive Activities
Assisted living communities are known for providing creative ways to keep residents engaged and encourage mental stimulation. 
Brain games and group activities like bingo are a fun way to improve problem-solving and memory skills. We've listed the most common cognitive activities you'll see on a community calendar:
Jigsaw puzzles

Board games

Botanical identification games

Shuffleboard

Chess

Crossword puzzles

Scrabble

Boggle

Upwords
The majority of communities now offer an array of traditional live and virtual games. One of our sister communities, Independence Village Ankeny, held an Olympics-themed event where residents could compete in cognition-strengthening brain games like bean bag baseball, ring toss and more! 
Activities like these are designed to help our residents stay active, sustain their mental well-being and feel a sense of accomplishment. 
When you're researching the right community for your loved one, be sure to ask any prospective community for their list of activity offerings and how they encourage residents to stay mentally active.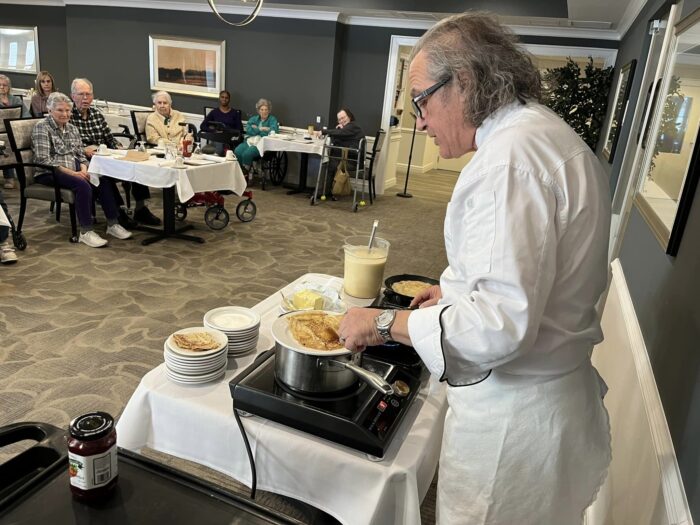 Social Activities
Friends just make life better and more complete. For older adults especially, it's essential to make social connections. And, who doesn't love spending time with friends and visiting new places? That's why many communities plan outings and field trips. 
Some common social events include:
Live music

Cooking classes

Local concerts or museums 

Book clubs

Trips to plays or musicals

Sporting events

Going to local restaurants
Outdoor Activities
Getting outdoors is more than just a good pick-me-up. It boosts physical, mental and emotional health for older adults. Outdoor activities can offer a breath of fresh air, and they're a necessity for improving overall health and longevity.  
Assisted living communities know how important it is to switch up the daily routine and get out in nature, so many communities help residents get out in the great outdoors by scheduling events like: 
Golf

Outdoor yoga

Walking 

Gardening

Visit a zoo or aviary

Stargazing

Fishing
At our StoryPoint Group communities, we schedule events like fishing trips, outdoor yoga and more to ensure our residents get all the benefits of spending time in nature, boosting their ​​creativity and adventurous spirit.
Related: The 10 Best Outdoor Activities For Seniors
Activities In StoryPoint Group Communities
StoryPoint Group communities are thoughtfully designed to meet residents where they're at with accessible activities, community spaces and events that everyone can participate in. 
To learn more about what we offer, call us at 1-844-275-9990 or contact a community specialist today. We can't wait to get to know you!