As your parents age, their health care needs can change, and it's normal to have questions. 
What is the best care option for your elderly loved one's health care needs? What is skilled nursing vs. assisted living? How can these care options help your aging family members? 
This guide is here to help answer all of these questions and more. We're here to support you as you research assisted living vs. skilled nursing.
Let us help you confidently choose the right fit for your loved one—giving you peace of mind and the best living option for them. 
What Is Assisted Living?
Assisted living in a senior living community is residential housing (an apartment, condo, townhouse or other accommodation) that combines a cozy residence with 24/7 compassionate care. 
This living option supports older adults who are able to live independently, but could benefit from additional assistance getting through their day.
Common care services available in assisted living involve support with the basic activities of daily living (ADLs), including getting dressed, mobility assistance and more.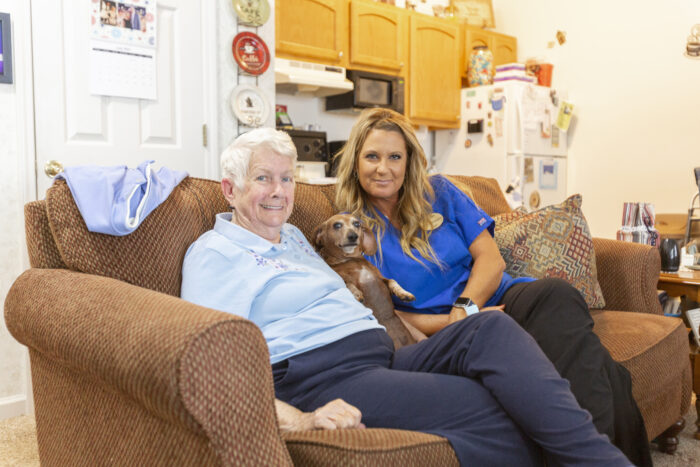 What Is Skilled Nursing? 
Not to be confused with a nursing home, skilled nursing is short-term care by a licensed medical professional for those who require high-level medical attention. 
This option is typically for seniors who need rehabilitation after a surgery, fall or related injury, or following an emergency room visit. 
Skilled nursing care refers to a patient with needs outside of the basic ADLs, who requires medical care that can only be provided by a skilled professional—a registered nurse, doctor or another licensed health care professional. 
Skilled nursing is done by licensed medical professionals trained to assist your loved one along their journey to better health. They provide the needed medical attention to help seniors regain health and strength.
What Is The Difference Between Assisted Living And Skilled Nursing?
A few of the main differences between assisted living and skilled nursing include: 
1. Lifestyle And Amenities
For assisted living residents, the main focus is hospitality, including day-to-day care that fosters personal connections and a socially active lifestyle. 
In assisted living, seniors can enjoy their golden years in a social community with a maintenance-free lifestyle, organized social events, daily assistance, and a private apartment or condo with access to on-site amenities.  
On the other hand, a skilled nursing community's main focus is on delivering quality, specialized medical care—with less of a focus on living quarters, events or lifestyle. 
2. Type Of Care
A skilled nursing community is like a medical or rehabilitation center and is designed for people who require significant medical care, such as a specialized line for IV medications, a ventilator, respiratory therapy and more.
Assisted living residents generally don't require the higher level of care a skilled nursing community provides. Assisted living communities encourage residents to live as independently as possible while providing compassionate assistance with ADLs.
3. Short-Term vs. Long-Term Care
Seniors in skilled nursing facilities are usually there temporarily before returning home or moving into a senior living community. 
An assisted living community provides personal care and assistance with ADLs in a long-term residential setting (usually an apartment or condo).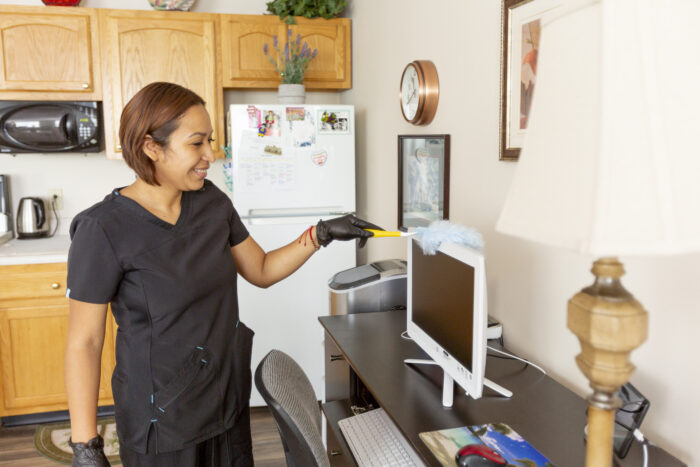 What Are The Similarities Between Skilled Nursing And Assisted Living?
Some of the top similarities between these senior wellness options are: 
Assistance with basic ADLs and medical supervision.

Caregiving services are available 24/7.

Meal service. Both options generally provide three meals a day. 

Housekeeping is provided.

Transportation services. Transport to and from doctors appointments are often provided as well. 
Choosing The Right Living Option
When your elderly parents are at a crossroad in their life journey and need supportive care, you may be wondering how to take the next step forward. Know you're not alone—you have a whole community to support you.
We asked our top experts in our StoryPoint Group communities about the factors families should consider in order to discover the best care option for their aging family member. 
Here are our five expert tips about choosing the right living option for your elderly loved one. It's important to assess:
Health status and medical needs

The level of care needed

Lifestyle preferences

Location and accessibility

Financial considerations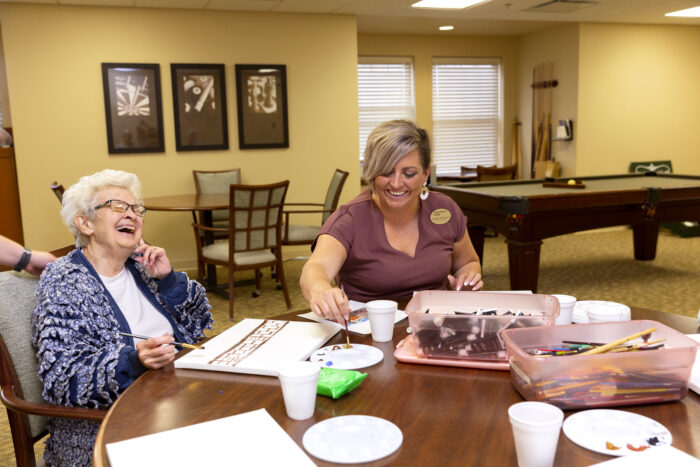 Who Should Choose Assisted Living?
Assisted living may be a good fit if:
It's becoming more challenging for your loved one to navigate their day-to-day activities.

In assisted living, professionally trained employees are there to help them get ready in the morning, and offer mobility support as they go about their day.

They could benefit from daily activities and opportunities to socialize with others. A

 major benefit of assisted living communities are the on-site social events, daily activities, trips and numerous ways to make new friends. 

Home upkeep responsibilities such as cooking, cleaning and maintenance are becoming a burden.

In assisted living, your loved one will receive three chef-prepared meals per day, daily housekeeping, laundry services and much more.
Related: 4 Key Signs It May Be Time For Assisted Living
 Who Should Choose Skilled Nursing?
Skilled nursing is typically for seniors who need rehabilitation after a hospital stay, surgery, fall or need rehabilitative services following an emergency room visit. 
A stay in a skilled nursing community is often temporary, with the goal of rehabilitating and releasing the patient to go home. But a skilled nursing community or nursing home may be longer-term if necessary or a permanent placement for a patient with a chronic condition or significant medical needs.
If you have any questions about what's best for your loved one, it's important to ask a community specialist when making this decision. They can help you find the perfect fit for their unique care needs. 
Let StoryPoint Be Your Guide
Now that you know the types of senior living options available for your aging parents, we're here to help you navigate the next steps. 
Our StoryPoint Group communities are filled with experts who can answer questions, discuss unique needs and guide you to the senior living option that's right for them.
Learn more about our assisted living options. Schedule a tour of your local StoryPoint Group community or call us at 1-844-275-9990. We can't wait to get to know you!