Recommending help is never easy, but sometimes there are signs that tell us our loved ones may benefit from added assistance. 
Assisted living communities are designed to meet residents where they're at and to support them with daily needs, household chores and more—all so they have more time to do what they love. 
When is it time for assisted living? Read on for key signs that assisted living is the right move, including alternatives to help you uncover the best care option for your aging family member's needs. 
1. Is Your Loved One Having Trouble Keeping Up With Daily Tasks?
Keep a watchful eye on your senior family member to see if they can keep up with daily chores. If you notice the dishes starting to pile up or that the laundry isn't getting done, it may be a sign they would benefit from more support. 
Once it's noticeable that day-to-day tasks are consistently not getting done, it's a good sign that it may be time to assess your loved one's care needs. 
As home upkeep becomes more stressful, assisted living communities can help alleviate unwanted daily chores.
Assisted living can help with:
Housekeeping

Medication management

Cooking

Bathroom cleaning

Laundry
Assisted living is designed to support older adults who could benefit from additional assistance getting about their day. This living option allows seniors to live independently and receive expert, caring assistance with the basic activities of daily living (ADLs) like preparing meals, bathing and more.
One of the most sought-after perks of senior living is the maintenance-free lifestyle.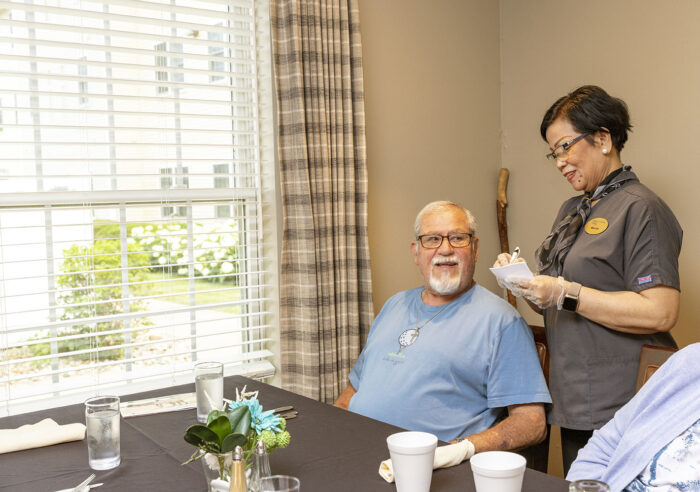 2. Is Your Loved One Struggling To Maintain A Balanced Diet?
Healthy eating habits can help improve energy, mood and longevity for seniors. If your loved one isn't getting balanced meals, try switching up the foods in their diet. It could be an opportunity to try new, fresh ingredients and spark some creativity in the kitchen. 
If you notice your loved one is struggling to cook for themselves and get the proper nutrition they need, it may be a sign that it's time to move to assisted living. Signs to look for include:
Forgetting to eat meals

Not consuming enough fluids

Loss of appetite
Senior living communities hire executive chefs who can take the pressure of cooking away from your loved one. Assisted living provides gourmet meal services and menus made to cater to dietary needs (like a low-salt diet) to ensure residents get the nutrition they need to live each day to the fullest.
 
3. Are You Feeling Overwhelmed As A Caregiver?
Household chores today. Grocery shopping tomorrow. Caregiver duties can vary widely, and caring for a loved one can quickly become a 24/7 job. 
If you take a step back and notice the balance between providing care and taking care of yourself is off, it's ok to seek help! 
Here are some questions to ask yourself if you think you may be experiencing caregiver burnout: 
How often do you get a good night's sleep?

Do you make time for yourself every day while caregiving?

How often do you lack the energy to cook, clean or take care of everyday basics for yourself? 

How often do you feel overwhelmed by everything you have to do? 
Being proactive and researching the right assisted living community may be what's best for both you and your loved one. They'll receive round-the-clock care, and you can have peace of mind knowing they're being cared for by compassionate professionals. 
Related: Understanding Caregiver Duties And Responsibilities
4. Is Your Loved One Experiencing Loneliness Or Isolation?
If your loved one seems bored at home, they may be missing the crucial social interactions we all need. Even with in-home care, they'll be limited to socializing with just you or their caregiver. 
Video calls with family and friends or playing brain games to keep their brains active can help keep their mind sharp, but if you notice these signs, it may be time to consider assisted living. 
Some hard-to-spot signs of loneliness may be: 
Change in attitude

Lack of appetite

Difficulty falling asleep or oversleeping

Low energy or motivation

Overspending 
While it may not be your first concern when choosing a community, social opportunities are a major benefit of assisted living.
Living in a senior living community empowers older adults to take part in social activities like community-wide mixers, outings to local museums, concerts, parks and other attractions. 
It's easier to make friends in a tight-knit community, and a variety of activities and events help keep your loved one motivated, active and having fun.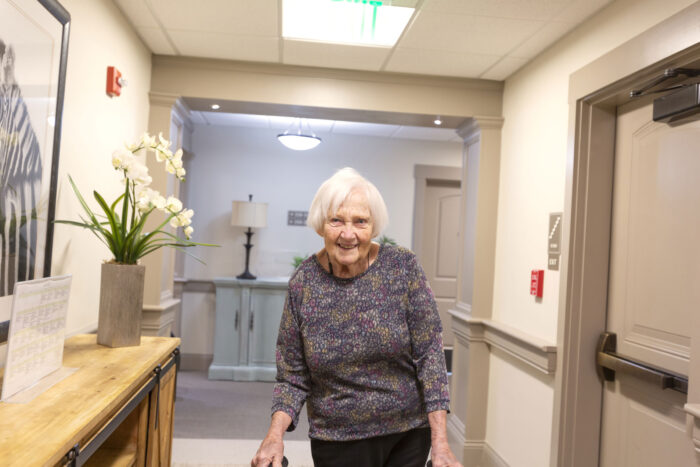 Finding The Right Care Option
When your elderly parents are at a crossroad in their life journey that requires supportive care, you may be wondering how to take the next step forward. 
It's a good idea to assess their care needs and the available living options. Here are some alternatives to assisted living you may want to consider:
Enhanced Living 
If your family member isn't quite ready for assisted living, but could still benefit from added support in independent living, enhanced living may be the perfect option. 
Unique to StoryPoint Group communities, we offer enhanced living, where our residents receive services unique to their needs in an independent setting. They can also expand or reduce those services at any time as their needs change. 
Memory Care
If your loved one is experiencing memory loss or has a memory impairments like Alzheimer's disease or dementia, assisted living may not be the right option for them. 
Memory care communities offer a secure, thoughtfully-designed environment, meal services and round-the-clock compassionate care for seniors with memory impairments. 
Related: Memory Care Vs. Assisted Living
Let StoryPoint Group Be Your Guide
Our StoryPoint Group communities offer assisted living and are filled with experts who can answer questions, discuss your loved one's unique senior care needs and guide you to the living option that's right for them. 
Schedule a tour of your local StoryPoint Group community or call us at 1-844-275-9990. We can't wait to get to know you!