A meaningful activity is more than just finding something to occupy your time. 
Staying mentally active improves mental health and overall well-being, especially for older adults who have decreased motor abilities. Whatever your interests or skill level, there are dozens of ways to have fun while keeping your hands occupied and your creativity flourishing. 
These activities are perfect for seniors with limited mobility, and they all have one thing in common: they're creative, engaging and fun.
Play Brain Games
Brain games aren't just a great way to improve your problem-solving and memory skills, they're engaging and fun. It's satisfying to achieve the goals you set for yourself, so seniors who play brain games are strengthening their mental well-being in a healthy, fulfilling way.
Games like jigsaw puzzles, sudoku and word association will entertain you for hours, while flexing those mental muscles. Let friends join in on the fun and try a social game like bingo, cards or chess. Just pick one you're interested in and get ready, get set, solve! 
Related: Fun Brain Games For Seniors To Keep Your Memory Sharp
Watch A Movie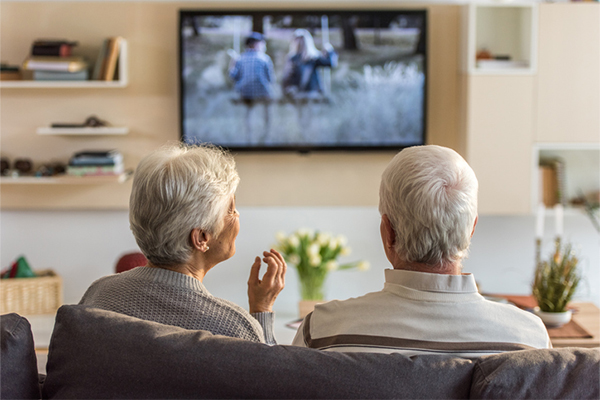 Watching a movie is a fun activity to do indoors. Movies can make us laugh, cry, or inspire us, all from the comfort of our own homes. They immerse us into new landscapes and let us take on challenges through a hero's perspective. 
Try switching up what you're used to watching. A good documentary or an intelligent historical drama can educate you on important issues and events. To make sure you were really paying attention, write down your thoughts about the movie after you're done. This can help to enrich the movie experience. 
Try A New Craft
Crafting gives seniors a fun, inexpensive way to get creative and work on dexterity. Whatever your interests or skill level, there are dozens of ways to have fun while keeping your hands occupied and your creativity flourishing.
Beading, painting, scrapbooking and other crafts are all wonderful ways to get creative. Some exciting craft ideas include:
Quilting

Painting

Origami 

Making a family recipe book

Scrapbooking

Soap or candle making
A Unique Craft Idea From One Of Our StoryPoint Residents
Have you ever thought about doing a miniature craft? They're gaining popularity and there are proven benefits to doing miniature crafts for older adults. One of our residents, Judy, created most of this from scratch to resemble her family's farm and home. 
After working for more than two months, the project has amazing personal touches like real family photos, signs modeled after real signs they have on their farm, her boys' boots next to the chair where they tend to kick them off after a long day of work, and even dogs laying on their steps like you'd find if you walked in. 
We're so proud of Judy's masterpiece and we can't thank her enough for sharing it with our community! 
Take An Online Class
Now more than ever, online learning is empowering older adults to continue their education, dive into their interests or learn something completely new. There are a variety of benefits and the options for the types of courses to choose from are nearly limitless. 
From a desktop to a tablet or even your mobile device, wherever you can access the internet or your downloaded applications, you can log into a virtual class. There are plenty of free online classes that are sure to interest you. 
Low-Impact Exercise
Low-impact exercise for seniors can be key for older adults looking to challenge their body in different ways. For seniors with limited mobility, chair yoga and light upper body exercises help to keep muscles engaged. These exercises can go a long way in improving your health and overall well-being. 
For seniors looking to maintain or improve their fitness levels, upper body weight training with light dumbbells and resistance bands may be a good place to start. Start lighter and slowly increase weight or resistance while doing exercises that include:
Bicep curls

Shoulder presses

Sidearm raises

Forward arm raises
Related: Low-Impact Exercises For Seniors
Activities In StoryPoint Group Communities
In our communities, we want everyone to experience moments that make them shine — that includes residents with limited mobility.
StoryPoint Group communities are thoughtfully designed to meet residents where they're at with accessible activities, community spaces and events that everyone can participate in. 
To learn more about what we offer, call us at 1-844-275-9990 or contact a community specialist today.