As we age, our bodies weaken, increasing the risk of serious injury if we encounter a fall. And, bathrooms pose increased dangers for seniors due to physical limitations and the environment itself, particularly with wet surfaces and sharp edges. That's why it's important to prioritize bathroom safety for elderly loved ones.
Our guide is here to give you practical tips to help make the bathroom safer and easier to use. To go along with the tips, we've included some purchase links to help you shop for items you might need.
Why Bathroom Safety Is Important For Elderly Loved Ones
Here's why you should prioritize bathroom safety for seniors: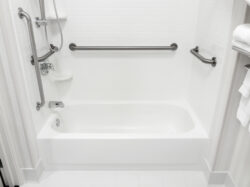 Reduce the risk of falls: Improving bathroom safety ensures family members can take care of their personal hygiene without risk of injury.
Older people have fragile bones: Seniors can be prone to fractures, even with minor falls. These can require extensive medical intervention and take a long time to heal.
Preserve independence and dignity: Maintaining the ability to perform personal hygiene is key to preserving independence and dignity. A safe bathroom ensures older adults can function without relying on family members or external caregivers.
Prevent secondary health problems: Improving bathroom safety reduces the risk of falls that can lead to secondary health complications like pressure clots, muscle weakness and joint pains.
Related: Managing Home Safety For Elderly Family Members
Shower Safety For Seniors
Wet surfaces and sharp concrete edges in showers can increase the risk of injury from falls. Let's look at a few tips to help enhance shower safety for seniors:
Install handheld showers: A handheld shower has a flexible wand that reduces unnecessary movement, making it less strenuous on seniors' joints. They also have gentler spray patterns that are easy on sensitive skin.
We like this Deliao Elderly Handheld Shower Head that's easy to adjust and has a gentle spray pattern.
Reduce water temperatures: Reducing the temperature of the water coming out of your faucets ensures an elderly loved one doesn't get scalded if

they fail to notice high temps. A great way to do this is by using a thermostat and setting the water temperature to 120 degrees Fahrenheit or lower.
Try the GROHE 29138GN0 Grohtherm Triple-Function Shower Thermostat with a safety temperature limiter.
Install a walk-in shower: If your shower entry has raised edges, you can install an easy-access shower. They're easier and safer to walk in and out of, especially for seniors with limited mobility.
Get a shower seat: Older people may find it difficult tostand and maintain balance over prolonged periods, especially on wet surfaces. Installing a shower seat ensures they don't have to stand in the shower longer than they're comfortable. This can help reduce the risk of a fall.
Try the Medline Shower Chair Seat with Padded Armrests and Back with adjustable height and a slip-resistant sole.
Use weighted shower curtains: Water from the shower can end up on the floor, making it slippery. Installing shower curtains with weights at the bottom prevents water from splashing on the floor and reduces the risk of slips and falls.
You can use these LEVOSHUA Magnetic Shower Curtain Weights with your existing shower curtain. They are encased in rubber and won't leave stains on your curtain.
Bathtub Safety For Elderly Family Members
Slippery bathtubs can be risky, especially for family members with trouble maintaining balance or limited mobility. Here's how to make a bathtub safe for elderly family members:
Use non-slip textured strips: Over time, the build-up of products like soap and shampoo can make bathtubs slippery.
Installing non-slip textured strips is a great solution. Unlike regular mats with suction cups that can come loose and cause a slip, these adhere to the tub floor and provide enough traction when getting in and out.
These Secopad Patented Anti Slip Shower Stickers are affordable and stick firmly on smooth surfaces.
Install a bathtub transfer bench: As our loved ones age, climbing in and out of the bathtub can become increasingly difficult.
Installing a tub transfer bench will enable them to gently slide in and out of the tub, reducing the risk of a fall.
Try the Drive Medical 12011KD-1 Tub Transfer Bench For Bathtub with Adjustable Backrest.
Install ergonomic faucets: Especially for seniors with arthritis, gripping and turning knobs can be difficult. Installing ergonomic taps that turn smoothly without much arm strength willensure they don't strain their joints.
The Delta Faucet Foundations Shower Valve Trim Kit has a single lever that's easy to use.
Keeping Bathroom Floors Safe
Wet bathroom floors and unsecured floor mats can increase the risk of falls. Here are a few tips about setting up bathrooms for the elderly:
Consider alternative flooring: Glossy tiles can be very slippery when wet. To make the bathroom safer, consider flooring alternatives like cork or rubber that offer more traction and a softer landing in case of a fall.
Install non-slip strips: Normal unsecured floor mats can slide around on the bathroom floor and cause falls. Replacing all your bathroom mats with non-slip strips can considerably reduce this risk.
The strips adhere directly to the floor, they don't slide around and they don't have any raised edges that can be a trip hazard.
These Secopad Patented Anti Slip Shower Stickers are affordable and stick firmly on smooth surfaces.
Related: Falling Hazards 101: What Safety Measures Should Be Top Of Mind?
Regular cleaning: Over time, soap scum can build up, making floor surfaces slippery. Frequently cleaning the bathroom floor can help prevent slippery grime from accumulating.
Toilet Safety
Toilet safety is especially important for seniors with weak muscles or limited mobility. Here are a few tips to help make the toilet safer:
Keep essentials within reach: If they have to bend or stretch to reach essential items, consider making them more easily accessible.
Install grab bars: Sometimes older people can have difficulty maintaining balance when using the toilet, which can cause joint strain.
Installing a grab bar with a textured handle will help them maintain their balance when getting up and down.
This 2 Pack 18 Inch Grab Bars for Bathtubs and Showers come with a textured handle for better grip.
Install a raised toilet seat: Squatting to use the toilet can become strenuous as we age, especially for people with arthritis or weak muscles. A raised toilet seat helps to provide more height, which reduces pressure on joints.
The Carex 3.5 Inch Raised Toilet Seat With Arms comes with sturdy handles for extra support and a non-slip surface.
Additional Considerations
Here are some extra tips to help enhance bathroom safety for seniors:
1. Install motion-activated lighting: A well-lit bathroom is easier to navigate, especially for seniors with reduced vision. Installing motion-activated lighting is a great way to make nighttime bathroom visits safer. These turn on automatically whenever movement is detected at night.
Try this GE Motion-Activated Path Light with automatic timeout after motion stops.
2. Declutter your bathroom area: Bathrooms can easily become cluttered and disorganized. To make it more welcoming and safer, clear the area of unnecessary items and eliminate expired toiletries.
3. Provide supervision: Sometimes bathroom falls can still happen, despite having necessary safety measures in place. For this reason, it's advisable to have someone nearby to offer immediate help in case of a fall.
Related: Managing Home Safety For Elderly Family Members
Safety With StoryPoint Group
At StoryPoint Group communities, we value your loved one's safety. Our bathrooms are thoughtfully designed with seniors in mind and have additional safety features like grab bars, raised toilet seats and ergonomic faucets and more where needed.
To learn more about safety at StoryPoint Group communities, contact our caring staff at 1-844-275-9990 today or schedule a tour with your local community.