Yoga is a combination of physical and mental exercise that has been practiced all over the world for thousands of years. When it comes to safe, effective exercise for building strength, increasing balance and improving overall physical wellness, yoga is an excellent option for seniors. Yoga is also adaptable, and this full-body workout can be modified to fit all skill levels so everyone can enjoy a calming, yet powerful, session.
Continue reading to learn more about yoga for seniors, the different types available and the benefits the practice has for older adults and their health.
What Is Yoga?
Yoga is a workout made up of poses that involve stretching, meditation and breathing exercises. Through breathing techniques and meditative practice, yoga is often used to eliminate stress and enhance a sense of self-awareness in people of all ages and skillsets. The repetition of the poses can help improve balance, and because many poses are adaptable, yoga is an ideal exercise for seniors who would like to avoid any added strain to their bodies.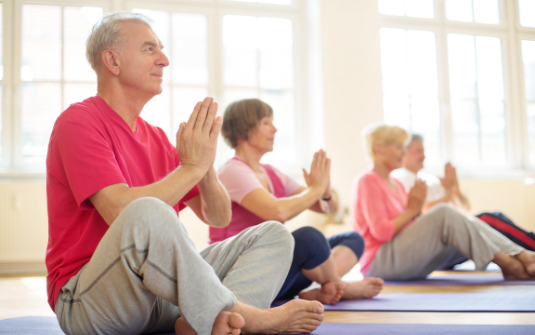 Different Kinds Of Yoga
There are many different types of yoga, each with its own benefits and purposes. Here are several yoga practices to explore:
Restorative Yoga: This is a meditative practice that uses props like blocks, straps, sandbags, bolsters and blankets to encourage a gentle release of mind and body tension. Emphasizing slow movement, it is a practice designed to help your body heal. Restorative yoga focuses on the stretching of muscles to allow for more profound relaxation.
Yin Yoga: Yin yoga is a practice that focuses on stretching your connective tissues to improve joint mobility and posture, and increase strength and flexibility. It recharges and gives back to the body and mind. Focusing on stillness, this practice is intended to help you find your center and focus on your body's needs.
Hatha Yoga: With Hatha yoga, you can expect to focus on your breath and mind through meditation. If you experience high anxiety or have trouble sleeping, Hatha may be the right practice for you.
Laughter Yoga (Hasyayoga): One of the newer types of yoga, laughter yoga is based on the theory that voluntary laughter provides similar physiological and psychological benefits as spontaneous laughter, including help with depression and stress relief.
Physical And Mental Benefits Of Yoga
Practicing yoga regularly has been proven to have many benefits for older adults. From improved balance to increased flexibility, yoga can be a great tool to increase mobility and overall physical wellness in people of all ages.
Mentally, yoga is a great way to alleviate stress, combat anxiety, increase body awareness and promote a more restful night's sleep. Yoga is typically done in a group setting, which makes it an ideal activity to do with friends and a great way to meet others focused on health and wellness.
The Benefits Of Chair Yoga For Seniors
If you're new to yoga, try starting with chair yoga. While many yoga poses can be modified for various skill sets, yoga itself can be adapted so the practice is accessible to everyone. Typically, yoga is done on a mat, but chair yoga modifies traditional yoga poses and has movements of its own that can be done in a chair.
Chair yoga can be a good exercise option for seniors who could benefit from added support while exercising and want to further reduce strain to their joints and muscles. Chair yoga also promotes independence and helps seniors become stronger, both of which help with confidence, falls and brittle bones.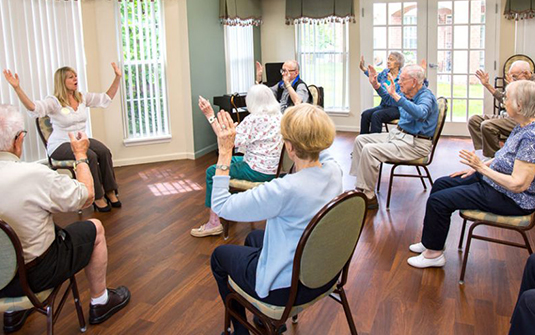 StoryPoint Encourages Active Lifestyles
StoryPoint understands the importance of maintaining an active lifestyle, and we have daily activities to help our residents do just that. Give us a call today at 1-855-407-8679 to learn about life at StoryPoint.