When it comes to crafting as an adult, one of the most inspiring seasons is autumn. Autumn arts and crafts projects are colorful, nature-filled, and occasionally even a little spooky! Below you'll find a variety of ideas for senior arts and crafts for all of your seasonal projects. 
Pre-Craft Tips For Adults
Before you get started with any DIY project, don't forget these key tips to keep crafting fun instead of tedious:
Gather all your supplies beforehand. There is nothing worse when it comes to crafting than realizing you need a certain type of glue or glitter after you have already started.
Do the most time-consuming steps first. That way if anything needs to dry or press, for example, you can come back and finish the project.
Give yourself plenty of time to craft. Rushing is never a good feeling, which is why crafters should estimate the time needed, and then add an extra hour — just in case.
Be prepared to go off-script! DIY projects are meant to be fun, so try not to stress if your crafting goes slightly awry. If the project becomes too stressful, take a break, and let any paint or glue dry before deciding your next steps.
Below are some popular supplies and starting points for autumn crafts.
Decorative Pumpkins And Gourds
Bring the fall vegetables indoors by decorating mini gourds and pumpkins with colorful paints. You can even cut out the middle, tuck in the bottom half of a water bottle and create a seasonal vase for flowers. 
Pumpkins and gourds can be patterned, fully covered with paints, or carved in the traditional fashion.
Explore example projects here.
Bonus idea: A white pumpkin with colorful leaves glued to it makes an artsy, modern statement. 
Pinecone Wreaths
Pinecone wreaths are a classic throwback to prepare for the holidays and celebrate fall. After collecting pinecones, get crafty with glue, glitter and paint to create a festive door decoration. (Full instructions can be found here.)
Pinecones can also be arranged in bouquets, or artfully placed in a bowl for a fall-inspired appearance. 
Wooden Signs
Painting a seasonal wooden sign can be fun for any time of year, but especially for fall when the sign can be placed outside to brighten up a patio or window. 
Tip: Use orange and red paints and fabrics to bring the autumn theme to the forefront.
Wording ideas for signs can include:
Hello, Fall!
Happy Fall!
Pumpkin Spice and Everything Nice!
Fallin' For You!
Fall Greetings
Wooden signs are easiest to make when using one large board. For a more rustic look, boards can be layered. Another option is using a weathered board or wood plank that has been cut to resemble a tree stump.
Scaredy Pot
Scarecrows are a staple of fall, so why not create an indoor-friendly version that can sit on your favorite bench or ledge?
Flowerpots can be painted and strung together to resemble a friendly scarecrow that can be built in many different shapes and sizes. Feeling extra crafty? Add a lid to create your scarecrow's "hat" for the storage of caramel treats and other festive candies.
Leaf Garlands And Mobiles
Take a stroll outside to pick up your favorite leaves (ideally with strong stems). Leaves are a key ingredient for autumn crafts, and they are often easily found, especially in locations that experience a cooler fall. 
After you've selected your favorite leaves, press them by placing them into a heavy book for a few days, then wrap twine around the ends and tie to a circular hoop. Weight the mobile down with some pinecones at the end to finish creating a leafy mobile that floats in the wind.
Want something more indoor-friendly? Who says winter gets to have all the fun with garlands? Creating a garland with leaf-colored fabrics is not only easy, it's simple to hang, store and add pieces until the project needs to be fully refreshed. 
Personalized Coasters And Mugs
A perfect fall project for everyone, especially adults, involves spicing up a warm drink on a cold day.
One way to do this is by creating fall-themed coasters. Coasters can be created with an old flannel shirt or sheets, then decorated with fabric paints or left alone to have a simple, rustic vibe.
If your mug needs a touch of fall, consider a DIY project involving decorating a plain mug with fall themes, like leaf patterns or a pumpkin design.
Mason Jar Crafts
There are few things that evoke the season of fall more than a mason jar. As a craft supply, mason jars are one of the most versatile objects. These glass jars can be decoupaged with leaves on the outside using some Mod Podge and lit up with a small candle to create a glowing, leafy lantern, or painted over completely and used as an autumn-themed vase.
For a simple, Halloween theme, paint a mason jar white on top, orange in the middle and yellow on the bottom — then fill with candy corn to complete the look after the paint has dried. Or, on another sweet note, paint the jar fully red and tie two green leaves around the top to give the appearance of a bright, juicy apple.
Last but not least, consider filling jars with string lights and acorns for a fun take on an outdoor lantern.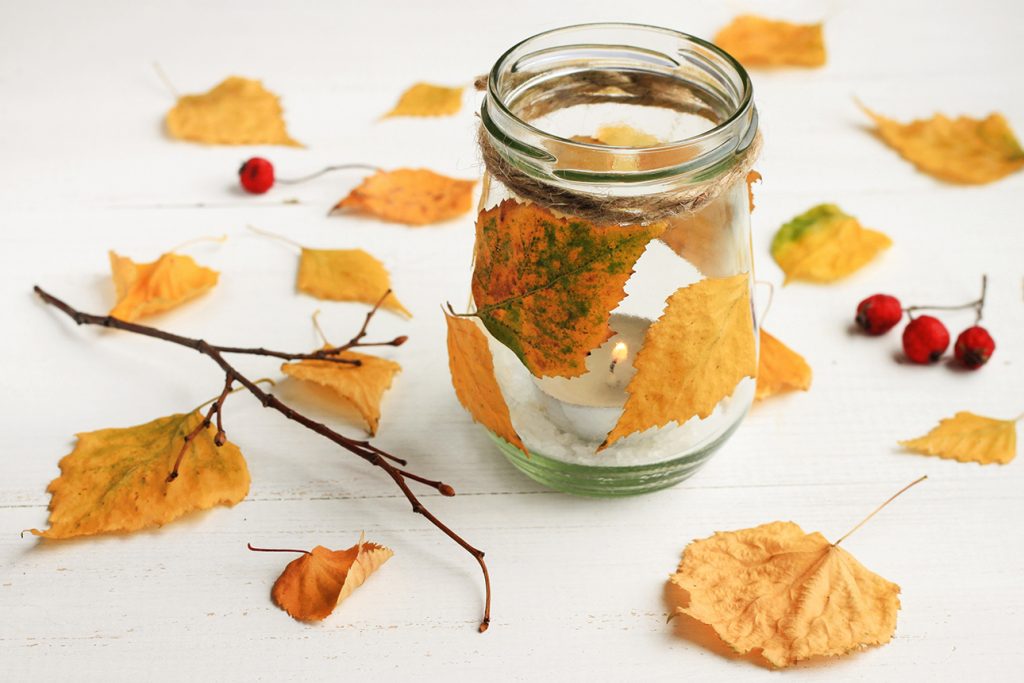 Fall Supplies For DIY Crafts
Seniors looking to craft fall-themed projects that are interested in getting more creative or inventing a completely personalized work of art should grab a few supplies to help bring out the autumn theme in any project:
Burlap
Leaves (real or fake)
Acorns 
Small gourds 
Pinecones
Plaid fabrics 
Orange, yellow, red and white paints
Flowers in orange, yellow, red and white (real or fake)
Twine
Mason Jars
Crafting With Friends And Family
Crafting is always more fun with friends or family, which is why at Independence Village we work with our residents to have every opportunity to enjoy their retirement with new hobbies and daily activities. Visit your nearest community's event page to see what events are happening near you. 
Related: Gift Giving Guide For Seniors
Related: Our Favorite Holiday Cookie Recipes