Like any muscle, we have to regularly challenge our brains so it maintains its memory and cognitive functions. But, since we can't go to the gym to exercise our brains, how can we engage our mind and maintain our overall mental well-being?

Brain games are a fun way to improve your problem-solving and memory skills. We've listed the best brain games for seniors you can play for yourself or with your elderly loved one to help keep the brain sharp.
Fun Brain Games For Seniors
Brain games for seniors are mental exercises that can help keep seniors' brains actively engaged, a key component to maintaining overall mental health.
Brain games aren't just a great way to reduce the risk of Alzheimer's disease and cognitive decline – they are challenging and fun. It's satisfying to achieve the goals you set for yourself, so seniors who play brain games are strengthening their mental well-being in a healthy, fulfilling way.
Exercising the mind can be easy thanks to brain games. Whether you enjoy social games or prefer to play brain games alone, here's a list of the best brain games for seniors.
Bingo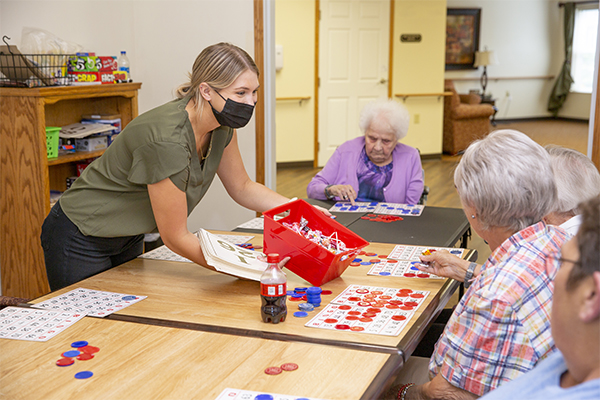 Bingo is a classic favorite amongst seniors, but it also has overlooked positive health benefits. Like the image shown above of a game at one of our sister communities, bingo is a great social activity and should be rewarding. It's a low-maintenance, yet fun way for seniors to socialize. And socialization is important, especially for seniors. 
Social interaction reduces loneliness and increases your general well-being. That's why, at Independence Village, we offer a variety of engaging social activities.
Bingo is also a simple way for seniors to engage three of the main senses: touch, hearing and sight. Engaging the senses means exercising your brain and increasing cognitive abilities and motor skills. Bingo may seem like a simple party game, but it is a great way to stimulate the senses and improve overall cognition.
Here are just a few of the positive health effects of bingo for seniors: 
Increased social engagement.
Improved cognitive functions and memory recall.
Better hand-eye coordination.
Puzzles
Puzzles are a fun way to train your mind and hone your hand-eye coordination, too. Jigsaw puzzles are a great solitary activity and assembling a jigsaw puzzle on your own can be extremely satisfying. Since challenging yourself is key to maintaining your overall mental health, people who do puzzles are strengthening their mental well-being and the self-confidence that comes with accomplishment.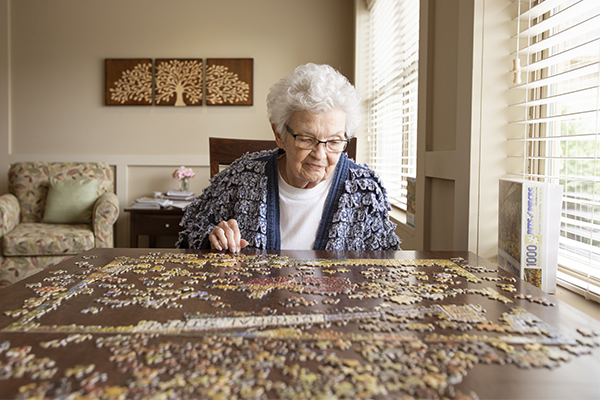 It's important to note that brain games like puzzles can slow the effects of dementia and improve cognitive health. Doing puzzles strengthens brain-cell connections and speeds up mental functioning. Besides the mental health benefits, doing a jigsaw puzzle is proven to lift your spirits. So, putting together a puzzle can offer mental stimulation as well as a serene, meditative break.
Shuffleboard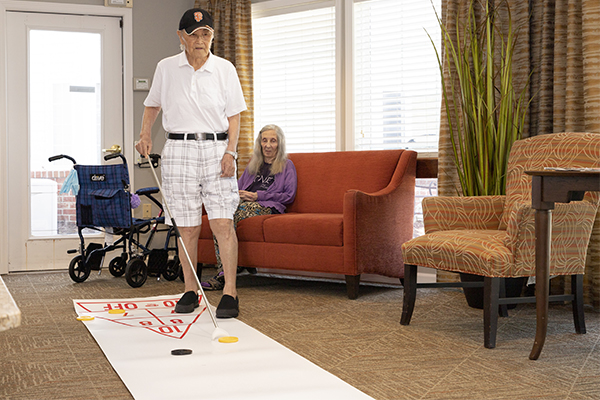 Shuffleboard is a relaxing game that can be played inside or outdoors. Strategizing in a game like shuffleboard improves dexterity and mental abilities. Since it engages both the body and mind, shuffleboard is a great game to stay physically and mentally active.
The Best Memory Games For Seniors
Finding the best memory game can be difficult. Brain games come in a variety of different formats, from classic word puzzles, identification games and more.
Whether it's online or a classic card recall game, you have the power to pick the best format for you or your loved one to play brain games. To make it more engaging, try choosing a memory game that involves one of your other passions. For an avid birder, a bird identification game could be best for them.
Botanical Identification Games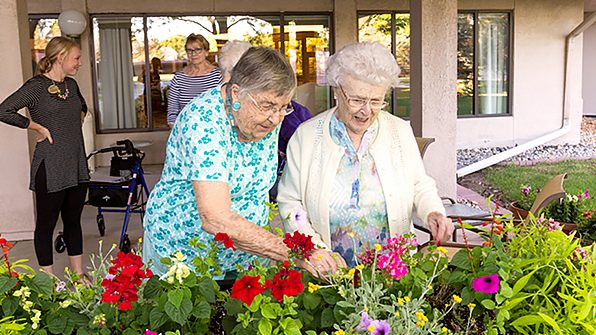 Botanical identification games are memory games that can help you exercise your brain and while learning the names and attributes of different species of plants. It's basically a memory card matching game. You have a card with a plant species on it, and see if you can identify the plant in the foliage around you. Botanical identification games are a great option for seniors with a passion for flowers or gardening.
Simply spending some time in the garden identifying botanicals can help you grow your vocabulary, make you more knowledgeable about plants, and boost your memory. Not to mention, being outdoors in nature can be beneficial for the mind and improve your mood.
Chess
Chess is a great brain game because it's an engaging game that demands a lot of concentration and strategic thinking. Chess is especially helpful for boosting your memory because it activates more than one area of the brain.
Chess helps you develop pattern recognition, make decisions both visually and analytically, and test your memory. Seniors who want to stay sharp should consider chess to exercise logic and challenge the brain.
Word Association Games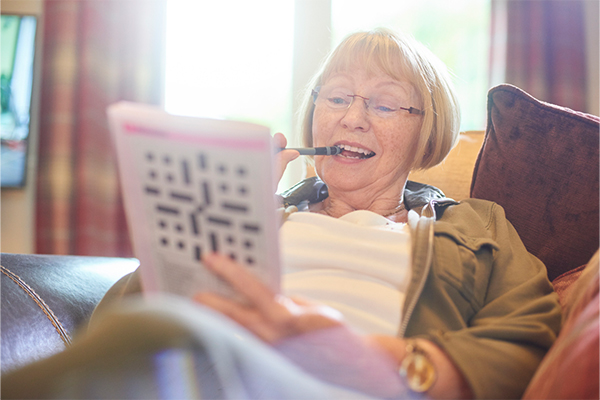 Word games include games where seniors find hidden words, fill in missing words, build words and use descriptions or definitions to identify words. Word games are particularly important because they challenge your cognitive abilities and widen your vocabulary. Here are a few popular word association games to stimulate memory for seniors:
Crossword puzzles. There is research proving that struggling to put the right letters in those little boxes can help protect against dementia and improve your overall quality of thinking.
Scrabble. In this classic game, players earn points by constructing words through placing letter tiles on a grid. Playing the game requires logical thinking and strategizing about where to put each word on the board.
Boggle. Boggle promotes creative and critical thinking because players need to find words in sequences of adjacent letters. 
Upwords. The Upwords board game is a three-dimensional Scrabble-like game for two to four players. In Upwords, players can also stack letters on top of each other to make new words, making it an engaging memory recall game.
Community Brain Games For Seniors At Independence Village
At Independence Village, we integrate brain games into our events and activities. As residents had to spend more hours in their apartments during this past year, we integrated brain games into our community events to keep our residents active and happy.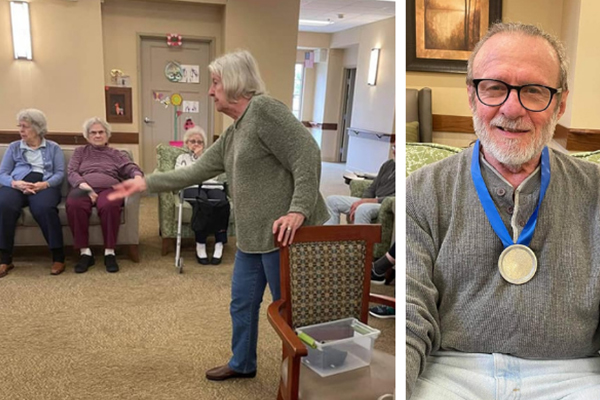 As shown above, Independence Village Ankeny held an Olympics-themed event where residents could compete in cognition-strengthening brain games like bean bag baseball, ring toss and more. These Olympic events involved fun brain games so that our residents could stay active, sustain their mental well-being and feel accomplished.
In the full spirit of the Olympics, medals were awarded to the winners!
Events like this one are a chance for residents to connect with peers and the community. Good physical and emotional health can be a positive side effect of social interaction. At Independence Village, we strive to support our residents by engaging activities.
Related: Indoor Activities for Senior Residents
Find Your Perfect Home At Independence Village
If you want to learn more about fun brain games or need some ideas for you or a loved one, contact us. We'd love to help. Learn more about our communities by reaching out to one of our community specialists. Find a community today or give us a call at 1-844-403-6569 to learn more.