When an aging loved one needs assistance, it can be difficult to find the time to step away from your busy life and give them the attention they need. Fortunately, caregivers help fill in these gaps and provide essential services to those we care about the most.
Caregivers provide their time, energy and attention to make sure aging parents receive the love and care they deserve — the best ones practically become members of the family! The services they provide are so essential, it's natural to want to express your gratitude for everything they do. However, this is often easier said than done; how can you recognize the care they give on a daily basis?
To help make things easier for you, we're providing a comprehensive list of gifts for a caregiver you can reference to find the perfect way to express your gratitude. Every person and situation is unique, so we've provided a list of 23 gift ideas for caregivers spanning all types of personalities and hobbies. From tech junkie to outdoor fanatic, you'll be sure to find the present that expresses how you truly feel.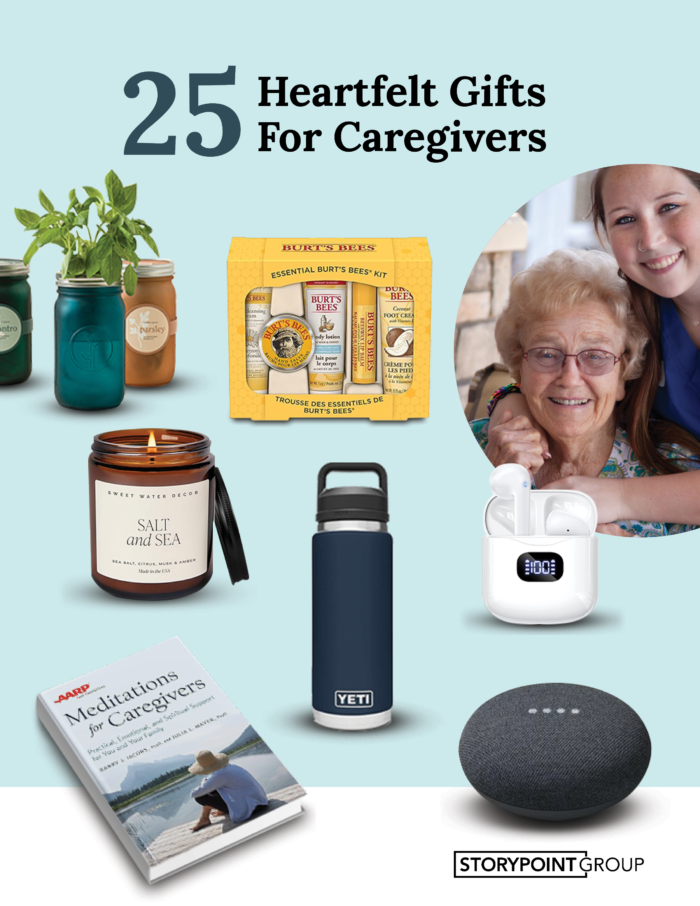 25 Heartfelt Gifts For Caregivers Guide | Click To Download
The Importance Of Showing Caregivers Appreciation
What caregivers give us in times of need cannot be overstated. Because of this, finding gifts for a caregiver that show you care for them as much as they care for your aging loved one can be difficult. It's truly the thought that counts, so try to personalize your gift as much as possible.
When considering different gifts for caregivers, try to get to know yours the best you can. What hobbies do they enjoy? Are they more of a homebody, or do they enjoy outdoor activities, like hiking? You may need to strike up a conversation to get to know what sort of gifts would really make their day.
Another thing to keep in mind is the occasion for the gift. Is it their birthday or just time to show a sign of everyday appreciation? Depending on the context, you might want to change which gift for caregivers you give.
Whatever your circumstances are, the perfect gift is out there. Here are our 23 best caretaker gifts for any situation.
Self-Care And Relaxation Gifts For Caregivers
Caregivers dedicate their lives to helping others, but they often don't have time to do something for themselves. These gifts are selected to help them unwind and practice a little self-care.
Burt's Bees Gift Set $9.99

— If you have no idea what to get, this gift is a great place to start. It includes chapstick, hand lotion, cleansing cream and more. 

Relaxation Candle $19.99

— You can never have too many candles. They are a great neutral gift that will go over well with just about everyone. 

Bath Bomb Set $21.99

— Nothing says "relaxation" like a nice, warm bath. This is a fantastic choice if you know your caretaker loves to take it easy after a stressful day. 

Lotion Variety Set $25.00

— Since your caretaker works with their hands all day, they will be sure to appreciate this gift. 

Essential Oil Diffuser $32.99

— Essential oils are a great way to change the atmosphere of a room into something more relaxing. They can also choose which oils to use to fit their personality and mood.  
Tech Gifts For Caregivers
For tech junkies, it can be tough to find gifts for caregivers that are both exciting and affordable. Here are some of the best options that show your appreciation without breaking the bank.
Wireless Earbuds $22.99

— If they don't already have a pair of wireless earbuds, you can't go wrong with this affordable tech gift. 

Voch Night Light Bluetooth Speaker $29.99

  — This speaker comes with a variety of customizable color options so they can pick which one suits them. It's the perfect addition to any nightstand.

Fitness Tracker $29.99

— Whether your caretaker is a fitness aficionado or just wants to keep track of their steps, an affordable, high-tech tracker will help them monitor their health.

Google Nest Mini $39.96

— For such a small package, this smart speaker packs a big punch. They can use it to answer questions, play music and much more.

Amazon Fire Stick With Smart Remote $49.99

— What's a better way to unwind after a long day of work than watching your favorite show? Amazon's Fire Stick has access to Netflix, Disney+, Amazon Prime and other streaming services.
Books And Journals For Your Caregiver
Books and journals make amazing gifts for those who love to read and write, but which one should you choose? Here is our curated list of books.
DIY And Handmade Gift Ideas
Caretaking is an intimate and hands-on job. To show you care, handmade gifts are the perfect way to express how much you appreciate the time and effort they've given to your loved one.
Mason Jar Indoor Garden $20.00

— These handmade sets allow them to grow a variety of useful herbs in stylish containers.

Caregiver Handmade Necklace $28.00 — This handmade necklace has two rings intertwined, symbolizing the connections your caretaker has made with you and your loved one.
Succulent Care Package $34.60 — This basket is full of excellent gifts, including a succulent, handmade soap, a bath bomb and more.
Make Your Own Chocolate Truffles Kit $38.00 — If your caretaker is a chocolate fanatic, this gift offers a fun way to make delicious treats they're sure to love.
3D Puzzle $23.98 — This unique puzzle is great for those who love to get hands-on and tinker.
Gifts For An Outdoorsy Caregiver
If your loved one's caregiver enjoys to hike, run or just get outdoors to relax, something they can use during their favorite activities makes a great gift. Here are our best gifts that will satisfy people who can't get enough of nature.
Hammock $14.99

— Whether they love to hike or just hang out in nature, a hammock is a great way for them to relax outside.

Foldable Picnic Basket $32.99

— This gift set is perfect for people who are more interested in picnicking than hiking. 

Blackstone Swiss Army Knife $24.99

— If your caretaker is heading outdoors, you'll never know what they need at any moment, which makes this multitool a great option.

Firestarter Kit $33.00

— This kit is a great gift for those who love camping, hiking or setting up a firepit in their backyard. 

Yeti Rambler Bottle $40.00

— Yetis are famous for their indestructibility, so no matter what your caretaker is doing, this bottle is up to the task. 
​​Thoughtful Gestures And Acts Of Kindness
When searching for gifts, an act of kindness says more than any physical object can. Caretakers give pieces of themselves to our loved ones every day through their actions, so it makes sense to return the favor. We've compiled a few simple gestures you can give to show them how much you truly appreciate them.
Time off — Caregivers give a lot to aging loved ones, but time might be their most valuable gift. Show your appreciation by giving them a little extra time off to do what they love.
Write a hand-written letter — Expressing your gratitude through words of kindness can be touching for someone you truly appreciate.
Make them a take-home meal — A homemade meal they can heat up later is a great way to express your gratitude and spare the time it would take to make dinner for themselves.
Whatever the gift-giving occasion, take your time and do your research so you can get them something as unique as they are.
Senior Living With StoryPoint Group
At StoryPoint Group, we understand the important role caregivers play. We're focused on the wellbeing of our employees, as well as our residents. Because by being employee-first, we can care for you or your loved one just like family. And, together we can shine every day. If you think your loved one could benefit from a senior living community, we're here to help. Schedule a tour of your nearest community or give us a call at 1-844-403-6569.