There's nothing like the charm of a homemade card, a fresh-baked treat or simply spending time together. For grandparents, these creative and thoughtful activities can mean the world. Grandparents Day is the perfect time to connect with grandchildren and do fun activities together. Use our 15 best Grandparents Day ideas for fun crafts and other ways to make special connections. 
1. Share A Family Recipe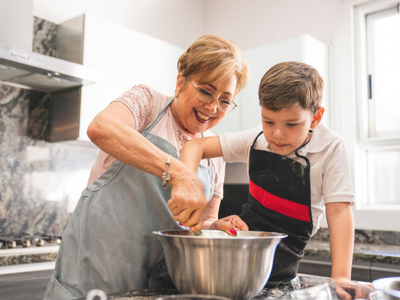 Kids love getting messy in the kitchen, especially if they know they'll be rewarded with a tasty treat. Spend time together by getting everyone to cook a family recipe. Grandparents can share their own memories in the process, and the kids will be happy to try new dishes. Sharing recipes and traditions gives your children a good window into your family's own unique and rich history.
2. Make A Homemade Card
One simple, yet thoughtful idea for Grandparents Day is to have the grandkids make a homemade card for grandma or grandpa. Gather paints, markers, glitter and more that your child can use to make the card unique. Change it up by adding a handprint or favorite photo to the card. There are plenty of ways to make the card special! Get creative and the grandparents can help with the finishing touches, so everyone is involved. 
3. Do A Puzzle Together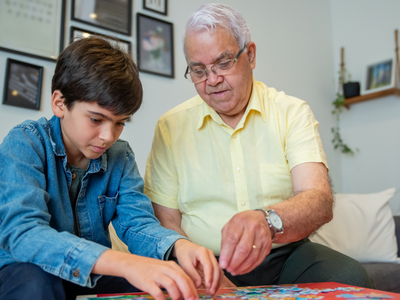 Completing a puzzle is the perfect family bonding activity because it's easy, fun and it allows everyone to work together. Choose the best puzzle that matches everyone's skillset or create your own. A great Grandparent's Day idea would be to give a customized puzzle with a family portrait. Then the family can build it together! 
4. Make A Scrapbook
Scrapbooking is an enjoyable activity that everyone can all participate in. And Grandparents Day is the perfect time for multiple generations of the family can make a scrapbook together. Have your child pick out their favorite photos and things that remind them of their grandparents to add to the book. Then, have everyone work together to make the scrapbook. Be ready to reminisce and share fun family stories!  
5. Take A Trip Down Memory Lane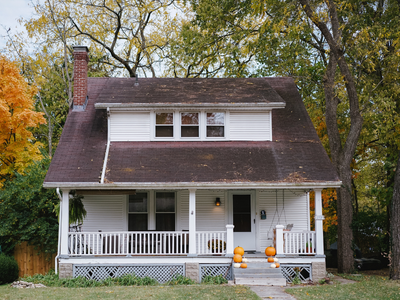 Through storytelling, grandparents are able to give their grandkids a glimpse into the past, but stories can only do so much. Questions like, "What was your life like?" "What did your house look like?" and "How did you two meet?" are best answered with visuals. 
One idea for Grandparents Day is to take a trip down memory lane. Meaningful locations like the family home where you grew up or the place grandparents met are great places to take the kids! It's a fun way to reminisce over memories of past events, especially happy ones. Plan a trip and map out the locations that mean the most to you and your older parents.
6. Share Music And Sing Together
Music is one of those activities that seems to uplift everyone. Whether you're sharing counting songs, holiday tunes, or songs of faith, singing together is a fun, low-cost Grandparents Day idea to engage the whole family. Having the kids sing songs about grandparents is sure to put a smile on everyone's faces. 
You can use music to connect the generations and can help your little ones learn about their grandparent's history. Try getting the family to dance to music from your parent's generation, like swing music.
7. Go For A Walk Or Identify Nature Together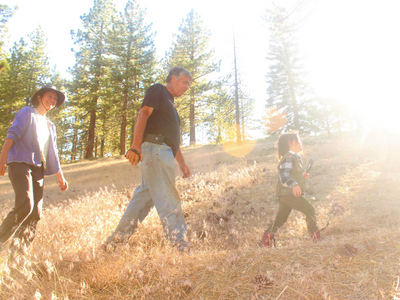 Nature walks aren't just good exercise and a great way for the grandkids to get their energy out, they can also be informative. Going for a walk outdoors and identifying plants are two activities that are sure to please. Try going for a short hike and using a book or kit to identify plants as you go. Even just walking around outside and taking in the fall colors will be a fond memory for everyone.
8.  Play Games On A Smartphone Or Tablet
Grandkids can teach their grandparents a thing or two about modern games. Have your child show grandma or grandpa how to play their favorite game on their smartphone or tablet. Playing games together is an overwhelmingly positive experience for grandparents and grandchildren alike. There might even be a digital version of the games grandparents love to play like scrabble, trivia games and more.
9. Hold A Grandparent-Grandchild Interview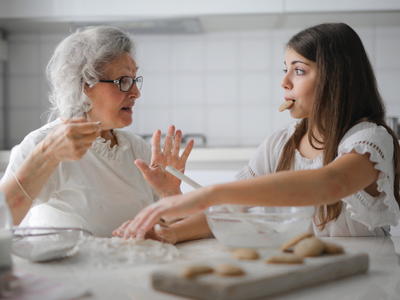 Ever wondered how much gas cost 40 years ago, or how much flour cost in 1945? Having a grandparent-grandchild interview gives grandkids a glimpse into the past. It's a chance for your parents to share details about their life and deepen their connection with your children. 
Make a list of what questions your kids should ask or look up what was going on this day in history. Conversation starters like who was the president when you were born or what was your first job are good places to start.
10. Gift A Keepsake
Grandparents aren't the only ones who love gifts from the heart. They can celebrate by giving something meaningful to their grandkids. Pictures of a baseball from their first school game, a quilt, or a piece of jewelry with their birthstone are all meaningful keepsakes. It's important to give a special object and tell the story behind it. 
11. Make A Craft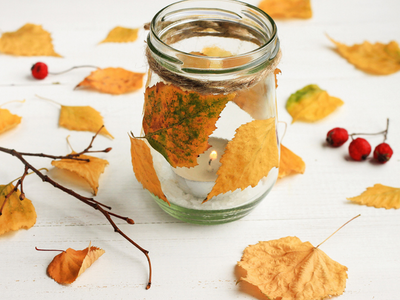 There's no better way to enjoy time with grandparents than creating something they and the grandkids will both love. Take advantage of the season and have the kids make a fun fall craft like a leaf candle holder or make a family tree with fall leaves. Having your kids craft together with their grandparents will make a keepsake for your parents to remind them of a special Grandparents Day.
12. Go Out For Lunch
Who doesn't like to go out for lunch? Take your children and your parents to a favorite restaurant or plan a picnic in a local park. If your parents live in a senior community, visit them for a special lunch together. Most communities offer a wide variety of food on the menu.
13.  Read Together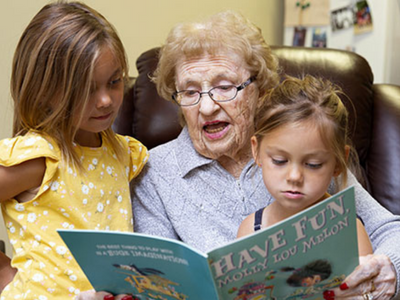 One of the most rewarding activities to do together is read a book. Grandparents make reading fun and it's heartwarming to see them use silly voices while reading to their grandkids. Try a new book or take turns reading to each other from their favorite book. Make Grandparents Day extra special by reading a book about grandparents.
14. Watch A Meaningful Movie
Watching movies with your loved ones is not only an enjoyable activity for grandkids and their grandparents., it also strengthens your family bond. This Grandparents Day, pick a meaningful movie with parallels to your parent's life, play a popular classic movie from when your parent's were young, or even watch home movies. Discussing the movie can spark fun conversations and create opportunities to share family stories like how grandma and grandpa met. Pick a movie the whole family will like, sit back and enjoy the show.
15. Start A New Tradition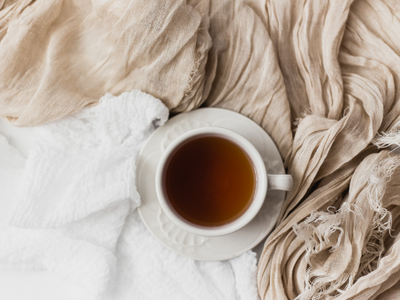 Celebrate Grandparents Day by starting a new family tradition. Create a new holiday brew of tea, have the kids come up with a new recipe for goodies or start a bedtime storytelling ritual. How much fun would it be to start "Nana's Grandparents Day granola" and take it on a family hike? Starting a new tradition forms fond memories. Your new family tradition is up to you! 
Activities In StoryPoint Group Communities
In our communities, we want everyone to experience moments that make them shine. That's why we offer a dynamic social calendar full of thoughtful activities for the whole family to enjoy. To learn more about what we offer, call us at 1-844-275-9990 or contact a community specialist today.