Getting outdoors is more than just a good pick-me-up. Going outside encourages an active lifestyle, social opportunities, as well as boosting your overall well-being. 
There are plenty of fun outdoor activities for seniors to help you switch up your daily routine and get out in nature. If you're looking for a new reason to get out of the house, look no further than our list of the best outdoor activities for seniors.
The 10 Best
Outdoor Activities For Seniors
1. Be A Tourist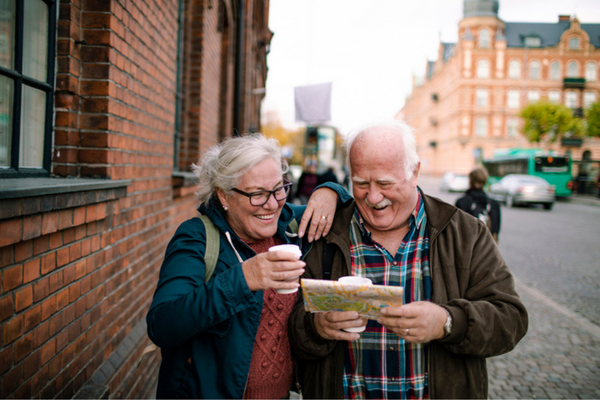 Traveling doesn't have to mean flights and far-off destinations. Chances are, there are plenty of hidden gems right in your hometown! Pretend you're a tourist for a day. 
See your city through fresh eyes by taking a refreshing outdoor walking tour. A guided architectural, history or other walking tour is a great way to get outside and gain a new appreciation of your surroundings. 
To really conquer the "vacation," try visiting your local welcome center, booking a hotel downtown and seeking out decadent bakeries, art galleries and more. 
2. Outdoor Yoga
It's no secret that it's important for older adults to stay active. Yoga benefits your physical, mental and emotional health. Outdoor yoga allows you to get all the benefits of yoga while spending time in nature, naturally lifting your mood.
Yoga is designed to be practiced in a peaceful environment, making it a great outdoor activity. Try outdoor yoga, enjoy nature and get fit at the same time.
Related: 10 Ways Yoga Benefits Seniors
3. Golf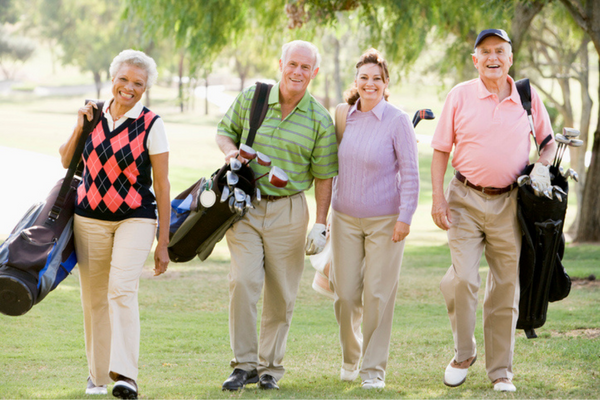 There's a reason golf is one of the most popular recreational activities for adults over 65. It's a perfect outdoor activity for seniors because it's a low-impact exercise and a great way to get outdoors. The game works all muscles in your body and builds your stamina. If you want to stay in shape without breaking a sweat, consider taking up golf. 
It's also an excellent hobby for retirees looking to make new friends. Not only can you meet new people at the golf clubhouse, but golf is a great competitive outdoor group activity. Invite some friends and get out on the course.
4. Participate In Outdoor Community Events
Check out your library or community website to see what's going on in your city. See if there are any events that might peak your interest. Between food festivals, Fourth of July fireworks, classes at your local community center and more, you're sure to find something that interests you. 
Fun outdoor activities can include visiting the local farmers market or an outdoor craft show. Many communities hold outdoor music events or concerts in the local park. Do some research on what's happening in your community, get out and have fun!
5. Hit The Trails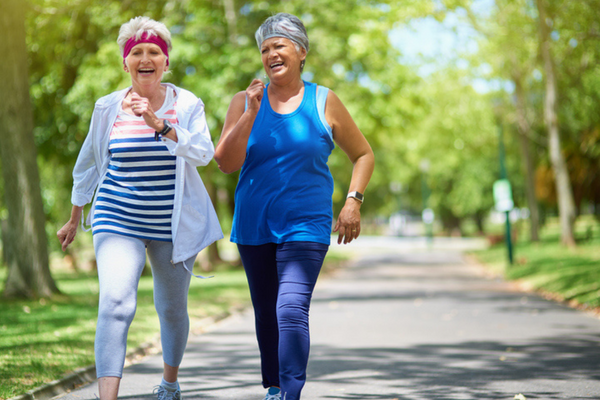 Walking is a great way to get some activity in your day. Whether you're up to hiking or just strolling around the neighborhood, walking benefits older adults in a number of ways. If it's been a long time since you exercised, you may want to start out slowly. You can start with just 5 minutes and build up to the recommended 30 minutes a day.
6. Visit A Zoo Or Aviary
Take a walk on the wild side with a trip to a zoo or aviary. It's a great stress reliever known to boost your mood. 
Think about all the times you've seen an adorable animal online. You probably felt happier and more energized after seeing the cute animal. Tap into that happy emotion! A visit to a zoo or aviary is an excellent physical activity, makes you happier, and relieves stress.
7. Gardening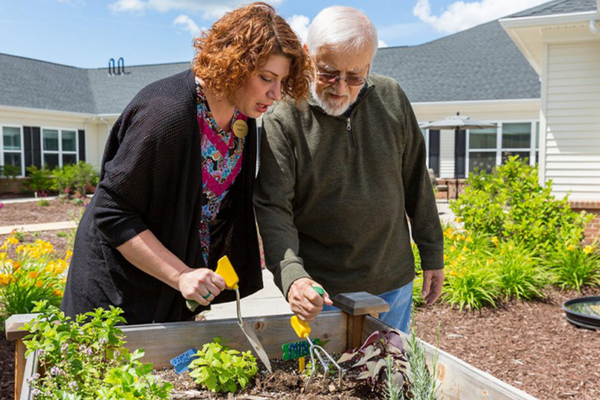 Interested in gardening, but don't know where to begin? Plant a few seeds, and we promise this new hobby will grow on you! Watch your seedlings grow from flowers to produce. Gardening is a simple way to get more fresh fruits and vegetables into your diet, and you're sure to appreciate them even more because you grew them. Check out our "Gardening For Seniors" guide below for our expert tips on how to start a garden. 
Related: Gardening For Seniors: Top Benefits, Best Tools And How To Get Started
8. Plan A Picnic With The Family
Unglue the grandkids from their phones and try a fun outdoor activity the whole family will love. Plan a picnic in a local park with your kids and grandchildren. A picnic gets everyone outside to enjoy some fresh-air fun. Pack your favorite midday meal and treats to share. 
9. Stargazing
The best outdoor activities don't always have to happen in the daytime. Stargazing – the simple act of looking at the stars – is a peaceful activity that's accessible to everyone. Stars are a natural wonder to explore alone or with family and friends. 
Teach yourself the constellations or observe the surface of the moon. Your eyes are all you really need, but some experts recommend binoculars as a better beginner's tool than a telescope. 
10. Fishing 
Between spending time in nature, the feeling of satisfaction when you reel in a catch and the calming sound of waves – there are more reasons to go fishing than you may realize. Fishing is a low-impact, fun outdoor activity that's perfect for seniors. 
For those with limited mobility or confined to a wheelchair, you can cast off of a dock or pier. Check your state's tourism or parks and recreation websites to see if they provide listings of ADA compliant fishing locations.
A StoryPoint Group Fishing Trip
How do we know that fishing is a great activity for older adults? Because we've done it! We took the residents of Independence Village of Fishers South fishing and had an incredible day catching everything from seaweed to catfish. Our community specialists plan events like fishing, outdoor exercise classes, movie nights under the stars and more. Our goal is to get our residents involved in a number of activities and live the life they've always wanted.
Activities In StoryPoint Group Communities
In our communities, we want everyone to experience moments that make them shine. That's why we offer a dynamic social calendar full of thoughtful activities for the whole family to enjoy. To learn more about what we offer, call us at 1-844-275-9990 or contact a community specialist today.