As we continue to navigate COVID-19 as well as seasonal illnesses that peak this time of year — like cold and flu — engaging in socially distanced activities is key for preserving your health and wellness while also providing opportunities to continue to connect with friends and loved ones.
Here's a breakdown of four senior activities to help you reap all the benefits and joy of connecting with others while avoiding the risk of contracting illnesses.
1. Movie Nights
Colder weather and earlier sunsets this time of year make the conditions perfect for a cozy movie night. Invite a friend over to gather at a safe distance in front of the TV, coordinate a Zoom call with the grandkids to watch the show "together" while all in the comfort of your own homes, or treat your movie night as a book club and plan to watch the film at the same time as a group of friends, and then hop on a video or phone call after it ends to talk about your impressions of it.
Socially distanced senior activities don't have to be "less-than" activities from their traditional counterparts. When it comes to a movie night, for example, make the experience special by coordinating with all viewers to wear your best pajamas or themed outfits, splurge on nice popcorn and movie theater treats, and set the movie-watching mood by dimming the lights and turning up the volume.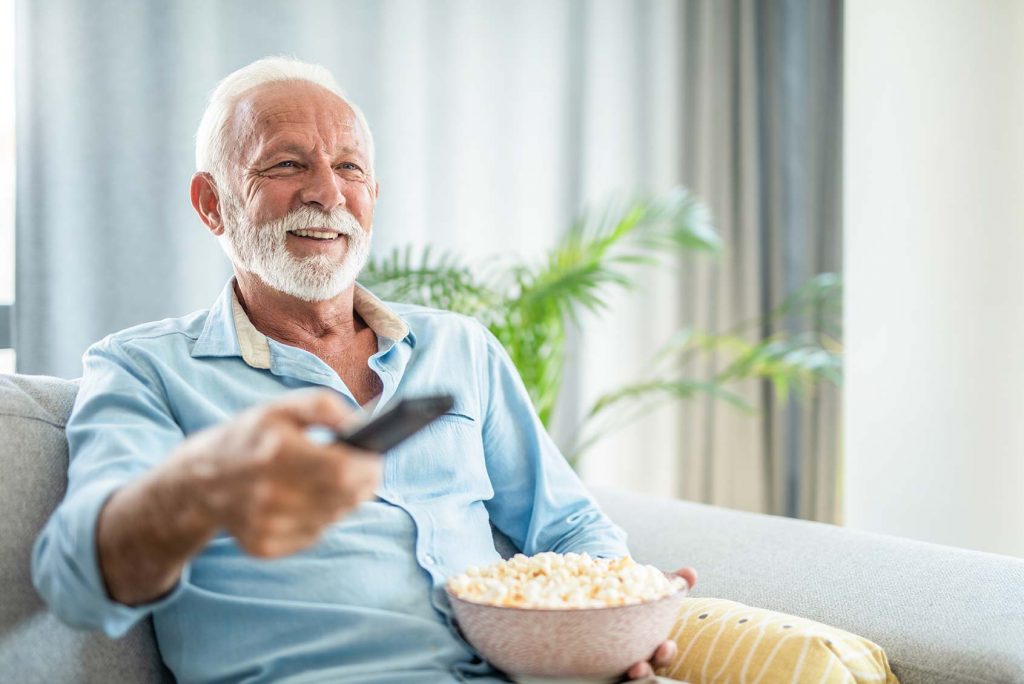 2. Virtual Classes And Clubs
From cooking classes to continuing your book club via Zoom (or another online video platform), there are countless virtual groups and classes on whatever topics are of interest to you. Some senior activity ideas include:
Gather a group of friends who all enjoy the same hobby and plan on a weekly time get together to share in that activity. Some social hobbies might include book club, knitting, scrapbooking, exercising or even a weekly happy hour.
Partake in a monthly cooking class and then share the meal virtually with the other participants. StoryPoint regularly shares cooking demonstrations from some of our Executive Chefs for you to follow along with and create a delicious meal.
Take an educational course. Many universities (like Harvard University) offer free online courses that can either be taken at your own pace or on a routine schedule with a live instructor.
Support local. Check your city's website or the social pages of your favorite businesses to see what sort of classes and social events they may be hosting.
Related: Virtual Learning 101: Online Learning For Seniors
3. Crafts
During the winter months in general, and as we continue to navigate COVID-19, you may find you have more time to dedicate to personal pursuits. Crafting is an excellent way to stay socially distant from others while engaging in an enjoyable senior activity. 
Crafting is a hobby that requires space to work, so you may coordinate with a friend to secure your own craft materials and meet in a large space where you can be together from a safe distance. Or perhaps you and your crafting partner need elements from the outdoors like twigs, small branches or hearty plants, and you can plan to meet somewhere with walking trails where you can collect the items you need with space to stay socially distanced.
4. Exercise
Let's face it: Having to remain socially distanced from others can take a toll on mental health and overall well-being. While beneficial for your physical health, exercise is also helpful for clearing the mind, boosting mood, reducing anxiety and more — all mental hurdles you may need added support to overcome during this unprecedented time.
While exercising solo is great, for the added bonus of social connection, try following a virtual workout program with friends, or opt for a video program that is instructed in a group setting — even though you don't know those in the video, you'll likely feel a sense of camaraderie that comes from completing the same workout together.
Another tip: Exercising with others (virtually or otherwise) helps keep you accountable to show up for your workout and make healthy lifestyle choices.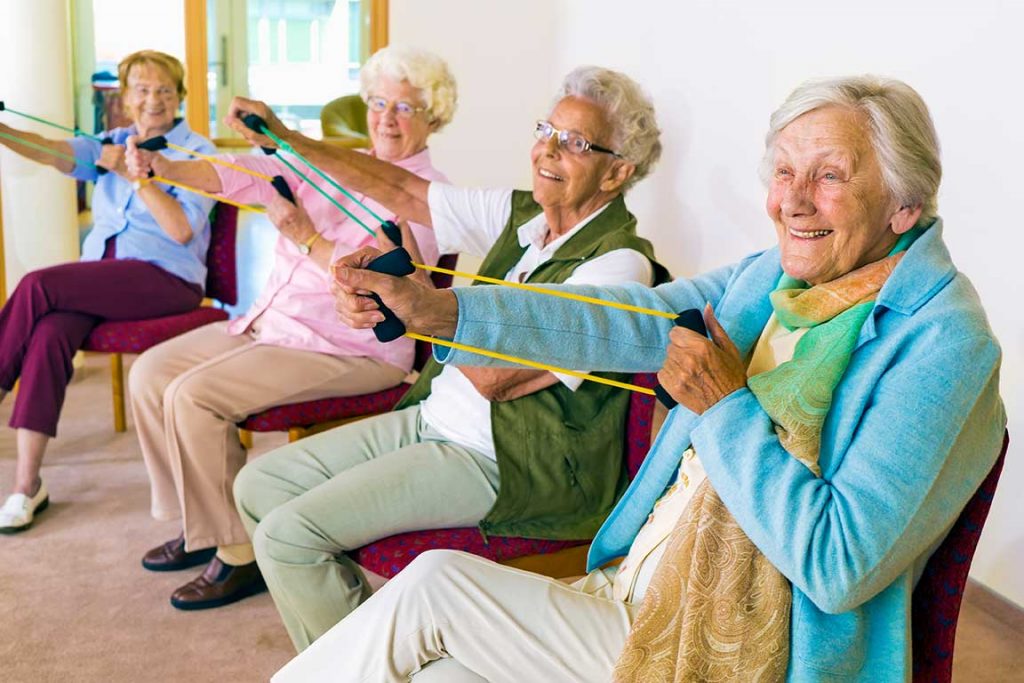 Making The Most Of Social Distancing
It isn't easy to stay physically away from loved ones, and during this time of social distancing, feeling lonely and isolated are natural side effects. Here are other tips for staying active and combating the negative effects of social distancing.
Stay in touch. Continuing to communicate with friends and family members is key to preventing loneliness. Make phone calls on a routine basis to simply check in, schedule Zoom or other video dates with friends, and send handwritten letters to those you love to let them know you're thinking of them.
Keep a routine. It's understandable to fall out of a routine when you may not be able to go out and do what you used to, but maintaining even a loose schedule will help give you purpose. Try creating a senior activity calendar of your own; fill out everything on your to-do list for the day and when they are scheduled (for example, maybe you exercise three times per week at 10 a.m.). Planning out your schedule will help you realize all that you are still doing and add intention to each day.
Try something new. Perhaps you've been putting off making that new dinner recipe because it was too time-consuming, or you've wanted to learn more about a certain subject but didn't know where to start. Doing something for the first time is empowering and exciting, and now is a great time to dive into something new. 
StoryPoint Offers Social Distance-Friendly Senior Activities
At StoryPoint, residents can enjoy daily activities and events that are all socially distant, thoughtfully planned and fun for everyone. For more information about life in our communities, call us today at 1-855-407-8679.