You don't have to be lifting weights at the gym to be an active person. Simply getting your body moving every day is great for your health. If you want to get into physical activity, but don't know where to start, try these helpful tips.
Head to the Golf Course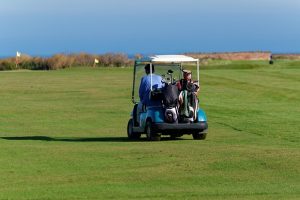 It may seem cliche, but golf is a fantastic way to get out and active. Golf is low impact, but a single swing utilizes most of your major muscles! Believe it or not, the average golfer burns 822 calories playing 18 holes alone. With so many courses out there, you're never too far from a little physical activity. Our Independence Village of Oxford (Waterstone) location is even part of a subdivision featuring its very own golf course!
Take A Sunday To Swim
If we're talking good cardio and low impact, swimming may be king. Swimming does wonders for your heart and also lowers your cholesterol! Your joints will also thank you for the needed break because swimming is a non-weight-bearing activity.
Bike Ride Through The Breeze
Going on a bike ride is great exercise that can be done with a group of friends. Much like swimming, bike riding is soft on your joints and great for your heart but it's also a fun way to get around. Try replacing a short car ride with a little physical activity. A variety of our Independence Village locations features stunning nature paths, perfect for biking.
Get Active With Independence Village
Getting a little physical activity every day makes all the difference. That's why Independence Village has an entire calendar of planned activities at our senior living communities. Meeting a neighbor and getting active is just a single piece of all the fun here at Independence Village. Schedule a visit to your local community or call 1-844-40-ENJOY to learn about our senior living communities.