For many, the thought of exercise doesn't sound super enticing  — the idea of spending hours at a crowded gym, working out on a machine doing the same repetitive motions over and over is often a deal breaker. Luckily, there are many activities that you can do which are both fun and physically rewarding.
Keeping your body moving can improve balance, promote higher energy levels and sharpen overall brain function. Studies have shown that seniors who exercise regularly are less likely to suffer from a stroke or heart disease and demonstrate a lower risk for depression and dementia.
When it comes to choosing the best exercises for seniors, you don't necessarily have to go to a gym to get a good workout. Exercising can be as simple as spending 30 minutes each day participating in an activity you enjoy and that gets your body and mind moving.  There are many opportunities for seniors to stay active — here are some recommendations:
1. Walking
Walking is a fantastic aerobic activity, and the best part is that you can do it anywhere. Bringing friends along can be an excellent opportunity to catch up while getting your daily exercise. If you have a dog, this can be a great bonding experience, and a healthy activity for both of you to enjoy together.
When deciding where to walk, make sure to choose a route that's well-lit and offers an even surface to avoid any trips or falls along the way. There are many other places to get your steps in  — some great places to walk or hike include:
Local neighborhood parks

Public trails

Malls and supermarkets

Indoor or outdoor tracks
Depending on where you choose to walk, it's helpful to be mindful of crowds. Consider going on your walk early in the morning or during an off-hour when fewer people are out, giving you more space to move around and a safer, more relaxing experience overall.
A definite perk of a senior living community is that it provides many social activities which allow you to befriend your neighbors. As you get to know your fellow residents, recruit a walking crew. Together, you can walk for the social, as well as the physical, benefits. 
Related: Why You Should Consider An Active Senior Community
2. Giving Gardening A Go
In the summer, gardening is a great excuse to be outside and get your hands dirty. You can grow flowers, plants or even vegetables — and it doesn't just have to be an outdoor activity. Create a fun journey for yourself as you watch the seedlings go from flowers to produce. This can give you something to look forward to, and also save some trips to the store. 
Getting up to weed, water and tend to your garden are great ways to stay active without even realizing it. Growing vegetables also can lead to a healthier diet, as you can grow your own produce.
Something to consider: Gardening doesn't have to be restricted to the summer months. In the winter, you can plant succulents or many kinds of herbs inside your apartment.  If you love to garden outdoors but find you no longer have the space or energy, indoor gardening is a great alternative — especially for those in senior living communities. 
Related: Why You Should Try Indoor Gardening This Season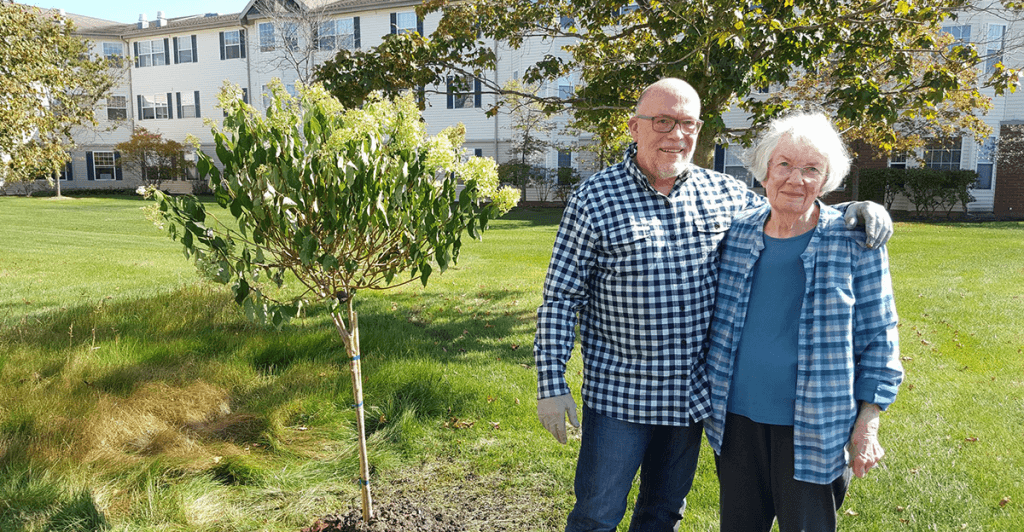 3. Practicing Yoga
Yoga is easy to learn and very calming. People of all ages practice yoga to engage different muscle groups, increase flexibility and range, and also to alleviate stress and anxiety. You can do yoga outside (weather permitting), take a class with friends or even practice in your own apartment. For seniors looking for a safe, effective way to build strength and improve their overall physical wellness, yoga may be the right choice.
Yoga is a mental exercise as well as a physical one. Another way to exercise your mind is through meditation. From this foundation, you can work up to incorporating physical exercises like yoga, low-impact aerobics, pilates, Tai Chi or stretching exercises for seniors.
Related: The Health Benefits Of Yoga For Seniors
4. Exercising While Seated
Catch up on your favorite TV show or watch a good movie while staying active at the same time. Chair exercise is a great way to keep moving during inclement weather and is ideal for those who have mobility challenges.
There are many strengthening and stretching exercises for seniors that can be done safely while sitting in a supportive chair. Invest in a set of exercise or resistance bands to help you even further, or try out chair yoga, which incorporates basic yoga practices in a seated position.
Just like any workout method, chair exercises are a good alternative for seniors who need extra support and are effective in promoting a strong body and mind.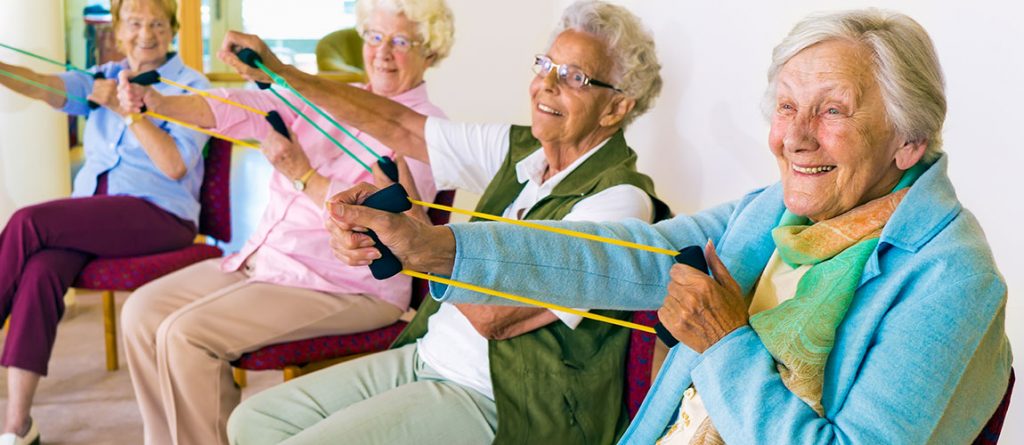 When it comes to staying active, getting up is the first step. Anything that requires you to get up and move can lead to a more active lifestyle. A great way to do so is to get outdoors. This can include hanging out with family or friends. Plan an outing with your grandkids or other loved ones to keep you active — this creates not only an opportunity to be active, but also to make lifelong memories.
Ideas for outdoor activities can include backyard games, golfing, trips to the zoo, park, or pool, or attending a local event like an art fair or concert in the park.
5. Swimming (And Other Low-Impact Cardio)
A great low-impact exercise to try is swimming. One of the best benefits of swimming as an exercise is that bodies feel lighter in water, creating less impact or strain on joints. Another swimming activity to participate in is water aerobics. This is a guided exercise class for seniors looking for low-impact cardio routines.
Other low-impact cardio activities include:
Using an elliptical or exercise bike (set to "low resistance")
Biking outdoors
Ballroom dancing
Staying Active at Independence Village
When it comes to getting the exercise you need, find dual-purpose activities at Independence Village that you enjoy. If you like getting up early each morning, start inviting your friends to join you for a morning walk. If you want to try a new hobby, test out a yoga or chair exercise class. Call us today at 1-844-403-6569 to learn more about how we get to know our residents in order to plan meaningful and beneficial activities that they'll enjoy.