Food tends to bring people together, elicit memories and foster conversation. We take that to heart in all of our communities, employing culinary greats to create delicious dishes for our residents each day.
StoryPoint Grove City is lucky to have an Executive Chef who creates culinary delights that accomplishes each of these things. On top of that, he has an exceptional story of his own.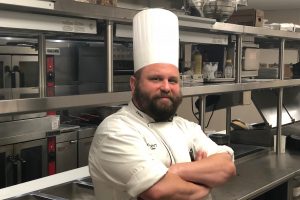 Meet Chef Kyle
Executive Chef Kyle Roehrenbeck went to school in Scottsdale Arizona. It was there that he had the opportunity to work with Food Network Chef, Beau Macmillan. He worked with Beau at the famous, boutique resort, Sanctuary Camelback Mountain. While working here, he had an opportunity to cook for many celebrities, politicians and athletes, including George W. Bush, Halle Berry, Muhammed Ali and many more. It was at this resort where he met his wife, who is a pastry chef.
Joining The StoryPoint Family
When asked what interested him in working with StoryPoint, he explained:
"I wanted to get back into creating because that is my passion. StoryPoint was a creative venue, a little more upscale and they were very interested in creating fine cuisine for the residents. There is a stigma that comes with food in senior living, and StoryPoint broke the mold."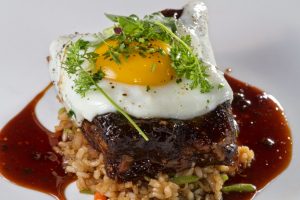 Kyle went on to explain that what he is most excited about at StoryPoint is building a relationship with the residents. Through these one-on-one interactions, he is able to watch the impact of what he creates in a more intimate way.
SEE ALSO: StoryPoint Executive Chef Receives Designation From the American Culinary Federation