As people age, it's common to experience an increase in memory impairments. In fact, the World Health Organization found that nearly 10 million new cases of dementia are diagnosed every year and that dementia is one of the largest reasons seniors become dependent on loved ones and support staff worldwide.
While assisted living communities offer a variety of services and amenities, they may not be equipped to handle the growing needs of your loved one. The difference between assisted living and memory care is primarily that memory care communities are designed especially for those experiencing Alzheimer's or dementia. They offer trained staff, thoughtfully designed spaces, and added safety and security measures. 
Knowing when to move from assisted living to memory care begins with learning the common signs of increased memory impairments, which can include:
Changes In Short-Term Memory
An early symptom of dementia is trouble with memory – and most often, with short-term memory. Does your parent remember the details of an event from 25 years ago but can't recall what they ate for breakfast?
Other signs that short-term memory is starting to affect your loved one may include an increase in forgetfulness – forgetting where they put something or walking into a room and forgetting why they are there.
Increasing Confusion
Confusion is a large part of dementia and can happen for many reasons. These moments of confusion can arise when your loved one can no longer remember faces or find the right words to say. It can happen when judgment of time and place is compromised. Even forgetfulness – forgetting where you are or what you're doing – can lead to confusion.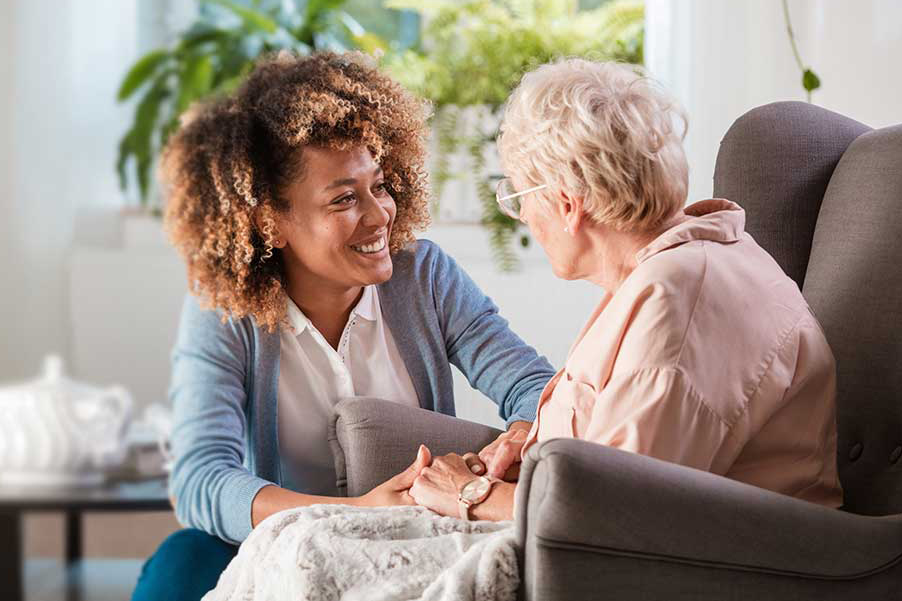 Language Problems
Does mom or dad increasingly struggle to remember names or everyday topics like days of the week? Do they have difficulty reading or working with numbers?
Those with dementia also have trouble following or joining a conversation and may stop in the middle of talking, repeat themselves or take longer to finish what they're saying.
Repetitiveness
A person with dementia may ask the same questions after they've been answered because they are unable to remember they just asked the question. Other repetitive habits could revolve around activities – obsessively collecting items or repeating a daily task multiple times.
Sudden Mood Changes
A key indicator of dementia is changes in mood. It's common for those with dementia to become particular about their routines and the way they do things – and to become irritable when their days stray from the norm. 
In general, they also may become confused, suspicious, agitated or even fearful. Dementia alters judgment, which sometimes can lead to personality changes. For example, someone who usually is reserved and shy may become outgoing and enjoy talking to strangers as their dementia progresses. Mood changes such as these can be signs it's time for memory care.  
What To Do If You Suspect Memory Loss
If you've noticed your loved one is developing signs of dementia, it may be time to make the transition to a memory care community. These communities offer all the services and amenities of assisted living, with the addition of services catered toward those with memory impairments, including:
Specially trained staff who understand the challenges associated with memory loss.
Unique programming tailored toward those with dementia and designed to promote comfort, dignity and independence.
Thoughtfully designed spaces offering added safety and security measures for your loved one.
If you see any of the above symptoms in your loved one, a great first step is to see their primary care physician and ask to have a cognitive test and exam done. 
Unsure Where To Start? Independence Village Can Help.
Many families face the same challenges you may be experiencing, and though it may feel isolating at times, you are not alone. If you're unsure where to begin in your search for a memory care community, call our team today at 1-844-403-6569. At Independence Village, we're here to help guide you every step of the way.