"What is the difference between independent living vs. assisted living?" 
"How do I know what living option is right for me?" 
It's common to ask these questions when considering moving to a senior living community. Maybe you want to explore new group activities and find new friends, or maybe you've found that you would benefit from 24/7 caregiver support. 
Regardless of your reasons for considering senior living, understanding all the available options and the key differences between them will help you make an informed decision about what living option is right for you. 
Keep reading for a look at the difference between assisted living and independent living.
Independent Living Vs. Assisted Living
Explained
Independent Living
In many ways, life in independent living is similar to renting an apartment or condo. Independent living can be a great option for those who want an all-inclusive lifestyle in a private apartment, condo or townhome. The difference between independent living in a retirement community and living in an apartment complex are the amenities. Imagine your morning paper and cup of coffee — both brought to you. 
With on-site dining services, housekeeping and community activities, life in an independent living community means freedom from daily chores with gourmet dining and social engagements. Independent living communities may be the best choice for seniors who can easily accomplish daily tasks, yet want to fully enjoy the perks of retirement.
Related: 5 Benefits of Independent Living
Assisted Living
Assisted living is a senior living option with the same amenities and features as independent living, plus the added benefit of around-the-clock support. This living option offers services like assistance with activities of daily living (ADLs), medication reminders, mobility support and more. These services meet residents where they're at. That means they offer support in areas that are unique to your unique needs, whatever those may be. 
For families of those in an assisted living setting, one of the greatest benefits is peace of mind. With assisted living, families can rest easy knowing that their loved one is receiving the absolute best care from professionally trained employees who care for residents like family. 
Related: 5 Signs It's Time To Consider Assisted Living
Similarities Between
Assisted Living Vs. Independent Living
Community Amenities
Cozy up with a book from the community library or grab a friend for a competitive game of chess in the billiard room. At independent living and assisted living communities, residents will find unique amenities and features with endless possibilities to enjoy their day.
Here's a look at some of the amenities you can expect in independent living and assisted living communities: 
Library

Billiards room

Beauty salon and barbershop

Bistro or café area

Restaurant-style dining room

Outdoor trails and patio spaces

Transportation services (such as shuttles to the grocery store, pharmacy, etc.)
And for those who would prefer a peaceful day in their own private retreat? 
Residents in independent living and assisted living communities have spacious apartments that they can make their own. Depending on the community, residents may even have the choice of a condo or townhome for added privacy.
Freedom From Daily Chores And Home Maintenance 
One of the most sought-after perks of living in a senior living community is freedom from the responsibilities associated with homeownership. In senior living, residents enjoy a maintenance-free lifestyle with services that take care of housekeeping tasks, lawn care, laundry and more. Independent living and assisted living both allow you to escape from daily chores and the hassles of home maintenance. 
At senior living communities, restaurant-style dining rooms are available so residents can enjoy a social dining experience every day. Executive chefs use their years of expertise to curate made-to-order menus that residents will enjoy. The number of meals offered to residents in independent living and assisted living may differ, but the dining experience remains the same. 
Differences Between
Assisted Living Vs. Independent Living
Level Of Care And Services Offered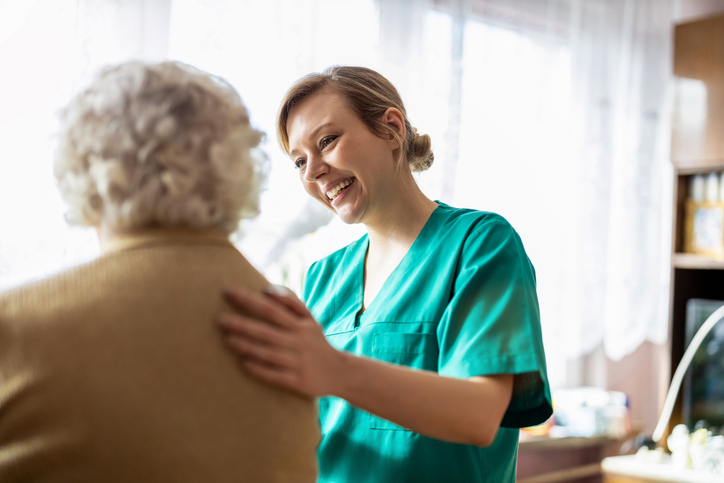 When choosing between assisted living vs. independent living, it's important to assess the level of care that a senior needs. If they need assistance with activities of daily living (ADLs), like bathing or showering, dressing, medication reminders and more, assisted living will likely be the right choice. For those who are able to live without any support and could benefit from a social, community setting, independent living may be the best choice. 
Care needs change over time. It's a good idea to take into consideration that your care needs may progress as you age in pace, so choosing a senior living option that's able to accommodate a continuum of care can be helpful. In a community that offers progressive care services, you or your loved one won't have to move as care needs progress. 
Cost And Affordability
Most often, the costs associated with assisted living are paid through an all-inclusive rent model. This means the cost of utilities, meals, housekeeping and assistance with activities of daily living (ADLs) are included in the price of rent. For independent living, residents still pay an all-inclusive rent, but there are variables that can be customized for an extra cost. 
Independent living is not designed to provide medical services, Medicare, Medicaid, long-term care insurance, and other financial aid programs generally won't cover the cost. In contrast, there are more options available to cover the costs in assisted living communities because they provide wellness services. While Medicare does not cover assisted living, Medicaid and long-term care insurance may be able to cover a portion of the costs. 
Related: Can Long-Term Care Insurance Cover Senior Living Costs?
What Living Option Is Right For You?
The reasons for choosing a senior living community are different for everyone. So how do you know what living option is the right choice for you? 
Independent living may be a good fit if: 
You don't want to be bothered with household chores or mundane home upkeep. In independent living, chef-prepared meals, daily housekeeping, laundry services and more allow residents to spend their days exactly how they want to. 

You're feeling lonely. Whether you're looking for days full of socialization or simply long to be a part of the community, independent living residents are excited to get to know you and make your retirement experience everything you want it to be.

You aren't in need of 24/7 support. In independent living, residents won't have the added support that's offered in assisted living. 
Assisted living may be a good fit if:
It's becoming more challenging to navigate your day-to-day activities. In assisted living, professionally trained employees are there to help you get ready in the morning, offer mobility support as you get about your day and more.

Your medications are difficult to manage. Medication reminders from assisted living communities mean that you won't ever miss your morning, afternoon or evening medication. 

You find yourself dreading grocery shopping, cooking and doing dishes. In assisted living, every meal is prepared for you with all the vitamins and nutrients of a healthy diet. And the best part? Each meal is shared with friends in a restaurant-style dining room. 
Living Options In StoryPoint Group Communities
Determining the right senior living community for you or a loved one can be tricky, but it doesn't have to be. StoryPoint Group senior living communities offer a full range of care options. We have experts at all of our communities who can help guide you or your loved one to find out which senior living option would be most suitable for your lifestyle. 
Our diverse service levels allow residents to stay within the community as they progress through various care levels, from independent to assisted living and more. Click here to learn more about our assisted living and independent living options. Schedule a tour of your local StoryPoint Group community or call us at 1-844-275-9990. We can't wait to get to know you!