Many of today's seniors value their independence more than anything else. Which can sometimes make them resistant to considering a move to senior living. Deciding to move from their home or condo into a new living space with lots of people they don't know can be incredibly scary. Not to mention, the stigma associated with senior living in the minds of today's seniors can also serve as a deterrent. After talking with our residents, we've compiled some other helpful tips.
Approaching The Topic
The best time to discuss this topic is before senior living is completely necessary so that your family has enough time to find the best community for your parent. When it comes to having the conversation, make sure you chose your words wisely. You'll want to prioritize their feelings. Also, do your research before bringing it up so that you are prepared to answer any of their concerns with informative responses.
Make Suggestions, Not Decisions
The way you preface this discussion will allow your parent to feel more in control of what is happening to them. For example, it can be helpful to use the language "you might like…" or "this community offers…" to ensure that your loved one is a part of the decision.
Tour Several Communities
There are different ways to get an idea of what senior living communities provide other than just taking a traditional tour. Reach out to the senior living communities in your family's area to see if you and your parent can come enjoy a meal or come to an activity. This is a fun way to get a feel for the community, and it may make your parent more open to the idea of moving into senior living.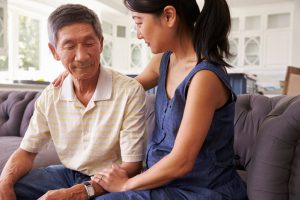 Explain How It Impacts You
When your parent needs the extra help, this can often impact your work-life balance and make you feel helpless to support their needs. If you explain to them that you would like to help more but don't have as much time to dedicate as you would like, they may understand why you started the discussion. Ultimately, let your parent know that you value their safety and want them to have a strong support network.
It may take time before your parent will open up to the idea of making this big move into a community. That is why it may help to begin the conversation before senior living is needed. If you are patient with them and supportive of their feelings, this will be a more seamless process.