As we age, our level of independence might start to look different. While you may no longer be in a position to handle home maintenance, you could still be very much active and engaged in everyday life. 
While it may seem counterintuitive at first, getting assistance with various daily activities can actually help to positively impact your quality of life and your independence. By moving into a senior living community, nuance items such as repairs, cooking, cleaning and more are handled for you so that you can focus on the areas of life and retirement that bring you the most joy.
Here are some of the ways senior living can enhance independence. 
Socialization
Human interaction is important for a healthy mind and body — and for maintaining independence. Residing in a senior living community allows you to make new friends, meet people with similar interests and grow your social network right at home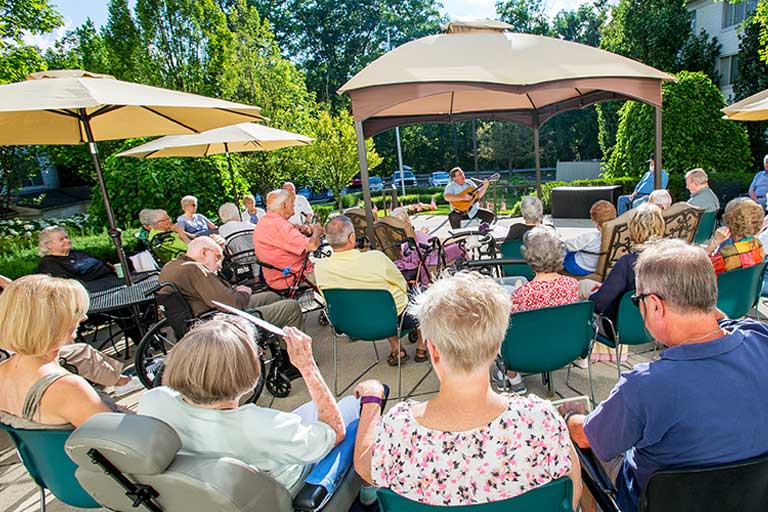 Many senior communities offer a wide range of events and activities for residents to participate in each day. Events offered by senior living communities might include: 
Workshops and continuing education classes 

Entertainment, including movie nights or live music

Fitness and nutrition activities like yoga or cooking classes

Holiday celebrations 

Fun get-togethers like happy hours, game nights or cookouts 
Residents and family members alike can always get involved in the fun at Independence Village. 
No Home Maintenance
Not everyone loves home maintenance like cooking, cleaning, or minor repairs, and it can become increasingly difficult to maintain a large home and yard as you age. Senior living communities take care of all maintenance requests – often made by the residents themselves. Independent living frees you to spend your time doing what you love without the worry of household chores.
Available Support
Senior living communities offer a variety of services and support options for you to take advantage of based on your individual preferences and needs. From assistance with activities of daily living (ADLs) like dressing, grooming and showering to medication reminders, coordination with health care providers, and more, senior living communities can help you stay on top of your needs before they grow too large.
Many senior living communities also offer on-site amenities, such as meal services, shuttle transportation, housekeeping and more to relieve you from the hassle of chores and help you stay independent if you don't drive, for example.
Senior Living At Independence Village
Independence Village offers a variety of living opportunities to help residents maintain independence and maximize their retirement. Contact your local Independence Village or call 1-844-40-ENJOY today for more information about our communities.