When seniors begin to need additional care, it may require a shift in living arrangements. Luckily, there are plenty of options to suit you or your loved one.
One option, offering various types of care, are senior living communities. If your family member prefers to live at home, there also is an option of in-home care, where a hired caregiver comes to the senior's home.
Both offer pros and cons, and it's important to weigh these options to see which best align with your individual wants and needs. Deciding which space is best for your parent may seem overwhelming, but to ease the process, consider the following elements when looking for a senior care solution.
Home Safety And Security
A top concern for seniors living on their own is safety. This can include security around the home as well as safety features and practices within the home. A benefit of senior living communities is that there are many security features in place.
Some of these security measures include:
Security alarm system and personnel.
24-hour staff assistance.
Dedicated visiting hours.
Fire safety (smoke detectors and established evacuation plans).
Having someone else manage the upkeep and maintenance lessens the risk of falls your loved one may have while tending to home maintenance, repairs or other household chores.
Different types of care also require different security measures. For example, those in memory care must have a loved one present to leave in order to avoid wandering or getting lost. Senior living communities are designed with safety in mind.
Safety features often include:
Railings on stairs and in hallways.
Grab bars in showers and restrooms.
Well-lit paths.
Wide, clutter free walkways.
No-slip floors.
Raised toilets.
These safety and security features also can be implemented at home. If choosing in-home care, consider making these safety installations if they aren't in place already.
Related: Falling Hazards 101
Thorough Background Checks
The majority of senior living communities require employee drug testing and background checks to ensure safety for all residents. However, this isn't always the case for in-home care providers, especially if hiring on your own rather than through an agency.
Regulations for in-home providers are often looser than for senior living communities. This gives senior living communities a naturally stricter vetting process, aimed at determining if caregivers are dependable enough to provide reliable care.
Many in-home care options have reputable staff but may require further research. If drug testing and background checks are important to you, consider senior living communities or make sure to ask these questions of an in-home care agency or provider before hiring them.
Related: At Home Care Vs. Live In Communities
Specialized, High-Quality Care
It is common for seniors to want to stay in the comfort of their home. While the idea of in-home care may be desirable, this also means caregivers won't always be readily available. In-home caregivers can have multiple visits a day, lasting a few hours. These visits might not be close by, meaning your caregiver isn't always around the corner.
At senior living communities, caregivers are available around the clock, ensuring someone is always available if your loved one should require attention. When researching different communities, look for 24-hour assistance to ensure peace of mind, knowing someone is always there for you or your loved one.
Limited Choices For Home Health Care
If a doctor suggests home health care, understand that options tend to be limited. Insurance agencies often only have a few or sometimes one provider for in-home care. For instance, most managed health care plans that offer home health care are contracted through a specific provider. Senior living communities are plentiful. Researching online is a great way to find out which communities provide the best care to fit your needs.
Related: How to Afford Senior Living: Understanding The Costs
Socialization Benefits
Studies have shown that frequent socialization can improve seniors' overall health and well-being. With in-home care, your loved one will be limited to social interactions that take place directly in the home.
However, at senior living communities, your loved one will be surrounded by peers, giving him or her many opportunities to make new friends and relationships. Senior living communities also offer an array of activities and events to help keep your loved one motivated, active and having fun.
Related: 5 Ways To Make Friends In Retirement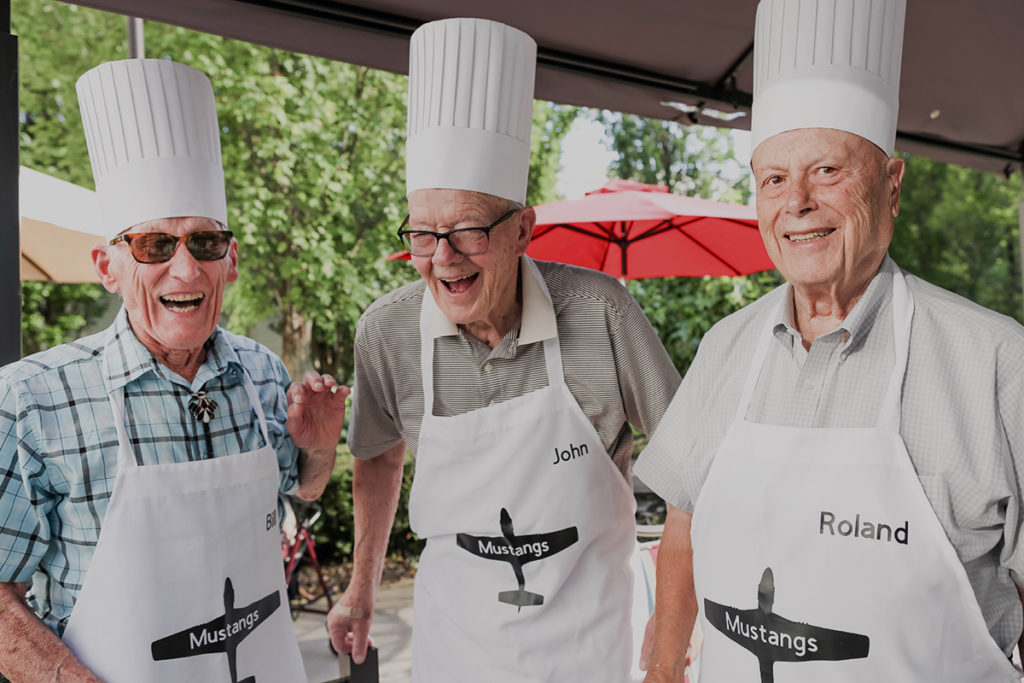 Nutrition
With in-home care, grocery shopping and cooking may still be your responsibility. Not all in-home care providers include meal preparation or running errands to retrieve food, so you may need to find additional assistance such as a grocery delivery service.
Senior living communities manage the grocery shopping and cooking for you. Not only do they handle these tasks, they also create nutritious meals to keep your loved one healthy.
Related: How Your Dietary Habits Can Reduce Gout
Choose A StoryPoint Senior Living Community
StoryPoint is here for you during this journey and offers various living options to fit your needs, even if they change with time. We have made it easier to find qualified caregivers, home maintenance, housekeeping, nutritious meals, socialization, activities, outings and more.
Join our community to receive specialized, high-quality care for you or your loved one. Contact us today at 1-844-403-6569 to get started.