Staying active in older age is not only good for your body, but it also does wonders for your attitude and mind. Studies have shown that seniors who exercise regularly are less likely to suffer from a stroke or heart disease and operate at a lower risk for depression and dementia.
You don't have to go to a gym to get the exercise you need. It can be as simple as spending 30 minutes each day participating in one of your favorite pastimes to keep your body and mind moving. There are lots of opportunities for seniors to stay active. Some of those activities we recommend include yoga, walking with friends and gardening.
1. Practicing Yoga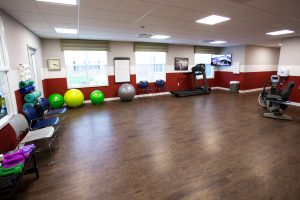 Yoga is easy to learn and very calming. People of all ages practice yoga to engage different muscle groups, increase flexibility and range and also to alleviate stress and anxiety. You can do yoga outside (weather permitted) or take a class with friends or even in your own apartment!
2. Walking with Friends
Walking is a fantastic aerobic activity, and the best part is that you can do it anywhere. Bringing friends along on your walks can be an excellent opportunity to catch up while getting your daily exercise in. Or if you have a dog, this can be a great bonding experience and healthy for both of you.
3. Giving Gardening A Go
In the summer, gardening is a great excuse to be outside and get your hands dirty. You can grow flowers, plants or even vegetables and gardening doesn't just have to be an outdoor activity!
In the winter, you can always plant succulents or many kinds of herbs from inside your apartment.
When it comes to getting the exercise you need, find dual purpose activities at StoryPoint that you enjoy. If you like getting up early each morning, start inviting your friends to join you for a morning walk. If you want to try a new hobby, test out a yoga or swimming activity. You should try out one of our recommended activities to see that exercise can be both physically beneficial and mentally appealing!