December 1st, 2018
Physical activity is critical for the mind and body. During the winter months, it can be difficult to stay active. Even though there are a few challenges, staying active is critical for the overall quality of life including your health, memory and sleep. Here are some suggestions for how to keep active this season.
Take Walks Inside And Outside
Even though staying inside is tempting, exercise is crucial all times of the year. One way to get in your daily workout is going for a walk. Walking has proven to help in a multitude of ways including healthier joints, bones and muscles.
If it is a mild day outside, feel free to get out your hat and gloves and go for a walk around the block. For those blustery days, inside may be the mandatory choice. You don't have to walk laps around the house, but just taking a quick stroll around the house can serve a great purpose.
Besides your home, here are a few places to get in a walk. These places offer clean, safe ways to get your steps in. Plus, they can double as a fun activity out with friends and family.
Malls and supermarkets
Museums, aquariums and art galleries
Fitness centers or gyms
Joining A Gym
The gym can be a great place to stay active and utilize equipment you might not have at home. The usual options like the treadmill, stationary bike or lifting light weights are always a good choice. If those aren't for you, there are a few other options including: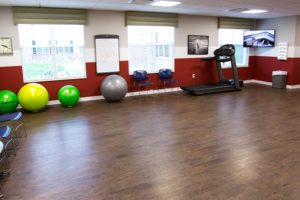 Fitness classes, including group classes or individual trainers
Swimming
Water Aerobics
The options listed above have a variety of benefits. A group fitness class gives you not only the workout but the chance to socialize and meet new people.
At-Home Exercises
You don't have to leave the house in order to get in an effective exercise. Simple stretches and activities can help. Whether it is marching in place, doing a chore, playing with a pet or doing some yoga, it can have a dramatic influence on your health. If you need a little extra to get you motivated, try one of the ideas below.
Workout videos
Video games
Home equipment
With the winter months upon us, we have to find other ways to keep exercising and protecting our health. Hopefully, some of the ideas listed above can help you stay on top of it. Regardless of your choice, make sure you stay active and enjoy the extra benefits of having an exercise routine.