There's nothing quite like the feeling of having fun with family. When the kids or grandkids are in town, of course you want fun things to do together. A day at the beach or walking a trail is just more fun with the people you love around you! But getting the whole family to agree on something to do isn't always easy.
We've created a list of our 10 best activities for seniors and youth to do together. Use the ideas below to find the best intergenerational activities for seniors and their families.
1. Read Together
Taking turns reading a book tops the list of intergenerational activities for seniors and youth because it's a low-cost, low energy activity that's great for the whole family. Reading provides a stable, safe, loving and fun environment for grandkids and grandparents to have fun together. Plus, reading a bedtime story is a great way to instill a love of reading in children at a young age.
2. Gardening
Try gardening! Families that plant a garden together create something that is uniquely theirs. Having everyone there to reap the fruits of your labor makes gardening together so rewarding. When starting a garden with family, it's important to take everyone's needs into consideration. Wide walkways and heightened garden beds make gardening easier for grandparents, and kids can contribute by drawing a blueprint of what the garden should look like. Consider starting a themed garden (like a fairy garden or a tea garden) or ask the kids for their garden ideas. Then, designate the gardening responsibilities to family members. When gardening with family, there's never a dull moment!
3. Cook Together
Cooking together is great for both grandparents and grandkids – it allows the grandparents to practice their skills while the children benefit from trying new cuisine. It's also a great way to share family stories with the grandkids. What was your favorite dish your mother made growing up? Was there a certain way dad liked his steak cooked? Think about how you can engage young ones with their heritage and family recipes. Having the whole family help create a meal allows parents and grandparents to connect with the next generation and pass down family recipes.
4. Puzzles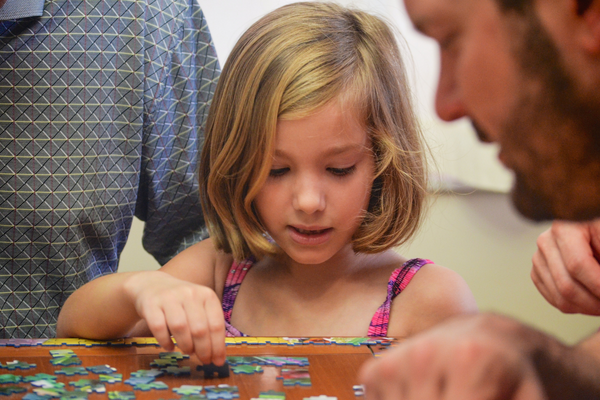 Here's why your family needs to do a puzzle together: it's an activity that requires teamwork and concentration. Working as a team to finish a puzzle brings the family together. They're a fun way to train your mind and hone hand-eye coordination for both seniors and kids. Choose the best puzzle that matches everyone's skillset or create a puzzle with a custom family portrait. Older adults and young children may get the same benefits from a large-piece tactile puzzle. 
Related: Fun Brain Games For Seniors
5. Day Trips
A day trip gives families a chance to disconnect from the screen and reconnect with each other. Day trips are a great way to stay active and give grandparents and kids a sense of wonder. Even the neighboring town seems more magical when you visit it with a tourist mindset! Try exploring local gardens, trails, music festivals or cuisine. Who doesn't love a picnic? Pack a picnic lunch, grab some take out, or drop into a restaurant or cafe. The possibilites are endless. 
Related: 5 Great Senior Vacation Ideas For a Fun and Accessible Trip
6. Enjoy The Day Outside
Spending time outside is one of our top activities for seniors and youth to do together because this low-impact physical activity can be done anywhere and it's always free. If you're looking for outside intergenerational activity ideas, try taking full advantage of the season. Painting leaves in fall, picking wildflowers in spring and bike riding in summer are just a few examples of how you can make the most of your surroundings. At StoryPoint Medina, we had a blast creating a slip-n-slide for our senior residents and their grandchildren. See our video of one of our residents sharing a special moment with her great granddaughter. Activities like these are a fun way to make the most of summer while sharing a moment that everyone will treasure.

7. Watch A Movie
Watching movies with your loved ones is not only an enjoyable activity for grandkids and their grandparents, it also strengthens the family bond. Movies can lead to conversations about aspects of the movie, likes and dislikes, favorite movie snacks, and more. Discussing the movie can spark fun conversations, create opportunities to share family stories – like how grandma and grandpa met – and can lead to quality time spent together. 
8. Create Art Together
Children love getting lost in fun activities and these can be made even more special with the helpful hand of a grandparent.  Try to tailor the crafts to the grandchild's skill level. For example, creating a fun collage with things from the garden – like leaves, twigs and more – would be fun for a young child, while tie-dying a shirt would be a great activity to do with a teenager. 
9. Visit An Aquarium Or Museum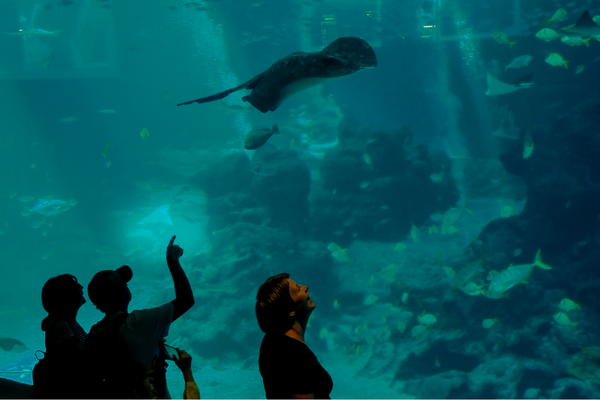 Going to an aquarium or museum can be equally educational for seniors and youth. Note that this may be one of the more costly intergenerational activities ideas, but visiting a museum or aquarium offers a unique opportunity to learn. Exploring history and identifying colorful fish is a great excuse to spend time with family in a positive way.  One added benefit of this activity is that, in an aquarium or museum, you can spend as much or as little time as you like exploring exhibits.  
Intergenerational Activities At Our Communities
At our communities, we want everyone to experience moments that make them shine. That's why we offer a dynamic social calendar full of thoughtful activities for the whole family to enjoy. To learn more about what we offer, call us at 1-844-275-9990 or contact a community specialist today.