As you and your loved one begin looking at different senior living offerings, you'll notice that there are a lot of options to choose from. 
Questions may come to mind like is a nursing home the best option? What do senior living communities provide? And what is the difference between senior living and nursing home options?
Understanding the similarities and differences between nursing homes and senior living communities is important when trying to find the right fit for a future home. Often, the right choice depends on the amount of care needed and where you will feel most comfortable based on your current lifestyle.
What Are The Similarities Between Senior Living and Nursing Homes?
When looking for your or a loved one's new home, remember that there are some similarities between nursing homes and senior living communities. Here are the main similarities between the two types of senior living options:
Both Offer Essential Care Options
Both senior living communities and nursing homes offer assistance with activities of daily living (ADLs). This service consists of assistance with personal care tasks such as bathing, grooming, dressing and more. In addition to ADLs, nursing homes and senior living communities also both offer:
Around-the-clock care.
Transportation services.
Medical and medication management.
Mobility assistance.
Security and safety protocols.
And more.
Dining Services Are Offered In Nursing Homes And Senior Living Communities
You will find that dining options and meal plans are offered at both community types to ensure proper nutrition. Nursing home and senior living community menus are developed based on senior-specific nutrition needs.
Keep in mind that dining services at nursing homes are medical-care based, and may not offer the same variety of menu options as a senior living community. Senior living communities tailor their menus and dining options toward their residents' preferences. 
Dining services in senior living communities are more than just nutritious; dining is an essential component to the overall experience.
Both Offer Social Engagements And Events
Both nursing homes and senior living communities offer many opportunities to gather and socialize. Some common social gatherings you would find at a community for residents are art classes, happy hours, card games and more. However, nursing homes typically have less variety in their activities, with more of a focus on residents' care needs than their holistic well-being. 
Related: Senior Services Tips: Everything You Need To Know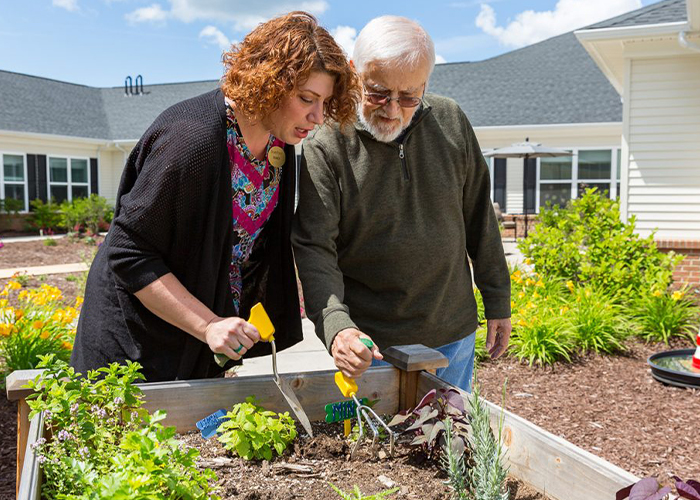 What Are The Differences Between Senior Living And Nursing Homes?
The significant differences between a nursing home and a senior living community are the progressive care services available, amenities and lifestyle options. 
Senior living communities offer more independence and life enrichment opportunities, while many nursing homes focus more on around-the-clock monitored support.
Senior Living Communities Offer Personalized Care Options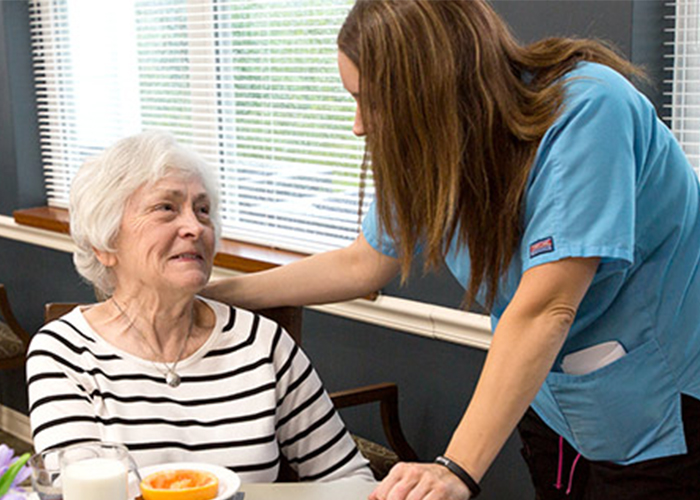 Nursing homes typically have less variety in their care offerings than a senior living community. Think about it this way, a nursing homes' sole focus is to aid seniors in health recovery. 
At a senior living community, the main focus is resident satisfaction. This includes medical care but also life enriching activities like exquisite dining, fun events and tailored services to create the ideal living situation.
Senior living communities provide flexibility in their care options to best support their residents aging in place – which means offering more than a one-size-fits-all care model. That's why some senior living communities offer progressive care services like enhanced living, a service unique to StoryPoint. This allows for personalized support and care. 
In short, senior living communities include all the benefits of independent living plus the peace of mind that comes with affordable, custom service offerings that can be tailored to individual needs.
Senior Living Communities Offer Amenities That Nursing Homes Don't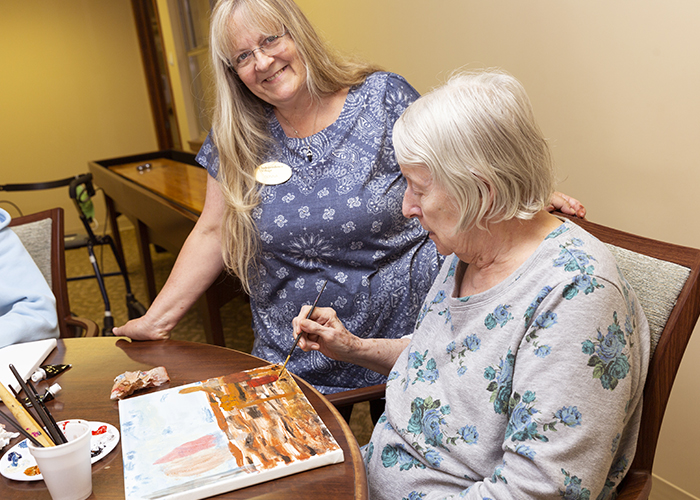 Senior living communities offer more than personalized care, most communities offer a variety of leisure options and on-site amenities. Here's a short list of the amenities typically included in a senior living community that a nursing home would not generally offer: 
On-site amenities such as a beauty salon, barbershop, fitness areas and more.
Enriching activities like gardening, senior-focused aerobics classes, resident-led clubs and art classes. 
Quality dining services with an emphasis on nutrition and taste. At StoryPoint, we are staffed with top Executive Chefs who prepare fresh meals daily. Our Chefs use only high-quality ingredients, often from local farmers.
Who Can Benefit From A Senior Living Community?
Senior living communities are best for those looking to make the most out of their retirement and have the ability to age in place. In senior living communities, residents are able to engage in enrichment activities and team outings.
They will also have the peace of mind knowing that they'll have access to personalized services including nutrition planning, a wide range of social activities and health care. 
No need to worry about maintenance, cooking meals, housekeeping or other tasks of homeownership. Senior living can provide a positive environment with social benefits and access to specialty staff when needed.  
Related: Senior Services Tips: Everything You'll Need to Know
Who Can Benefit From A Nursing Home?
Nursing homes provide around-the-clock care. This can benefit seniors who require more assistance. This can give family members and caregivers reassurance that their loved one is in the hands of professionals and no longer need to do the job alone.  
Residents of a nursing home may have medical conditions that family members are not familiar with handling. This can benefit both you or your loved one as well as the family, knowing specialists are supervising the situation. 

Nursing homes do require in-depth assessments before granting approval. This is another reason to make sure you understand the best living option for you or your loved one. You want to be sure nursing home requirements are met before choosing to apply.
Related: Get To Know The Different Types Of Senior Care
Choosing The Best Option For You Or Your Loved One
While these tips and details clarify the many differences between a nursing home and a senior living community, some of these care and community offerings are unique to StoryPoint.
 With over 40 years of experience, our care team puts seniors and their families first. If you or your loved one want to learn more about your local StoryPoint community, reach out to one of our Community Specialists or find a community near you. Call 1-855-407-8679 to learn more and schedule a tour.