Transitioning into a senior living community can be a big change for you and your family. Once you find the perfect place to call home, it's time to begin packing. 
Although it may be tempting to pack up everything in your home, try to focus on what's a necessity and what's allowed. Most senior living communities have rules or guidelines about which items you can bring, and it's important to research those beforehand. 
Here are some moving tips for seniors who may still be deciding what to bring and what not to bring into their new senior living community. 
What To Bring
How to downsize can be a tricky question, but the key is to start with the essentials. Think about your daily routine and what items are used most often. Begin your list with these essentials followed by a few items that bring you joy. 
Here are a few ideas on what to bring with you:
Decor And Comfort Items: Decorations and comfort items are a perfect way to instantly turn a new place into a cozy home. Use decor to personalize your space and bring in elements that remind you of home, including photos, artwork, etc. Additionally, bring your favorite comfort items such as bedding, blankets and pillows. 
Organizers: When downsizing, organizers are a great way to keep a smaller space neat and tidy. They also ensure your items are still easily accessible.
Labels: Incorporating organizers or storage bins into your space is a great way to stay organized. However, you don't want to forget what each bin holds or where certain items are stored. Labeling bins or cabinets can prevent losing track of items in storage.
Essential Toiletries: Don't forget daily necessities such as a toothbrush, hairbrush and other hygiene products or specific medications that will be used regularly. 
Clothing: Of course shoes and clothing will be items you pack, however, make sure to measure your new closet space. When downsizing a home, remove apparel items you or your loved one will no longer wear to provide more space for necessary items.  
Entertainment Items: Bringing items like a television, books, puzzles, games or cards are great ways of adding fun to your new home. These items can keep you entertained and might lead to meeting new neighbors. 
Financial And Legal Documents: Insurance policies, personal wills and estate papers as well as medical prescriptions should be kept in an easily accessible area in case of an emergency. A personal safe is a great place to store these important items. If you don't feel comfortable having them in your residence, ask a family member to keep them.  
A Sense Of Adventure: Think of your move as a new adventure. Embrace the opportunity to make new friends, try new things and put a personal touch on your new place.
Related: Tips For Downsizing Your Home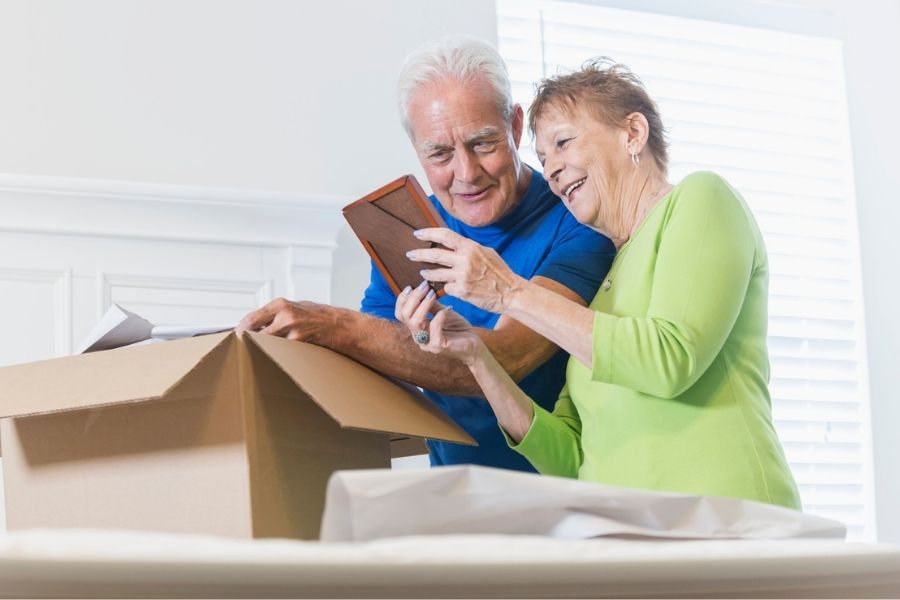 What Not To Bring
Most of the time, moving into senior living is a transition into a smaller space. Therefore, you may not be able to bring every item from your current home. Plan to gradually sell or donate items that are no longer needed or arrange to store them elsewhere. 
Downsizing home items is doable when you focus on what's a necessity and what's allowed. To determine what not to bring, research the restricted items at your new senior living community. 
Some senior moving tips for what not to bring include:
Throw Rugs: Throw rugs can be a tripping hazard for residents.
Bulky Furniture: Furniture that had fit in your previous space might not fit in your new apartment. Bulky chairs and heavy coffee tables may also make living areas feel small and crowded.
Candles: Open flames typically aren't allowed in senior living communities, so leave those behind. If it's the fragrance you're after, diffusing essential oils is a safe alternative.
Heat-Generating Items: While comfortable, items like space heaters and electric blankets are fire hazards. Instead, invest in a cozy comforter and some throw blankets.
Bird Feeders: Bird feeders can attract more than just birds — animals like rats and raccoons will also eat birdseed. These animals can cause unwanted building concerns.
Storage Items: Downsizing means you won't be able to bring everything with you. To maximize space, look into getting a storage unit to keep wanted items and/or sell things you no longer need.
Power Tools: Senior living communities have maintenance teams available to hang pictures or fix miscellaneous items around your apartment, so there's no need to bring these tools.
Weapons: While knife collections and war memorabilia are meaningful, anything that could harm an individual likely won't be permitted in your new home. Consider donating these to local museums or gifting them to friends and loved ones.
When packing up household items, remember what amenities the community provides. For example, you may not need coffee makers or other kitchen gadgets if the community has a café and provided dining options. In that case, pots and pans may not be needed.
Additional Packing Tips
Create a list outlining the items you want to bring with you, and those you want to put into storage and sell/donate.
Enlist the help of your family and friends in determining what to bring and what will fit in your new home.
Know the dimensions of your new apartment so you can bring furniture that fits the space.
Speak to your Community Specialist and ask questions about what you can or cannot bring to your new space. This will help take any guesswork out of the packing process.
For some seniors, packing makes the move to a community even more real. By tackling the items on your moving checklist a little at a time, the process will be easier and will bring you one step closer to enjoying all the benefits your senior living community offers.
Related: Pre-Moving Checklist For Seniors
Independence Village Is Here To Help
Independence Village is here and readily available to provide information and support during the move. Call us today at 1-844-403-6569.
We can assist with finding a moving company nearby, answer any of your transition questions and much more. With the right advice and support, we hope to help make the moving experience as smooth as possible.