December 12th, 2018
There is a common misconception that nursing homes and senior living communities are synonymous. If you are looking for a senior living home, this will help you make an educated decision on what each type of housing and what they have to offer. It can get confusing at times so we are going to break down the similarities and the differences.
Similarities Between The Two
When looking for your new home, there are definitely some similarities between a nursing home and a senior living community. There is a general term used, activities of daily living or ADLs, that are offered at both types of homes. Some of the standard options that are included are: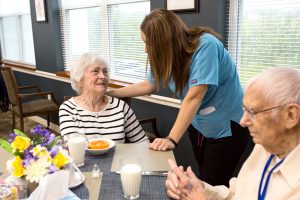 Bathing
Dressing
Personal Care
Transportation
Medical Management
Security Systems
These are some of the services that potentially become mandatory as you grow older and are often offered at both nursing homes and senior living communities. Medication management is a critical one because misuse is one of the leading causes of seniors having to make trips to the emergency room. Security systems not only entail a safe place to live, but also include other details such as handrails, emergency contact systems, and more.
Besides that, dining options and meal plans are offered at both types of community to ensure good nutrition. Both nursing homes and senior communities also showcase social gatherings. These can include fitness or art classes, happy hours, card games and more.
Differences Between The Two
The major differences between a nursing home and a senior living community are care services and style. While nursing home residents need around the clock support, residents in a senior living community may only need a hand with something like mobility. At a senior living community, the level of assistance can vary depending on what's required for the resident. If you begin to need more support, the cost may increase, but they will still be able to make those adjustments to your level of assistance.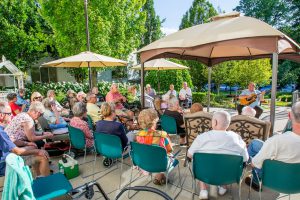 Senior living communities can have an apartment complex feel to them. There are more options at a senior living community that can even include:
Outings to museums, malls, movies, etc.
Transportation to and from doctors offices, grocery stores, etc.
Having your own car
While these tips and details sum up a lot of the differences between a nursing home and a senior living community, if you have further questions, please discuss with your doctor or loved one to determine the correct level of care needed.
See more: Benefits Of Independent Living