Fairfield, OH
7129 Gilmore Rd.
Fairfield Township, OH 45011
Contact Us

513-438-8753
Now Open in Fairfield Township!
We are so excited to open our doors and welcome you into StoryPoint Fairfield. Offering a diverse range of senior living services, our community is designed to suit all lifestyles, from highly independent seniors to those who may require day to day assistance.
We strive to make sure each moment of each day is something to remember. We know it's the tiny details that make a difference, which is why no matter what we do, large or small, we aim to help our residents Shine. Everyday.
Unsure which living option is the right fit?
Take a Virtual Tour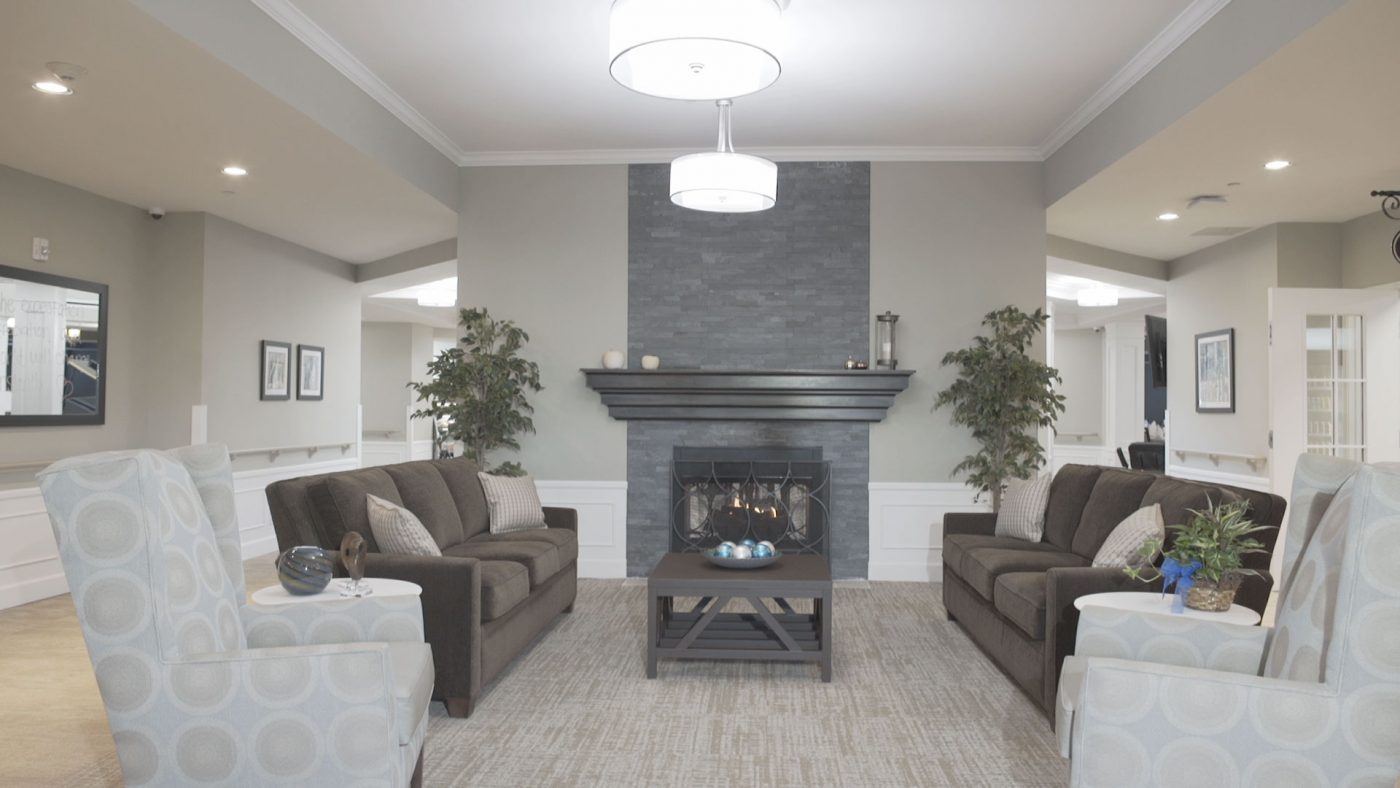 Apartment Amenities
Our apartments feature a variety of amenities, including:
Balcony and private patios
Secured Wi-Fi
Wheelchair accessibility
Walk-in showers with grab bars
Pantry closets
Generous closet space
Common Areas
The Main Lobby
Whether chatting with friends, enjoying the warmth of the fireplace or just relaxing with a nice book, the main lobby is our community's central meeting place.
The Charming Cafe
We welcome residents and their guests to stop by during breakfast hours for a warm cup of coffee, a refreshing latte or to enjoy our baby grand piano.
The Media Center
An ideal space for movie nights, lectures and celebrations, the Media Center can seat up to 75 people!
The Business Center & Library
Residents have access to an abundance of books and computers. It's a great place to work on a puzzle or dive into a good book.
Candlewick Bistro
Residents can enjoy a "night out" in our Candlewick Bistro. Our on-site sports bar is the ideal setting to enjoy a televised sports game or a glass of wine.
Prime Thyme
With multiple menu options prepared by our Chef, there's always an open seat at the Prime Thyme dining room!
Private Dining Room
Available for residents and their loved ones, our private dining room can be reserved for gatherings of up to 10 people.
The Massage Room
For those looking to unwind, our licensed, professional massage therapist is available for treatments that are both relaxing and beneficial for overall health.
Beauty & Barber Shop
Our convenient in-house beauty and barber shop offers residents styling services, manicures and pedicures, as well as a whole body massage chair.
Activity Room
Cooking demonstrations, pool tables and other Life Enrichment activities live in the Activity Room. This room is always buzzing.
Dining & Activities
Daily Dining Experiences
We take food seriously, which is why our community will employ a team of culinary experts whose only job is to provide our residents with delicious meals day after day. With an ever-changing menu and resident requests welcomed, our dining experiences are unlike any other.
Community Activities
We know that not everyone has the same interests, which is why we take the time to get to know each one of our residents and create activities based around them! Have a favorite hobby or craft? Feel free to share and we'll design an event for the whole community to enjoy!
Events This Month
Sample Menu
Starters
Loaded Potato Skins
Topped With Bacon, Cheddar Cheese, Sour Cream, Tomatoes And Green Onions
Caesar Salad
Romaine Lettuce, Croutons, Parmesan And Creamy Dressing
Black Bean And Roasted Corn Salad
With Bell Peppers, Cilantro And Lime
Entrées
Fish Tacos
Seasoned Grilled Fish And Lime Cabbage Slaw With White Cheese And Baja Sauce In A Flour Tortilla
Cheddar Walnut Chicken Salad
Crisp Romaine Lettuce Topped With Shredded Cheddar, Walnuts, Apples, Red Onion, And Poached Chicken. Served With Creamy Honey Mustard Poppy Seed Dressing
Country Style Spare Ribs
Slow Cooked Pork In Chef's Special Barbeque Sauce, Served With Cheesy Potatoes And Peas
Desserts
Blueberry Crunch Pie
With Streusel Topping
Key Lime Pie
In A Graham Cracker Crust With Meringue Topping
Download a Full Sample Menu
Blog
August 20th, 2019
Choosing to move a loved one into senior living can be difficult. However, once the decision is set in stone, planning the move is the next step. Here are some tips to help!
Read More
March 9th, 2018
Last month, nine chefs from StoryPoint and our sister company Independence Village competed in the American Culinary Federation Competition held at Dorsey Culinary School in Pontiac.
Read More
Discover The Difference With StoryPoint Fairfield (Hamilton)
Learn more about StoryPoint Fairfield by filling out the form below. One of our expert Community Specialists will provide you with information regarding this growing community.